The UK's February storms make the Sea Change exhibition at Roca London Gallery all the more pertinent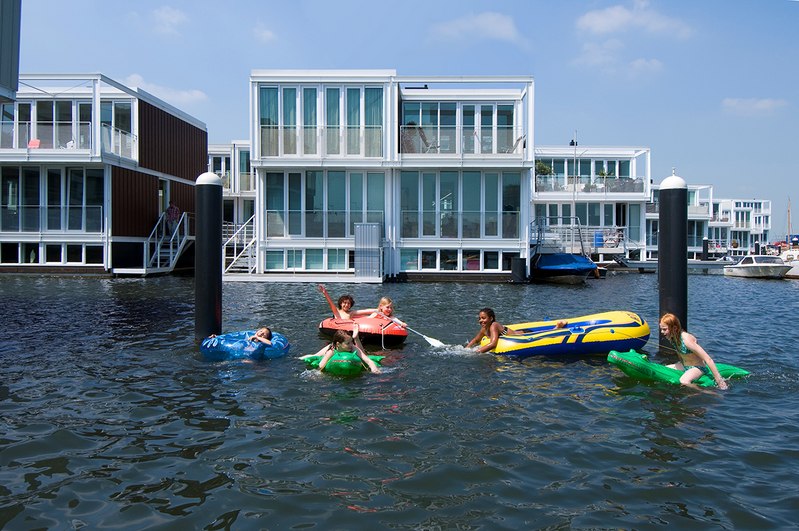 Floating homes in IJburg on the edge of Amsterdam harbour, designed by Marlies Rohmer.

Credit: Roos Aldershoff
Towards the end of Sea Change, the new exhibition on Flood Resilient Architecture at the Roca London Gallery, there is a film that eloquently conveys the devastation of flooding on communities around the world.
Made by Gideon Mendel, The Water Chapters shows the aftermath of flooding. People are filmed as they return to their homes, wading chest-deep through water as they silently search for anything salvageable amid the destruction. It is low key yet poignant and hard hitting.
This makes an effective, human-focused counterpoint to the rest of the exhibition, which concentrates on architectural responses to the climate change-led increase in flooding severity and frequency.
There are plenty of arresting statistics. We are the last generation with the chance to stop climate change – and the first to live with its consequences. Fourteen out of the 15 largest cities in the world are coastal. Some 95% of the world's population lives within six miles of a river, lake or coast, with ocean temperatures and water levels set to rise further.
The main message of Sea Change is that in 'the new climate reality', resistance is futile. The West's knee-jerk reaction has always been to build barriers against flooding. But when these fail, the damage can be colossal. A new approach is required: flood resilient architecture that works with, not against, nature by embracing water in plans for the built environment. This means close attention to the many sources of flooding, whether coastal, fluvial, flash, groundwater or drain and sewer. And it means embracing flood resilience in both city-wide infrastructure and the design of individual projects.
According to curator Eva Woode of Studio Woode, there needs to be a shift in thinking beyond prevention and recovery towards designing for resilience and living with the possibility of flooding in a positive way.
'It comes down to control,' she says. 'How much control do we think we can have over nature? We need to understand that we can't control nature to the same extent as before. Rather than working against it, we need to work with it on the assumption that there will be more flood events in the future.'
One approach is building to float. Among the many Dutch examples is the IJburg community of homes on floating concrete foundations moored to a network of jetties in the Umeer Lake. Prefabricated nearby, these were designed to fit through 8m wide lock gates as they were brought to site. Residents need to ensure an even distribution of weight throughout the houses. There are other examples from around the world including the Finch Floating Houses that form a community of one and two floor homes in Manila, and Baca's Amphibious House.
For now, BIG's Oceanix City remains an intriguing idea rather than reality. The concept is for a 'modular maritime metropolis' with potential to evolve from 300 to 10,000 residents. Rising up to seven storeys high and arranged around an inner circle of water, Oceanix's features include solar energy, greenhouses to grow produce and biorock floating reefs to allow farming of scallops, oysters and clams.
Another strategy is to elevate, allowing everyday life to continue in flooding conditions. In Hamburg, this is a reality in the Hafn City development by KCAP/ASTOC, which elevates buildings and provides squares and promenades that can store water in flood conditions. In Copenhagen, the proposed Soul of Nørrebro project will create a public realm landscaped with rainwater catchment basins in an effort to cooperate with nature rather than working against it. In New York, another BIG project, the Big U, proposes a berm of 100,000m2 public realm waterfront around Manhattan to absorb tidal surges.
A third approach is 'sponge cities'. These have landscapes enhanced with features to enable the capture and reuse of rainwater. Apparently some 30 Chinese cities aim to have 80% of their landscape enhanced in this way by 2030.
If successful, as well as resolving the threat of flooding, such schemes can bring additional benefits by creating a 'blue-green' infrastructure that brings nature into cities as exciting additions to the public realm that increase wellbeing.
The exhibition ends with a call for stronger regulations and guidance, and for society to positively embrace 'the inevitability of a more water-filled future'. The clear message is that cities need to learn how to live with water if they are to continue to prosper.
It is sobering food for thought. Will the approaches showcased help secure the future of our cities, especially vulnerable waterside ones? Or are we all doomed to the devastation shown in Mendel's film?
---
Sea Change – Flood Resilient Architecture for the 21st Century, until 16 May 2020, Roca London Gallery.
Read more on flood resilience from author of Retrofitting for Flood Resilience Ed Barsley.