Shaping Space, the Building Centre's exhibition of models, demonstrates the value of added context, comprehensible scale and 'doll's house appeal'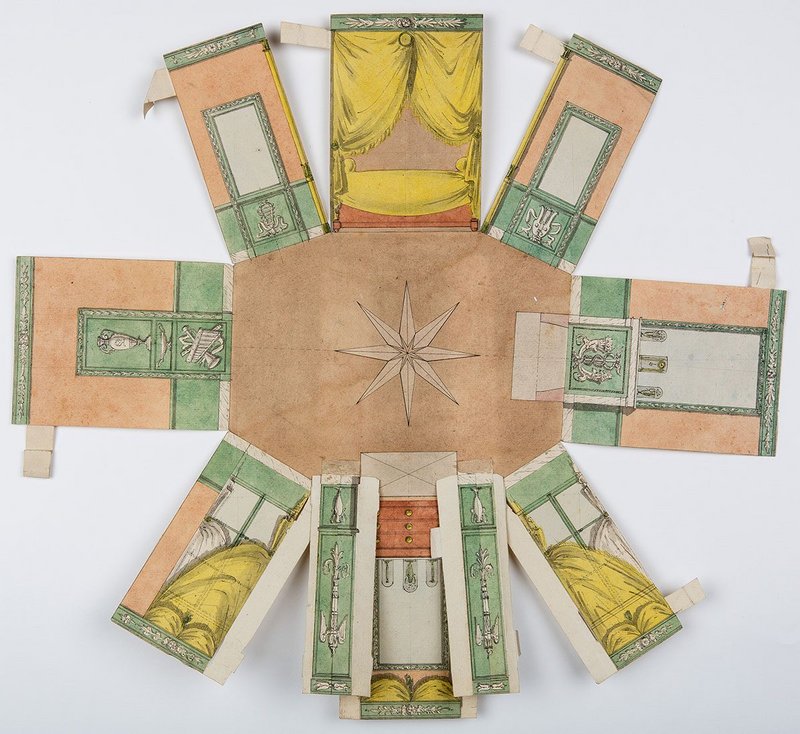 A fold-out paper model of a bedroom/boudoir possibly for Empress Josephine, created by Pierre-François-Léonard Fontaine, c 1804. Courtesy of Drawing Matter.
'They tell stories, if you take the time to read them,' says Dr Simona Valeriani of the V&A, co-curator of the new exhibition Shaping Space – Architectural Models Revealed, at the Building Centre.
And what stories these models tell. From a temple lost to Isis in Syria to a pop-up model for a bedroom for Napoleon (or possibly Empress Josephine), and the filmset for a heartbreaking anti-vivisection film, they fulfil the curators' aim of presenting a 'celebration' of models that will appeal to diverse audiences.
The exhibition, a collaboration between the Building Centre and the V&A, aims to shine a light on why and how models are made, and who they are made for. It is an enjoyable potpourri, unconstrained by either chronology or stringent ordering into themes. In addition to the innate doll's house appeal of the model, the exhibition is particularly successful in widening perceptions of what forms these can take.
In the show there are both models used as tools for furthering the design process – most eloquently Le Corbusier's plaster study for the window arrangement of the Ronchamp chapel's famous south wall – and presentation models communicating finished schemes. There are models for remembrance and models intended to be used for teaching – such as Violette-le-Duc's 1850-60 plaster and pine model of a church roof which was used to instruct builders – and a Jorn Utzon model of Sydney Opera House made to convince engineer Ove Arup that it would be possible to build. And there are also models for play and education, including a c1900 building box once owned by Cedric Price.
Models can do far more than accurately depict a design in 3D. Co-curator Vanessa Norwood, creative director of the Building Centre, cites their ability to communicate and engage, whether for clients or for community engagement.
'Architecture can seem very high-end, and unattainable. Models make it more democratic,' she says, adding that they can help to demystify architecture.
A particularly engaging exhibit is a card model from 1929 by Theodore Conrad of Harvey Wiley Corbett's design for the Metropolitan Life Insurance Company building, held like a lolly on a stick, and used out and about to test how the skyscraper would look on the New York skyline.
In particular, models can convey emotion and atmosphere. A lot of this is down to the choice of material, and here the show deliberately displays a wide range including paper, stone, terracotta, soap, stone, concrete, glass, metal, acrylic, even jelly. Dieter Cöllen chose cork as the material for his 2015 model commemorating the Isis-destroyed Temple of Bel at Palmyra in Syria. The texture and colour immediately suggest an antique quality to the ruins they depict.
Editional Studio's use of cracked clay on its model for Chorlton Picture House eloquently conveys the fragility of the historic building, which it is hoping to repurpose. Peter Barber Architects' use of terracotta also seemed highly appropriate for a conceptual model of V/K 4A, a proposed off-grid development that was to be realised using clay and aggregate dredged from the Thames.
A new form of hybrid drawing/model is included, the 'drawdel' for So & So Studio's Casa MAC house. This uses glyphs to communicate to its blind client, using touch, the different activities that different spaces on the model could be used for.
While hands-on traditional model-making is clearly alive and well (and surely always will be) the model type is elastic enough to take in rich new variants and venture into new territories, including the digital. Now a well-established additional strand of model-making, 3Dprinted models are well represented. Dalia Matsuura Frontini's model is particularly stunning, created using VR and produced using a robotic arm fitted with a paint extrusion in conjunction with other media.
And perhaps most excitingly, there are models that stretch our understanding of the ever-expanding craft of model-making. These include Forensic Architecture's use of digital modelling to prove (in collaboration with SITU Research) that an unconfirmed American drone strike in Miranshah, Pakistan, in 2012 had taken place. ScanLAB Projects' Limbo is a troubling, eerie evocation of the experiences of an asylum seeker in the UK, achieved through a collage of real spaces, renderings and animation. The meticulously created miniature film roomset created by puppet maker and set designer Andy Gent of Arch Model Studio is entrancing, shown here alongside the film itself, the moving, stop-motion animation Save Ralph about a laboratory test rabbit.
Designed by Roz Barr Architects, this free show has brief, pithy text and wisely lets the splendid exhibits do most of the talking for themselves. Further diverse thoughts on the subject can be found in the accompanying publication An Alphabet of Architectural Models.
The exhibition, which builds on the work of the Architectural Models Network, emerged from the V&A-led research project Shaping Space: Architectural Models in Context, which looks at the importance of the architectural model as part of the creative process.
Shaping Space – Architectural Models Revealed, until 28 January, 2022, Building Centre, 26 Store Street, London WC1E 7BT
The publication An Alphabet of Architectural Models is published by Merrell, eds Olivia Horsefall Turner, Simona Valeriani, Matthew Wells, Teresa Fankhänel, £25.