Louis Kahn may not have built much, but a Design Museum exhibition shows how his legacy has proved vastly influential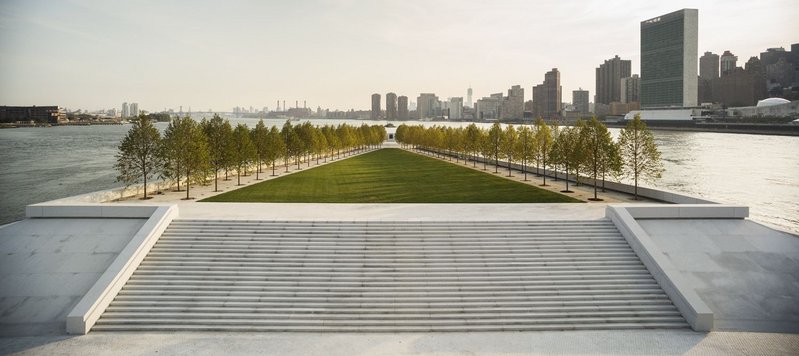 Franklin D. Roosevelt Four Freedoms Park, New York, 1973-2012.

Credit: Paul Warchol
Louis Kahn built little, was practically bankrupt when he died 40 years ago, and had a hugely complex personal life, explored in his son Nathaniels's poignant film My Architect in 2003.
A new retrospective, Louis Kahn: The Power of Architecture, which opens this month at the Design Museum, rightly puts his work back centre stage, celebrating Kahn as a visionary architect who was hugely influential on many of today's leading practitioners.
When so much architecture lacks a sense of time and location, it's a good moment to reassess Kahn's work and legacy, according to Design Museum curator Alex Newson.
'His buildings did have a sense of place that many of his contemporaries didn't,' he says. 'It's a good opportunity to look at why his work is so revered in architectural circles.
Although he didn't build that much, what he did realise was of lasting importance, including The Salk Institute in California; the Kimbell Art Museum in Fort Worth, Texas; and the National Assembly in Dhaka, Bangladesh. This Vitra Design Museum-organised show looks at these and his entire oeuvre through the themes of City, Science, Landscape, House, Eternal Present and Community. The latter includes the Roosevelt Memorial, designed shortly before his death but completed just two years ago in New York. All his children have contributed to the exhibition material, and there will be footage of interviews with contemporary luminaries including Frank Gehry, Peter Zumthor and Renzo Piano, giving further insight into why Kahn's legacy lives on.
"There is an intensity to his work, spiritually and monumentally," says Newson, adding that the show does also reflect the sense of regret and frustration that Kahn experienced during much of his career.
For Newson, one of the most powerful parts of the show is not the exquisite models and drawings, but the briefcase, passport and box of pastels that were with Kahn when he was found dead of a heart attack at New York's Penn Station on the way back from a work trip to India.