Tireless secretary of the Royal Fine Art Commission (RFAC), who founded the Pro Patrimonio Foundation of Romania and convinced the UK government to include design quality in the planning system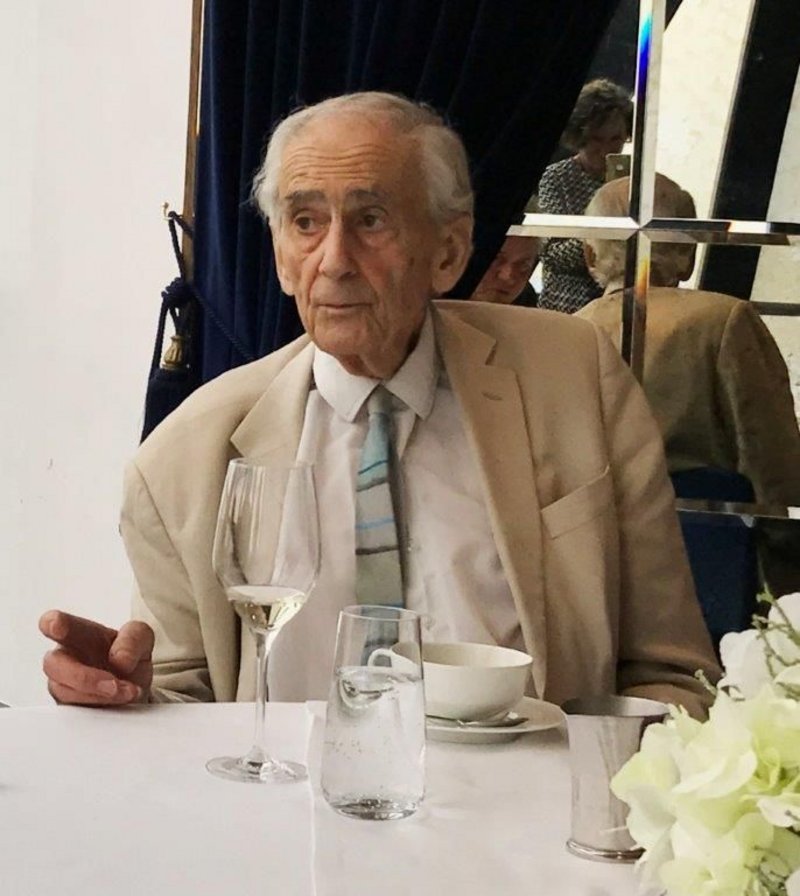 Sherban Cantacuzino CBE 1928 – 2018
Sherban Cantacuzino was an architect, conservationist, writer, lecturer, critic, teacher of the history of architecture and secretary of the Royal Fine Art Commission (RFAC). When he was 11 he left Romania for Paris and then an English education with his mother and sister, by which time his father was stranded at home amid WWII and the subsequent Communist regime. The family never again saw George Matei Cantacuzino – described as a Ruskin of Romania – despite constant attempts to do so. But though Sherban lived with the fact that his father was cruelly restricted for 32 years of both their lives, there was an extraordinary parallel in their cultural trajectories.
Sherban studied architecture at Cambridge, a subject his father had also studied. There he met such contemporaries as Philip Dowson – later head of Arup Associates – who often recalled Sherban's greatest skill, as a cook. Later, lunch at the RFAC, courtesy of Sherban's own hand, became a treasured event.
He started his architectural career in practice but soon took to writing about it. There were many books. He was also editor of the Architectural Review from 1973 until he became secretary of the RFAC in 1979. He remained in this post until his retirement in 1995. But retirement meant continuing the many important initiatives he had taken on through his career. For instance, his prolonged intervention to stop the destruction of the Rosia Montana Mountain in Romania by reckless gold mining was nothing short of courageous.
But probably his most important initiative was to found the 'National Trust' for his homeland, the Pro Patrimonio Foundation of Romania, in 2000. This work has significantly changed for the better attitudes to conservation in Romania. Whenever Sherban went to Romania in the post-communist era he was revered – treated like a prince because he was indeed a prince, descended from the two great families Cantacuzino and Bibescu.
Sherban's work at the RFAC outshone all his other contributions to the architectural world. He led the charge to convince the British government to include design quality as an integral part of the planning system. He took every opportunity to meet senior planning officers up and down the country while going about RFAC business, to enlighten them about design quality. He always said: 'Beauty is a matter of consensus and an absolute value: distinguish between what you like and what you know to be good.' In recognition of this work he was awarded the CBE in 1988.
Other, honorary, posts included fellow of the Royal Institute of British Architects and chairman of ICOMOS UK, taking care of World Heritage Sites. For 30 years he was a stalwart member of the organising committee of the Architecture Club – now in its 92nd year. He and his wife Anne enjoyed lunch with club members at the top of the Gherkin just last August in honour of his long service.
His books included Modern Houses of the World (1966); Great Modern Architecture (1966); New Uses for Old Buildings (1975); Saving Old Buildings (1980); Architecture In Continuity (1985) and Re-Architecture (1989). He also wrote a book commissioned in 1994 by the government heritage department entitled 'What Makes a Good Building'. It was a seminal work which led to the start of design guidance notes, helping to consolidate objective, qualitative analysis.
Sherban was a tall, larger than life, authoritative, gentle and generous soul who was ready to help anyone who asked. Later he struggled with leukaemia. He leaves his wife Anne, two daughters Ilinca and Marina and five grandchildren. He will be greatly missed.
---