Awkward, joyful, humorous: shonky architecture explained and delighted in at this touring show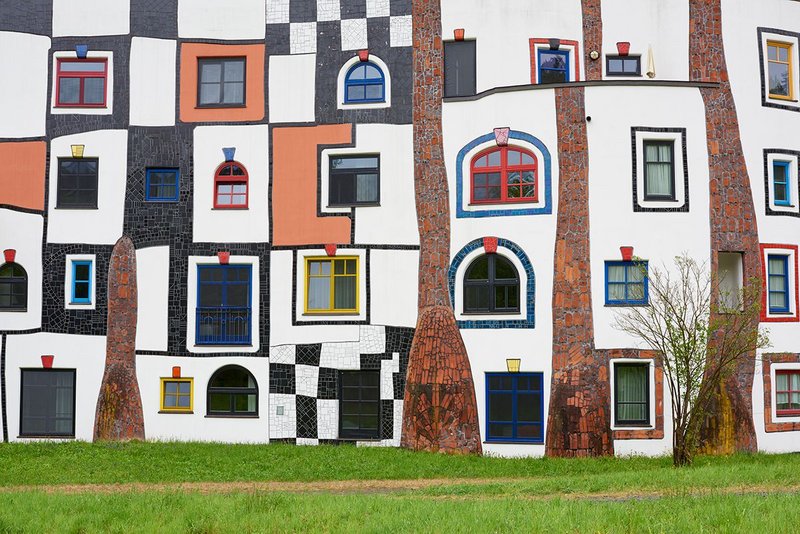 Rogner Spa, Blumau, Styria, 1993–97, designed by Friedensreich Hundertwasser.

Credit: Jonathan Bassett
What is shonky? For those who, like me, were not familiar with the slang term, the answer will be found in Shonky: The Aesthetics of Awkwardness, an intriguing new Hayward Touring exhibition curated by artist John Walter and opening this month at Belfast's the MAC.
Walter is on something of a mission to explain and promote art and architecture that he defines as having a shonky character, from the colourful work of Austrian architect and artist Friedensreich Hundertwasser to the avant-garde artist Andrew Logan. Dictionary meanings define shonky as unreliable or of dubious integrity. But its informal use, which Walter has been familiar with since he was a child, is rather more positive, used for something that does the job satisfactorily without being polished or perfect.
Aesthetically, Walter describes shonky as 'working against the slick, the po-faced and the minimal'. Often joyfully maximal and Baroque, it typically has a hand-made, organic and lo-fi character with an element of craft. Sometimes there is a deliberate sense of imbalance and dissonance, and a sense of humour. Shonky artists, he says, often tend to be out of fashion as they are deemed to be in bad taste. His exhibition, he hopes, will try to redress the balance, taking in everything from video to architecture.
'My taste is for these things and I feel they haven't had much space in the discussion,' he says. 'There's room for another voice to come in.'
This work is certainly unlikely to leave the viewer cold. I'm fascinated by the experimental architectural designs of Arakawa and Gins, who endeavoured to create buildings that promoted longevity in their occupants.
'On a visual level the colour and weirdness immediately grabbed me,' says Walter of their work, which reflects the designers' interest in labyrinths. The duo believed that the disruptive and irregular nature of their designs, which often incorporated sloping floors and complex spatial arrangements, would have a beneficial physical and mental effect on the inhabitant. Anyone staying for a weekend in their proposed hotel in Tokyo, for example, could expect to extend their life by 10 minutes according to the designers, through the stimulation to their brain and realignment of their immune system caused by the hotel's unorthodox design.
Hundertwasser, best known for his quirky Hundertwasserhaus social housing in Vienna, is a more familiar presence in the exhibition, which includes photographs of both this project and his extraordinary Rogner Bad Blumau luxury spa.
'He is absolutely shonky. Everything is wonky and organic, which I'd say is one of the tenets of shonky,' says Walter. 'He was drawing on the Vienna Secession of the early 20th century and taking it somewhere else.'
Exhibits range across the disciplines. Mexican-American artist Justin Favela is creating Floor Nachos, a 10ft high vision of nachos with cheese. Made out of piñatas, it explores cultural appropriation in his adopted home town of Las Vegas. There are also paintings and video work by Duggie Fields, a cult figure since the 1970s, and sculptor Niki de Saint Phalle, famous for her vivid, exuberant figures.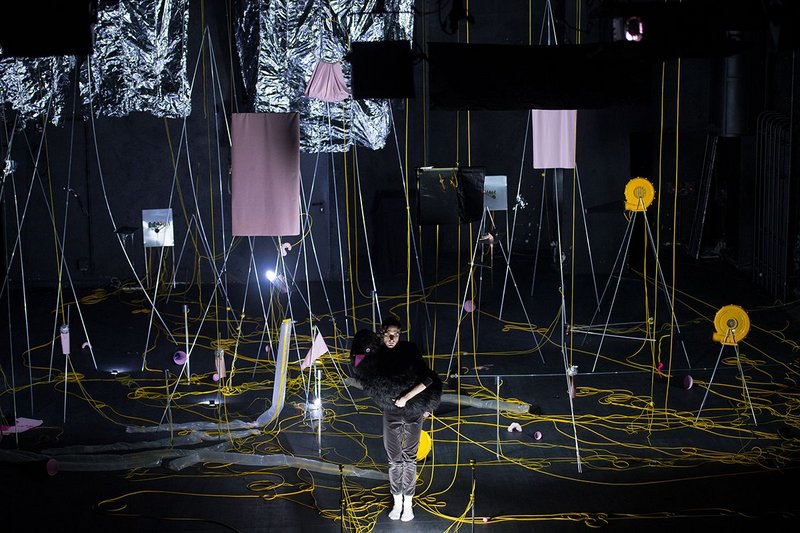 The Voice of Nature, 2017 by Tim Spooner.

Credit: Courtesy the artist and ArtsAdmin.
Tim Spooner's 'performed sculpture' The Voice of Nature uses spindly, kinetic structures to perform a strange teetering dance. Jacolby Satterwhite's work The Country Ball combines digital technology, drawing and performance and features a fantastical landscape inspired by drawings made by his mother.
Walter is contributing his own Shonky Bar installation to the exhibition. At the opening, he will be playing the host in the costume of a fool to encourage questions and dialogue about the work on show.
'I'd hate to be sombre and pompous. You need to be able to ask questions,' he says, adding that an invigilator will also be available during the course of the exhibition to answer queries. 'I want people to have pleasure and fun, and feel they can stay for a while and engage in it.'
Hopefully, he adds, the show will also raise awareness of the word shonky as both a positive term and a category of art worthy of greater consideration.
'I would like people to use the word and have a heightened sensibility for things that aren't smooth or slick,' he says.