Emerging practices took over this year's RIBA Regent Street Windows Project and it bristled with experimentation.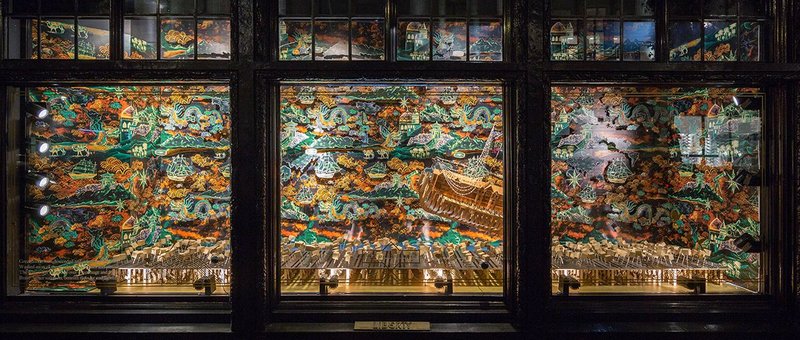 Liberty with Architecture Social Club.

Credit: Liam Clarke
For the past seven years the RIBA Regent Street Windows Project has teamed up emerging practices and high street retailers to implement architect-designed window displays along London's premier shopping mile.
This year's project, which ends on September 25, has been seen by nearly 3 million visitors since it was unveiled on September 5. Every year, 150 practices submit competitive bids to participate in the prestigious project. Ten architect-retailer teams realised their proposals this year.
The overall appearance of the 2016 designs is perhaps less polished than in previous years. This is by no means a criticism: it's a tribute to the experimental spirit that designers have adopted as well as a reflection of the absence of some of the big wits in architecture that participated in previous programmes. From Aleksa Studio's perception-altering blue acrylic fins for Kiko Milano, to KSR Architects' Light as Air and Soft as Silk installation (for 7 for All Mankind) and Bureau de Change's wooden shirt patterns (Charles Tyrwhitt), the windows are bristling with experiments in materiality, visual perception, narrative and movement.
My firm favourite is Architecture Social Club's design for Liberty. Here, cheap tat meets obsessive boffinry, baroque-inspired floral ornamentation and deconstructivist neo-Victorian revival. Brilliant. At times when the mundane London vernacular is threatening to colonise every last niche of the capital's skyline, what architect still dares to indulge in such opulence? More, please!
It is the crass incongruity of the references, the friction between the different aesthetics, that connects with the viewer's subconscious and bring the narrative to life. It's bit like a rummage in your parents' attic, where Aunt Betty's Christmas decorations have ended up entangled with mdf models from third year architecture school.
A completed project always bears evidence of the working relationship between the design team members. At Liberty, there was obviously a meeting of minds. A fly on the wall must have revelled in the entertainment as the Social Clubbers and Liberty's staff concocted their phantasmagorical vision. The designers' proclamation 'Good design comes from great collaborations' certainly holds true in this commission.
It's great that this year's event was reserved for newcomers on the London architecture scene. The opportunities it provides for emerging practices are uncontested. Catrina Stewart from Office S&M, who prepared the design for Hamleys' window last year, says: 'I don't know if we would be doing the work we are doing now if it had not been for our Hamleys display.' Brooks Brothers apparently grew so fond of its design by Squire and Partners that it toured it as far as Japan.
The glaring success of the project becomes slightly clouded when you read the small print: 'There is no architect's fee for the time spent on the project or design.' The debate on whether architects should work for free is one of the more controversial issues raging among professionals. Some of the practices involved this year will have spent nights and days preparing drawings and templates, sourcing specialist materials, haggling with fabricators or getting out their own scalpels, soldering irons and sewing machines to make bespoke display pieces too precious or too innovative to entrust to a contractor. The RIBA says: 'For many of our participating practices, getting a huge retail brand in their portfolio has given a great business development opportunity, enabling them to pitch for new work in different sectors.' But should the RIBA really take such a distinct stance in the fees/no fees debate?
We all put in extra effort to win a job and submit a keen fee to secure a unique opportunity. But delivering a whole project for some of the world's most successful fashion brands for free? A young practice moving from emerging to established relies on opportunities such as the RIBA Windows project, but it also relies on some very savvy business planning and good budgeting. Even a token remuneration would help cover a month's studio rent or finance a software licence.
Year seven is the first time the Regent Street Windows project has ventured beyond Regent Street itself. Now that the programme is well established and its success thoroughly documented, maybe iteration eight should make some effort to put the fees issue at the top of the agenda.
Jan Kattein is a lecturer, researcher and designer who lives and works in London. He is director and founder of Jan Kattein Architects.
---