The secret of Allford Hall Monaghan Morris' remarkable design and commercial success is a dose of business and creativity, corporate and individual working, having four founding directors helps too
'You have no chance of getting things built if you are not assertive.' Jonathan Hall, though the most reticent of the founding directors of Allford Hall Monaghan Morris, has a measured sense of what is needed to ensure that projects go ahead in this era of squeezed programmes and contractor clients.
You will know AHMM. If not individually then by repute, because they have lectured near you or you have noted one of their colourful buildings, or maybe one of their smaller, more understated (possibly brick) ones. The practice is a social one, active in the worlds of architecture and the places intelligent clients move in, less networking than now, 25 years on, networked. How has fundamentally decent and attractive design grown this gang of four into a phenomenally successful practice?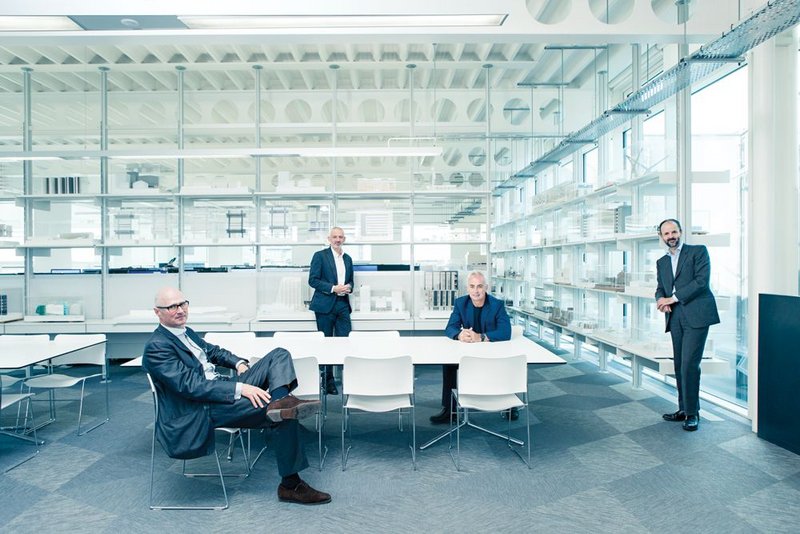 Leaning in: Simon Allford, Peter Morris, Paul Monaghan and Jonathan Hall after 25 years of running the practice together.

Credit: David Vintiner
I suspect the answer lies in the number four. Simon Allford and Paul Monaghan each run their own design studios while Peter Morris and Jonathan Hall manage the practice and contracts respectively. Decisions are made together. The latter two are the secret weapon on the business side; worrying and delivering is in their hands. Morris remembers setting out on a creative business management course at Cranfield in 2006 with a practice of 80. Then his question was 'How can we stop ourselves growing?' Now with 318 staff, he reflects, 'you only need to worry about things if you feel you can't control them'.
Since the early days of striding round the informal let-it-all-hang-out Bartlett in suits, the business aspects of running a practice have meant clients have trusted it to deliver. Simon Allford, still sharp-suited, says: 'We always tried to be a business, though we weren't initially as we couldn't make any money.' Paul Monaghan remembers it as a slow start from student days, through gradual growth and the urge to build bigger buildings, which eventually came from back extensions and school alterations. An insertion of a mezzanine for journalist Jeremy Melvin was the start of what they jokingly call the Editors' Series. Projects for Paul Finch, then editor of Building Design, and others followed. These people remained friends and powerful proponents for the practice. The work might not be showy (though it is eye-catching at times) but it is reliable, as these relationships show.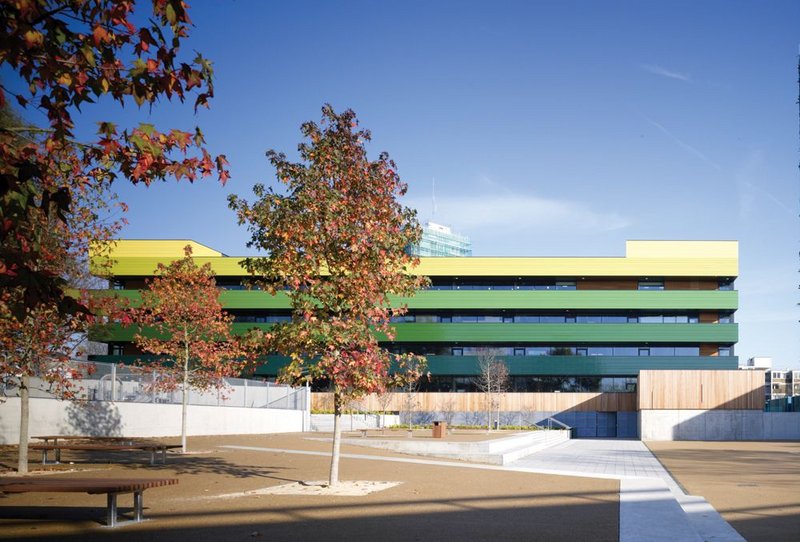 Clear and bold, with a healthy blast of colour: Westminster Academy (2007), Stirling Prize shortlisted.

Credit: Timothy Soar
Bits of luck, says Monaghan, have been married with striking design. A pool house for Allford's parents got them their first cover on an architectural magazine: the Prince of Wales' Perspectives. There was the striking triangular plan of Great Notley Primary School in Essex in 1999 – its memorable low form and linear facade in timber and black perhaps disguising a huge investment for its time in sustainability. Moving into an office near the Barbican 19 years ago introduced the firm to its landlord, Derwent London, for which the practice has gone on to design nearly 20 projects, including the Stirling Prize-shortlisted Angel Building (it had two other Stirling nominations – Westminster Academy and Kentish Town Health Centre).
The collection of buildings that makes up its office has also proved flexible enough to grow with it (not shrinking even in the 2008 squeeze). From the four person practice in an old watchmaker's studio to 24,000ft2 with a model-making studio of eight, AHMM has grown up here. A new roof top pavilion and linking bridge were part of the latest reorganisation, and Morris talks about having 'grown up' meeting rooms, serviced and all with the same audio visual facilities. And getting rid of That Green Carpet, which visitors would never have been quite as fed up with as the practice itself was. In its place are brilliant, super smart triangles of grey – Bolong plastic carpet (which occasionally breaks into yellow).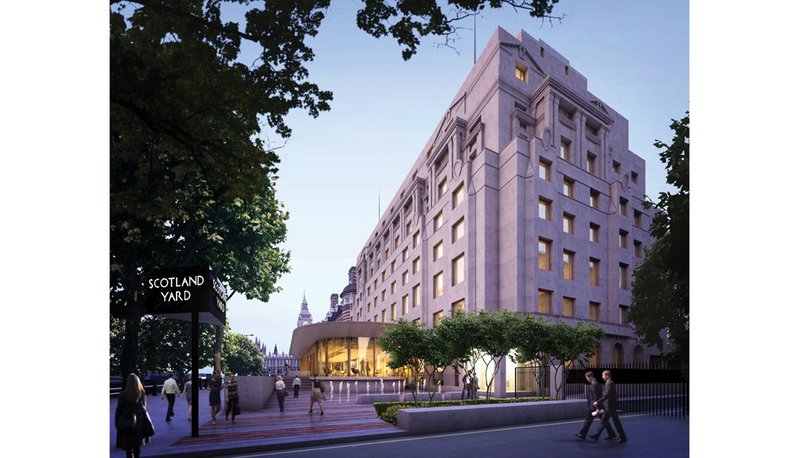 Redesigning London's institutions: Scotland Yard as it will be.
If the office design made the practice think closely about how its ethos works, then that is just par for the course for the way the firm wants its people to be looked after. For Monaghan that has been at the heart of running AHMM and is heavily influenced by earlier experiences in YRM, where Allford's father was chairman, and at BDP where all four worked and took advantage of the good parties, as well as the shareholding. 'It is more important now than ever: as you get larger it gets harder to think of peoples' individual careers,' Monaghan says. These issues are discussed in regular team meetings to marry practice and individual ambitions. And the parties? Since the mid 90s, the weekly taking over of the St John bar in Clerkenwell has faltered – due to lack of space – but the office's new project space and canteen is pressed into use every Friday for drinks and design reviews. And this anniversary year a research trip to Amsterdam took in the practice's university masterplan and a good deal more.
Back in the office the serious business of peer review is headed up by Morris and Monaghan, with a couple of sessions every week delving into detail and the process. The diagram is where all agree the starting point must be – an approach that is very visible in many of its new builds such as Westminster Academy. This is architecture that talks clearly and occasionally offers a cheery wave. The theme of consistency and a single practice are strong, from this process to the way the directors talk about learning methodologies. 'Our projects may look different but they are the same method, we are strategic early on, rarely with one solution,' says Monaghan.
The result of a long gestation of ideas with many iterations, AHMM's Angel Building (2010) for Derwent in north London, which is occupied by the Design Council Cabe among others.

Credit: Timothy Soar
There is an oft-quoted idea of the fifth man – the extra element created by the coming together of the four – but Allford is aware of the danger of design by committee. 'I don't want collaboration to be something we can all agree on, I lead my studio so I am not looking for sign off. We are collegiate and corporate – it is right a project is published as AHMM – but pushing parallel paths.' As for the suggestion he cannot possibly be closely involved in so many projects, he is having none of it. 'My diary is a mess, my life is a mess because I am deeply engaged in my projects, twice a week in the early stage, though I am more relaxed when it gets to toilets and doors.'
Despite the directors' numerous extra curricular activities – from lecturing to chair of the Architecture Foundation and chair of the Cabe design review (and that's just Allford) plus a big presence on the London architecture scene, and a certain patronage for firms like Coffey Architects and Duggan Morris – the answers to any questions come quickly back to the practice. As Allford is keen to assure me, it is a much bigger group of brains than the four alone. Indeed, the architects, associates and associate directors I talk to are all very on the ball, and loyal to the firm. There is an air of focused energy to the office. One of its new ventures has been opening a branch in Oklahoma to grow US work. Allford is excited about 'exporting London' to a US city centre that is starting to refind itself. He is delighted at the expansiveness of sites, while in awe of the differences – for example the 1500+ workers at a new project who must have parking spaces as it is the only way to get there. He likes the cultural links, knowing that China, say, would have been a jump too far: the US is 'culturally near enough to run a job, not just drop an image into a city'. Not that he really wants to be anywhere else: 'London is our base and our history, and the most attractive city to be an architect in now'.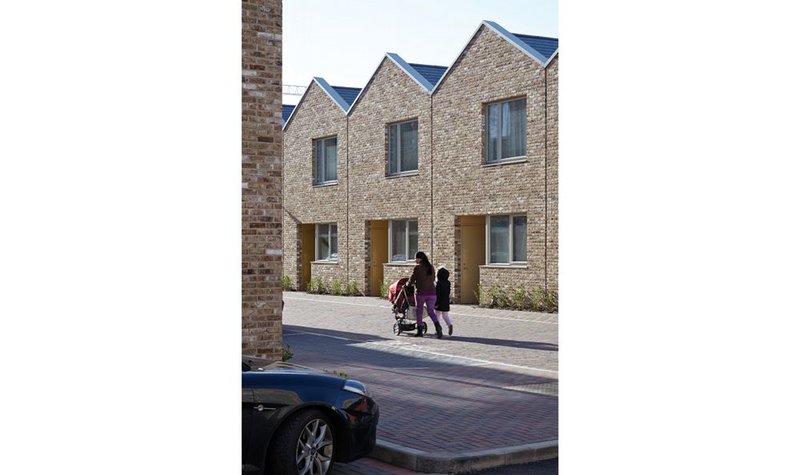 After exuberant work in the town centre this social housing creates modest new streets for Barking.

Credit: Rob Parrish
The practice has had an enormous influence on the capital: on the western route in the A40 is brightened first by the Yellow Building for Monsoon, then the green Westminster Academy and finally the refurbished 1968 Battleship Building. Its 20-storey block south of the Thames at Blackfriars puts a firm stamp on this. Down the road the tallest building at Elephant and Castle is about to go in for planning and at Embassy Gardens beside Battersea Power Station, flats are being built out (by another practice). AHMM is also reconfiguring the city's institutions with new Scotland Yard, reworking the BBC's 1960 Television Centre in West London and designing a headquarters for Google in King's Cross. In an acknowledgement of this in September it opened 25 of its London buildings for Open House. And it chose some of its more quietly spoken buildings, including refurbishments and insertions – notably photographed in black and white – for a show at this year's Venice Architecture Biennale. Allford's accompanying essay emphasises that what matters is the focus on the city over the building and life over the programme.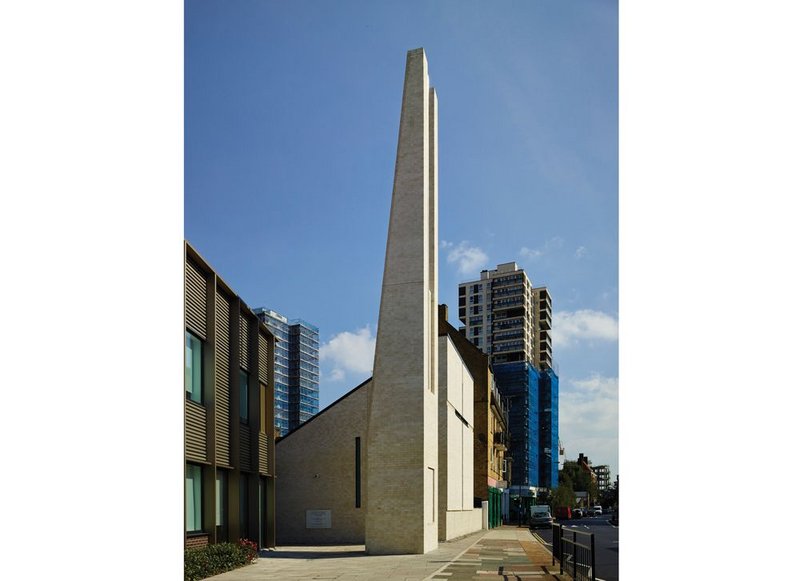 School and church at a new academy in Southwark.

Credit: Timothy Soar
It is interesting in a way that the feel of this exhibition speaks to the mood for architectural restraint that can be seen in the best of current British architecture. But the practice is does not wholeheartedly back puritanism. 'There is unchecked morality floating through much architecture at the moment,' says Allford. 'I do hope British architecture doesn't lose its expression and exuberance,' says Monaghan, rather sadly remembering the fun and inspiration of Alsop. For Morris there is no reason why economic austerity should require hair shirts – look at the spatial exuberance of post-war design.
Saying that, tight budgets and procurement methods – design and build – which have become the norm, have meant a struggle to design decent buildings, never mind exuberant ones. Morris looks at the firm's Buildings Schools for the Future projects with relief and hard won pride. As work stages collapse into each other and with contractors who rarely have design at the front of their minds, he says it is all about tactics – which the practice seems pretty good at. That's not just cheering spaces up with supergraphics but more tactically what to hold on to: individuals who are secure in their position with contractors, and plenty of assertiveness.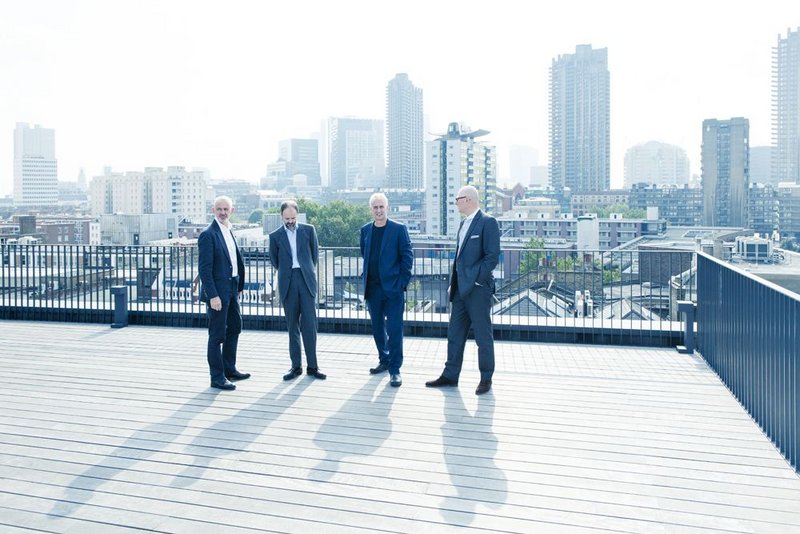 Our city: from on top of the office Peter Morris, Jonathan Hall, Paul Monaghan and Simon Allford.

Credit: David Vintiner