Absorbed by making, this year's recipient of the RIBA's highest accolade fine-tuned the building of his practice to widen his reach and opportunity to innovate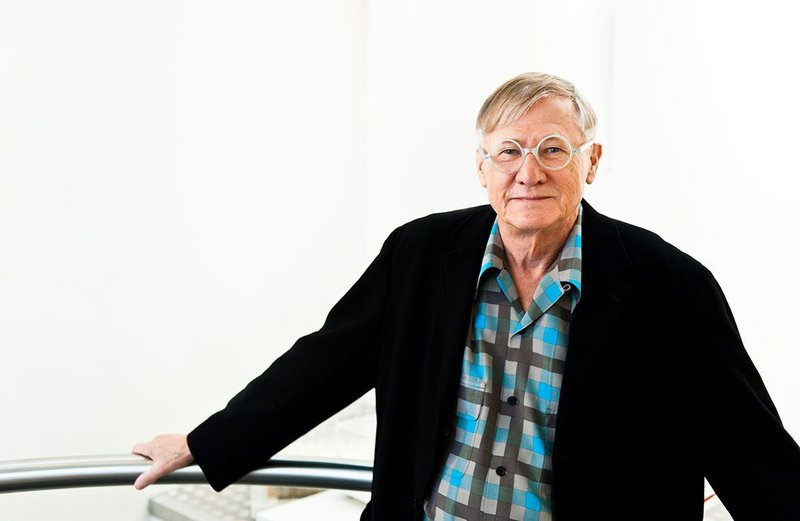 Sir Nicholas Grimshaw.

Credit: Rick Roxburgh
'By experimenting at the steelwork factory we found it was possible to feed a strip of steel through rollers at an angle and thus form a helix.' This quote from Sir Nicholas Grimshaw about his first completed project of 1965-1967 tells you a lot about our just-announced RIBA Royal Gold Medallist. In search of the desired end result, he has always been one to involve and challenge people who make things. A standard solution can be fine; but there are times when off-the-peg won't do.
That project was the Student Hostel Service Tower near Paddington in West London. The brief was to convert six big run-down terraced houses into 35 homes for students. There was little in the way of plumbing or sanitation. Grimshaw, fresh out of the AA, proposed a mini-Guggenheim of bathrooms, arranged on a spiral ramp in a freestanding steel building plugged into the back of the terrace. The students strolled up and down the ramp to find a free bathroom. And it was built, though it no longer exists.
The central steel core of the tower was used as a crane to hoist the prefabricated GRP bathroom pods into place. Designed in 1965, this was pioneering stuff, decades before the arrival of the CAD programmes that such a complex structure looks like it needs. There was Archigram in it of course – Peter Cook had been a tutor. But then so had (informally) Cedric Price and John Winter, and before the AA, Grimshaw had had a thoroughly orthodox architectural grounding at the Edinburgh School of Art. Always fascinated by engineering, he knew how to design practically, not just conceptually.
The Service Tower got a lot of publicity. Bucky Fuller went to visit it. As the late critic Colin Amery wrote in 1995: 'Grimshaw shows in this early Paddington scheme that he absorbs and thinks about radical ideas and then, quietly and in his own way, makes innovation practical. He removed any trace of megalomania from the ideas of Archigram and humanized them.' This was also, as Grimshaw later recalled, his first experience of co-ordinating a large bunch of specialist sub-contractors.
It set the tone for Grimshaw's subsequent career, first in Farrell Grimshaw and then from 1980 in his own practice. The avoidance of wet trades, the use of 'dry' rapid-assembly, relatively lightweight components – he was in at the start of the English high-tech movement: Reliance Controls by the slightly older Team 4 (Brumwell, Cheesman, Foster, Rogers) was completed the same year as the Service Tower.
We know the story from there, don't we? The now-listed Park Road co-ownership apartment tower of 1968 overlooking Regent's Park with its ribbed cladding and radiused corners, a creative community where Grimshaw and his family lived for six years; various factories and distribution warehouses including the influential Herman Miller Factory in Bath with its cream grp panels; sports halls; the Oxford ice rink; big shops and stores in town and out.
And then on through the British Pavilion at Expo '92 in Seville, Waterloo International Terminal, the Eden Project (homage to Bucky), airport terminals, bridges, houses, City office buildings – none conventional, always remembering the 19th century engineering tradition: which made his practice's late 1990s upgrade and extension of Brunel's Paddington Station especially satisfying.
Having put a succession plan and Employee Benefit Trust in place relatively early, Grimshaw's spell as president of the Royal Academy from 2004 to 2011 hardly affected the growth of his practice internationally: with offices around the globe it is especially rooted in the USA and Australia. Internationalism goes back to the early days with projects in France and Germany.
So here is a Royal Gold Medallist who is not only significant as an architect personally, but also as someone who with his partners established a practice model which goes beyond personality, typologies and national boundaries. But in the end it all comes back to craft and clarity: how things are made, how they are put together, and using that approach to spring surprises.