What happens to a practice that suddenly finds itself in the middle of a war? Kyiv-based architect Slava Balbek reveals a life of rapid rethinking, commitment to community and unending unpredictability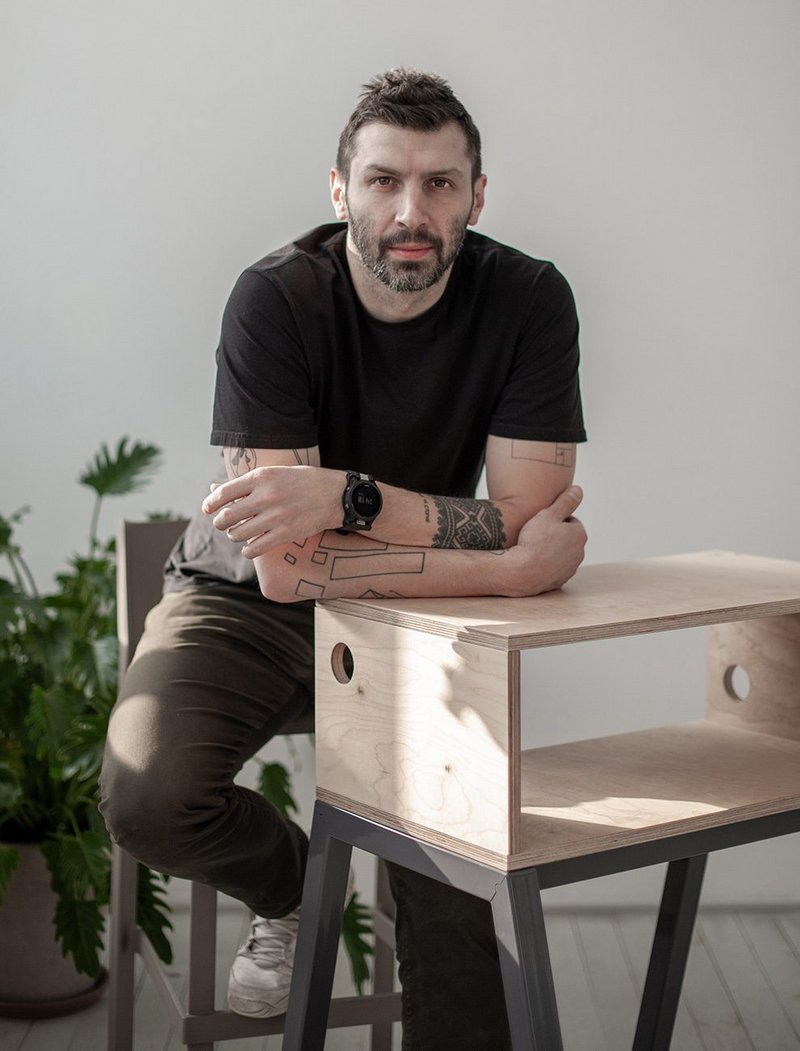 Slava Balbek in his studio
I am Slava Balbek, a Ukrainian architect. I was born, studied and live in Kyiv, and opened Balbek Bureau 12 years ago. We are a team of 70 people, a mix of architects and designers. Most of our work is interior design, but we do some social projects. At the moment I am supposed to be in Chile because yesterday the icebreaker ship for which we did a pro bono art installation arrived there, having left Ukraine a month ago. The installation is called 'home memories'; it outlines a typical Ukrainian village house for travellers who are far from home. But we also have international projects in the US and Singapore, and have worked in China, Austria and Slovakia.
Half of our work is residential and half commercial – cafés and restaurants. These are my favourite – you need to understand and analyse society and present something that will be useful to a group of people. This is why I have set up two cafés in Kyiv. We have an expression in Ukraine: a man should plant a tree, build a house and raise children. For architects that becomes: build a house, develop a chair and open a bar or café to hang out with friends. We started a small café two years ago in Podil, which is a creative district like Williamsburg in New York, and one year ago we opened a bigger one called Double. Architecture in Ukraine is very different now to what it was 10-15 years ago; then there wasn't any kind of production here but now you can produce anything and it is 10 times cheaper to do it than in China or the US.
I have been in Kyiv since the start of the war and will stay whatever happens. I'm at home now but usually I'm driving around the city or helping the guys in the café. When the war started, we realised we had all this food that would go to waste. We worked out how we could prepare it to serve people somehow. At first it was just us and our friends, but now we have 20 cafés, bakeries, restaurants and suppliers and are producing 11-13,000 meals daily. It is a pretty organised group that we call Kyiv Volunteers Team, with managers from the office controlling and co-ordinating drivers who deliver the dishes to the territory defence, people defending Kyiv and the people in the metro station and bomb shelters. Every morning we must work out what food we have. Cucumber, macaroons, whatever – it changes daily.
All our architecture work is paused, but every day cafés are coming back into business. A week ago we were one of the first to start serving coffee again. In the first days of war everything closed and people struggled to get food. Now it is relatively good in Kyiv, but other cities in the east or south are totally damaged. There were fights in the small villages around the city, and they have been totally burned by the Russian army using tanks. Right now, there is news that the Russian army is leaving the region. They are regrouping. But it's been hard for months with missiles hitting Kyiv.
In terms of seeing the war coming, we knew Russian troops were accumulating on the borders around Ukraine, but the only people who expected it was the military which has been preparing for eight years, since the war in the Donetsk. Ukrainians are praying for the military, they are magicians, everyone trying to help them. That's why there are territorial defence units in every city. A week before the invasion, I went to register. They gave me a list of 24 physical and mental health tests to pass. The last was on 23 February; the next day was war. I went on the second day of war at 8:30am and they were oversubscribed. I had to find another way to help.
In terms of the practice team, people took around a week to hide and secure themselves, family and friends. At the moment about 35 people are working. Like the café, we assess what can be done each day. A few members of staff were blocked by fighting, stuck in blocked villages for 25 days. They had no electricity, no connection, and had to move their sims to different phones to read messages.
That's how we came up with our refugee project, System ReUkraine. The refugee problem in Ukraine is huge, one wave went through the border to Poland, Lithuania, Germany and elsewhere. But most stayed in western Ukraine. Now people are trying to get back there from other countries and it is collapsing under pressure. On the 10th day of war we started a project to establish the minimum level of comfort required to maintain dignity. Even if you live in small blocks, you still need to be connected socially, you need to feel technical comfort while dishwashing, preparing food, eating. Most refugee projects are really tiny blocks where you live 24 hours a day. Our proposal changes this a little. We have small personal areas but also common living spaces, good kitchens and double the number of showers. The project is a rules and benchmark system which allows buildings to be adapted. The project has attracted interest from Turkish, Japanese and German companies that want to help. We put out a call for expressions of interest to participate and had 600 responses – lawyers, architects, marketing­… everyone. Now we are trying to group and categorise these people/companies, which is the main thing I am doing.
Previously we had around 40 projects, now only have three or four of the international ones. We had to regroup teams. The project manager for the US project, for example, is in the territorial defence and another is in the military defence. We are still going as much as possible, although once we had a Zoom call with the project managers and of the 10 of us in the call, everyone had either a bomb shelter, basement, metro station or parking lot for a background. We had to laugh about it, I saved the moment with a screenshot – you need to stay positive in this terrible situation. Mariupol has 500,000 inhabitants and zero buildings are undamaged. The hardest fighting is there. Thousands of people have been kidnapped. The Russians are not trying to occupy it, they are trying to destroy it.
What does Russia want from this war? You can't understand idiots. They are hitting the evacuation convoys, stopping humanitarian buses and shooting civilians. Is it a war, or is it terrorism? There is no explanation, the only thing we can do is fight back and push them off our territory. You can't imagine what is going on, that's why you try to continue to be productive and work. Every day we are learning new things. I think I will only understand what I have learned in a year when I look back. Right now, we are just trying to react daily, there is no time to reflect.
Today I will go to help the rescue teams in the fire department because they need help clearing the streets and dealing with bombed buildings. There are waves of volunteering, at first when there were no taxi drivers and there was a collapse in public transport, I switched to evacuate my friends, parents or deliver food. When that finished, I tried to see where I can be useful in architecture. Now that's going well, I am giving myself another task.
In terms of the damage to Kyiv, at first the Russians tried to hit the airport and northern part of Kyiv to get to the centre, never military objects. There were street fights in the centre. Afterwards, the military defence blocked the roads so now each street is guarded by people with Kalashnikovs. You need to show your passport/documents and they may check your car, messages or photos. So far around 20 buildings are damaged; one assault destroyed almost half of the shopping mall, another hit a house in Obolonskyi district. It was when one hit the playground 50m in front of our window that we decided to move to the centre from the north where we had been living. But we are getting used to it. Every day you hear explosions and now we can identify the types of sounds – whose side it is and whether to hide. It's terrible that we can do this now, in just one month. There was one missile this week but it was downed. There hasn't been a serious hit for five days.
In terms of protecting buildings, we are trying to protect monuments using sand and concrete blocks like shields. This started a week ago. But we do this when there is time and people don't have time to do it in other cities. It's a huge amount of work and in fact one huge missile can still destroy them. I haven't had time to think about how the war has changed how I see buildings. I don't have emotions or time to look at the building while people are being hurt. First you secure people and then you see the building. We are not architects at the moment; this part of the mind is switched off. I don't think like an architect, I think like a civil Ukrainian. Your mind only has room for the basics. The theatre in Mariupol was an important building. There were 300 sitting inside and they had written in huge letters on the floor outside that there were children there. The Russians hit it. How you can prepare against that? You can't.
We need help from the international architecture community, but it should be centrally co-ordinated or it will be a mess. We have many requests to help, but right now it should be media coverage to explain what is going on. Only after we finish fighting and see the scope of what needs doing can we set up a plan for reconstruction. In the meanwhile, I am committed to working through each day. With architecture we are continuing to work and see what can be built, but half of materials are not available, half of the workers are at war. Prices, systems, everything is so unstable that you can try to believe it will go according to the drawings, but it changes from day to day.
We continue paying salaries because we have the fees that we had received before. We can cover around a month more. The international projects are still live so we will still be paid for them. Our plan is to divide that income among us. We'll pay less but everyone will receive some salary. Nobody will be fired. The guys that have gone to work for other practices in Europe, that's fine. We have two or three people who are already working in France and Germany. We have other people who are still in the group and not working, but we are covering their salaries as much as we can. Other European practices could step in to help, but companies shouldn't just take staff because they are Ukrainian. They should hire people because they are the best.
Slava Balbek spoke to Isabelle Priest on day 36 of the Russian invasion of Ukraine 2022.
---
RIBA Jobs is providing free advertising to RIBA Chartered Practices offering employment opportunities to displaced architects or architectural students. Find out more.
View all job opportunites for displaced architects or architectural students.