vPPR lit up the architecture world with its ingenious Ott's Yard houses three years ago. Rapid growth and two babies later, the busy partners find themselves in demand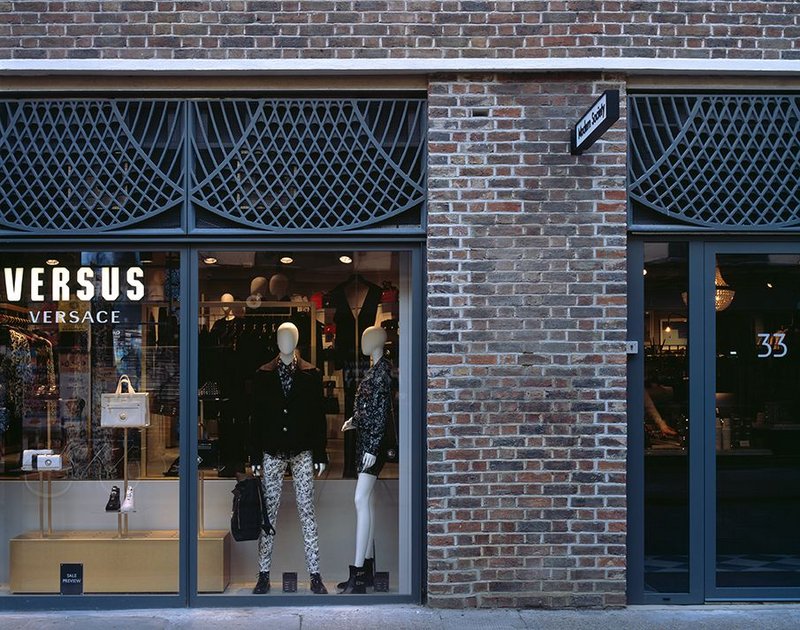 Attention to material detail in the Redchurch Street retail/residential scheme, refurbishing a 1960s block.
I'd just been at the Royal Academy, where the life of architect Michael Manser was being properly celebrated. As I slipped in at the back, I found the two architectural Lords, Foster and Rogers, standing side by side, listening to a peroration by Sir Michael Hopkins. This, then, represented the generation of architects who came of age professionally in the early 1960s. Then I set off east for Bethnal Green to see what the post-Crash generation of architects is up to. I found the three founders of vPPR in their local café, a gluten-free kind of place just round the corner from their 12-strong studio in a streetful of other architects and designers. What clues could they provide?
If the Foster/ Cheesman/Rogers/Brumwell Team Four of 1963-67 personified a new kind of architecture which announced its arrival with a famous family house – Creek Vean – then vPPR is following the time-honoured pattern. The practice came to attention in 2013 with its yin-yang pair of triangulated houses in London's Tufnell Park, Ott's Yard. It won awards, and the practice has been growing slowly ever since – in size and number of projects along with the staff numbers. Ott's Yard, like Creek Vean, was an insider job, involving family money. And the partners of vPPR, like most of Team Four, are friends from architecture school who gained youthful experience in the USA before making the decision to set up in practice back in the UK with that family help. Both practices found themselves feted in glossy magazines from the off. So has nothing changed in architecture in more than 50 years?
Well, there is no northern working-class equivalent of Foster in the set-up that I can detect. Moreover vPPR was founded as an all-female Team 3, so to speak: the founding three are Tatiana von Preussen, Catherine Pease and Jessica Reynolds, pals from Cambridge days who went their separate ways, got Cambridge out of their systems by working in different places in the States on a wide variety of projects – and then found themselves, aged around 27, in an economic meltdown. Pease was in the New York office of SOM at the time, on the team for Mumbai Airport. Von Preussen had finished working on the High Line with Field Operations. Reynolds was working for facade design practice Front. All three had taught and critted between them at Princeton and Columbia, the AA and Cardiff, and had previously packed in useful experience at UK practices including van Heyningen and Haward, Stanton Williams, Dive, and Stephen Taylor Architects. So what to do next, as the world economy took time out and redundancies began, with the three of them in New York? 'All of us in our respective offices felt that we wanted to take control of our own destinies and not wait for someone else to do it for us,' says Pease. The friends tried working together on a project for a cookie store in New York. The client didn't proceed, but the exercise proved they could do it. So they hatched a plan: bring the practice back home, make use of the downturn by finding and buying a site, build a self-generated project, and take it from there. Thus Ott's Yard came into being.
It's true that they had liquidity and connections to call on which plenty of their contemporaries didn't. In that sense it's an old-fashioned kind of set-up. But they'd also acquired something of an American attitude. 'In New York,' says von Preussen, 'there's this air of entrepreneurialism around.' Nor has vPPR gone into the super-prime, lush-interiors world that a certain kind of architect is drawn to. They are properly resourceful. They showed me a model of a Swiss holiday home (family link there), the rooms spiralling round a little sheltered courtyard, while the next project after Ott's in 2015 was another landlocked award-winner for a private developer client, Vaulted House in Hammersmith. Upmarket, certainly. But they also gave me a sneak preview of some of their social-housing projects in Croydon. The practice's flair in making the most of awkward bits of left-over urban space – which after Ott's Yard brought private developers calling – is proving very worthwhile as the south London borough seeks to densify its affordable and rented stock through high-quality infill.
The practice is a confederation of equals – there doesn't appear to be a boss, and the three are adept at waiting their turn in conversation so everyone gets to speak. But there's been a time when, for very good reasons, Pease was left pretty much in sole charge. Those reasons are that the other two took maternity leave more or less simultaneously, and have not long returned. It helped that Pease lives in one of the two Ott's Yard houses next to van Preussen, and weekly project crits between the three continued, but still – the fact that two-thirds of the founding partners found themselves otherwise engaged at a crucial moment of growth for the young practice demonstrates the level of determination they have. They were never going to let this be an obstacle.
Unlike, say, an illustrious architectural triumvirate of the past, Ahrends Burton and Koralek, this is not a federation of three effectively solo architects. There might not be a vPPR house style, but they share an interest in expressive geometry which is as different from the stereotypical Cambridge 'hair shirt' architecture as it is to the allusive collectivised architecture of another bunch of ex-Cambridge practitioners, Assemble. They describe their concerns as 'geometry, landscape and community' and how these weave together. There's an interest in the feel and heft of materials, too – evinced by the refined sand-cast grilles of the practice's mixed-use project in Redchurch Street, Shoreditch. That consists of shops and flats with, uniquely, large windows at the back of the shops overlooking the planted internal access lobby of the flats. The grilles are an integral part of the shop-front architecture in the way that such things commonly used to be. The large mould for one of the castings takes pride of place on the studio wall.
Who knows how their architecture will develop from here? Getting work seems not to be a problem. 'The infill projects keep flooding in,' says Pease, and they count them up – four in Barnet, six in Fulham, plus so far three in Croydon. 'It's a really exciting time for a practice,' says Reynolds. 'They range from 9-12 units, and now 20 units for another client. Every time we do one we refine it.'
Not everything comes up trumps for vPPR – it has had its share of cancelled and on-hold projects including a dance centre in Cardiff designed in fruitful collaboration with Loyn & Co, a culture centre café in Quingdao, China, and interiors for Novosibirsk Airport in Russia. These are signs that the practice is working hard on diversifying. It aims to do a lot more than clever urban infill. Arts and education projects are high on their want-to-do list, says von Preussen.
The firm has a high profile, then, for a practice with a relatively modest selection of completed projects thus far. It's not setting out to revolutionise architecture like the 60s old guard, but the trio are very sure of their direction. Once vPPR lands a seriously big and complex job, just watch it go. They are ready.