Departing director – no longer curator – Tim Knox has delved into all aspects of the Sir John Soane's Museum in the last seven years and leaves it in excellent shape. But he's not had a second to do any writing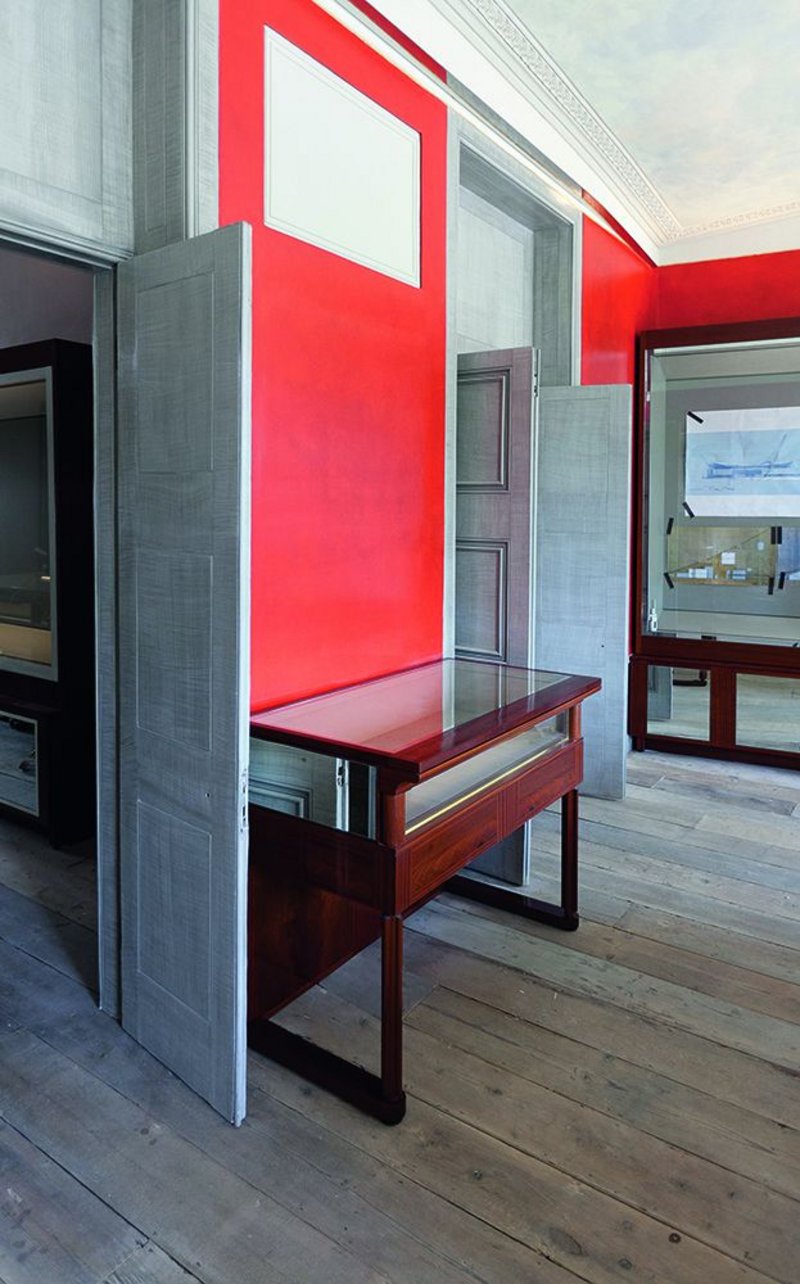 Under Knox Opening Up The Soane has included the completion of two new galleries to the museum.
The Sir John Soane's Museum has had a long history of distinguished curators, most notably Sir John Summerson who presided over the museum for 47 years, during which time he wrote Architecture in Britain and The Classical Language of Architecture. When Tim Knox arrived in 2005 he deliberately eschewed writing. 'The museum had the reputation of a throne for writing great works,' he says. There was too much to be done: setting the finances in order, cataloguing, implementing the £7m Opening Up the Soane developments and raising the money to do so. In order to match the job he got his title changed to director. A better calling card for fundraising, especially in America. And when he moves on in March to become director of Cambridge's Fitzwilliam Museum he will leave the funds and structures in place for the next stage of the museum's life.

Whether it's job title or dress, Knox likes to know how to fit in. As architectural historian at the National Trust – drafted in by predecessor and mentor at the Trust architectural historian Gervase Jackson-Stops – Knox adopted a pragmatic hybrid uniform of jacket, tie, jeans and boots when going out to its great country houses, rather than the Jermyn Street tailoring of earlier generations. 'I was parachuting in to solve problems but didn't want to feel like the snappy little man from London,' he explains. It was fairly hectic 'galloping round the countryside, drinking vile coffee at meetings then rushing off elsewhere'. But he had some big projects to get stuck into: Knox persuaded the Trust to acquire the Workhouse in Southwell, Nottinghamshire – a departure in building typology at the time. As head curator he championed the trust's acquisition of Victorian gothic Tyntesfield. And he supplied one of the controversial highlights of the documentary of the Trust with his less than enthusiastic views on acquiring the John Lennon house Mendips.

Knox wears a three-piece suit now. He left the National Trust when his job moved to Swindon. The Soane had been a favourite haunt since his first visit aged 16, including when he was assistant curator at the RIBA Drawings Collection. He arrived with a new property to bring into the museum. His predecessor Margaret Richardson had bought number 14 Lincoln's Inn Fields, the third of the three Soane houses in this London Square. 'My first job was to restore number 14,' he explains. Though there was money ready he decided to wait for a year and work through the effects on all three houses. He moved the gallery designed by Eva Jiricna to allow a shop at the exit (ultimately giving Caruso St John the chance to design a new gallery and shop) and shifted offices to the top floor across the three houses – which needed the staff to buy into the idea as well as extra funds. The first phase finished in summer 2012, allowing visitors to hang up their bags and coats, to go up one stair and down another (a lot less squeezing past) and spend some money on the way out.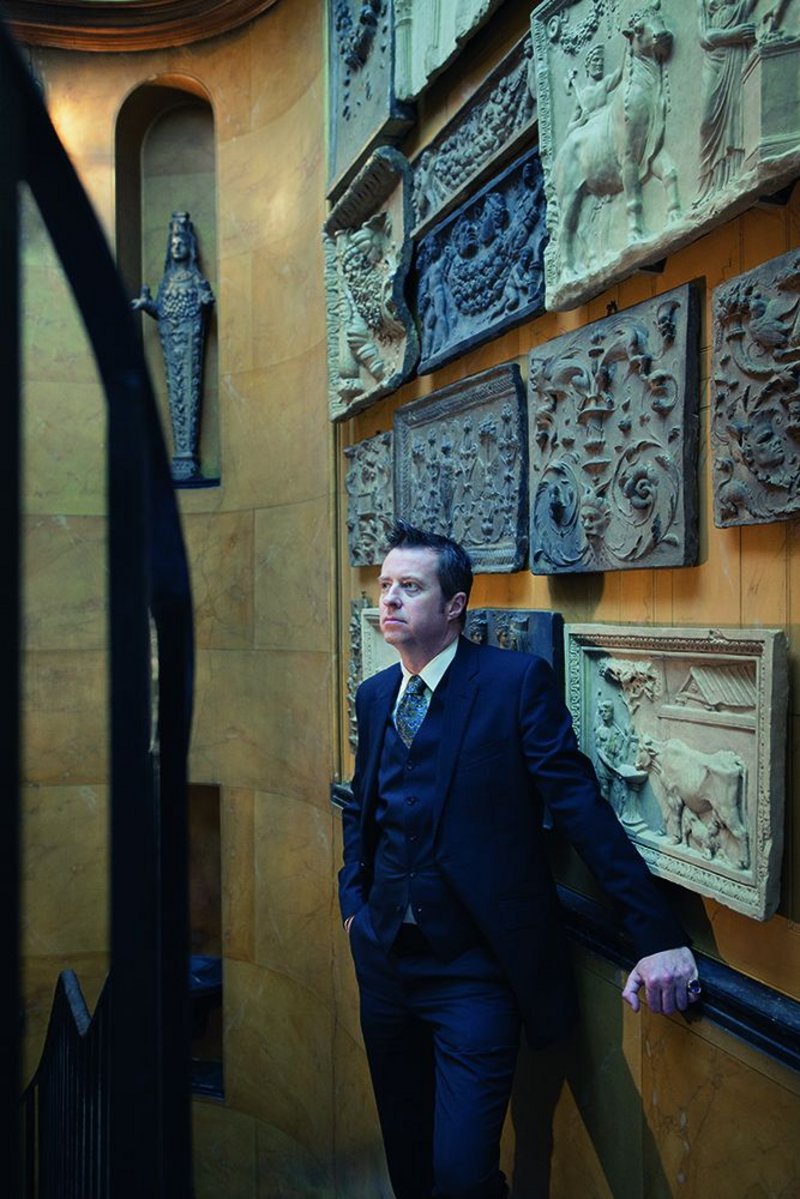 Knox is as interested in the objects as the environment and management of the museum. Each of these fragments tells a story.
Knox also put in place the systems one might expect in such an institution for financial accounting, enterprises and venue hire. The museum is government sponsored, like the major national galleries, and there had been misgivings from above about expansion. The endowment Soane himself had put in place, number 12 which was rented as legal offices, was absorbed into the museum in the 1960s. Knox is acutely aware that with no reserves to speak of the museum would last only a couple of months if the government cut off its funding. Recent fundraising has focused on raising an endowment which will be boosted by a Heritage Lottery Funds' Catalyst: Endowments grant. Knox himself dressed up for the Museum's Regency Rout which made half a million for the museum at £500 a ticket.

Knox does more than enter the spirit of Soane. In his personal life, with landscape architect Todd Longstaffe-Gowan, he is also a collector. It is an eclectic mix of the curious and interesting: architectural models; a 'strange 1940s portrait'; natural history (skulls and skeletons); vases and vessels; busts and more. His 20-room 1742 Malplaquet House in Stepney, East London, is filled with the collection. The house itself was a labour of love which Knox and Longstaffe-Gowan took on from the Spitalfields Trust and rebuilt.
'He has something most museum directors don't – two dachshunds that he brings in every day on the tube in a sports bag, who roam the top floor seeking scraps from the staff'
Ironically, the collection in Knox's top floor office at the museum is not his own but Summerson's library. It's the sort of collecting Knox doesn't think much of. 'Some are quite useful,' he says. 'They give me a nice warm wallpaper.' But he has something most museum directors don't – two dachshunds that he brings in every day on the tube in a sports bag, who roam the top floor seeking scraps from the staff.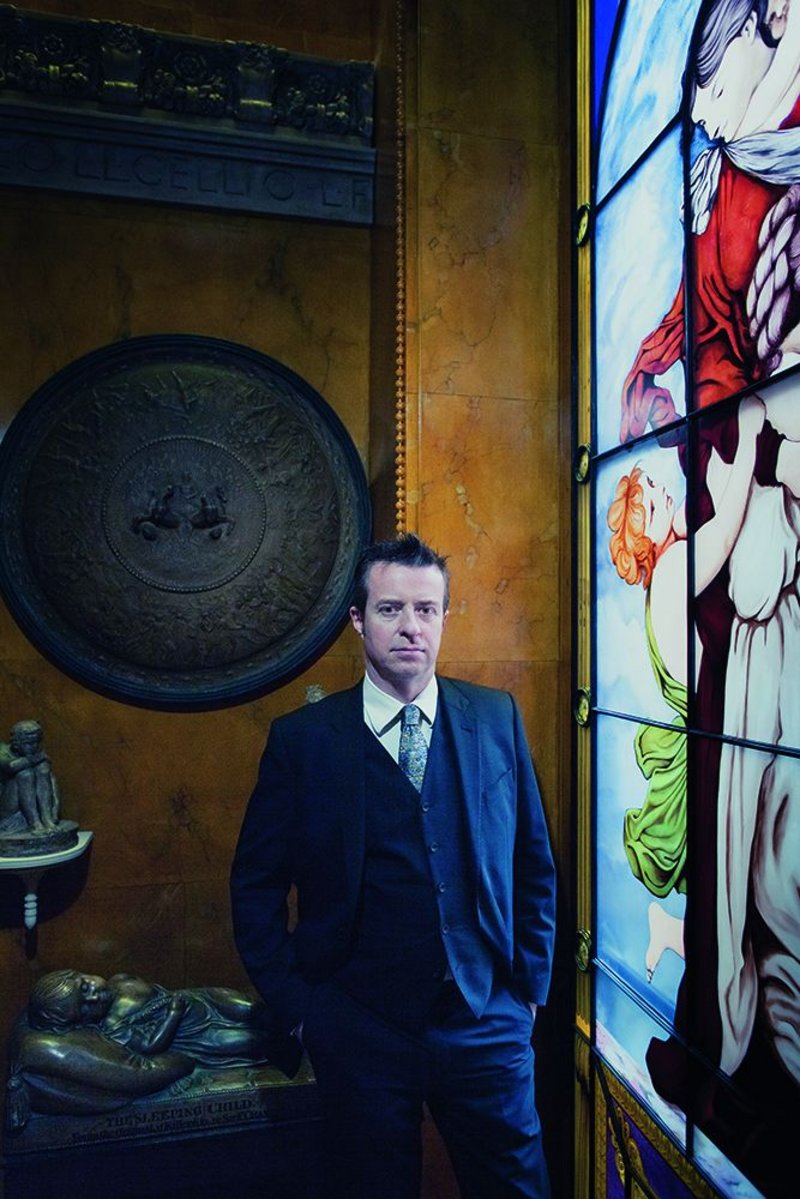 Knox slides into the Tivoli Recess, a jigsaw of reconstruction. He is proud to have stumbled across a plaster Apollo head for the ceiling in Soane's drawing office.
One of the dogs peers through the railings, whining just a little, as we photograph Knox. We start in the Tivoli recess (right) – its restoration almost complete. It is one of the two recesses off the staircases in number 13 which have been brought back into being after years as loos. It was both a structural reconstruction and a piece of decorative detective work – but worth it, says Knox. 'They were terrifically expensive for their size and utility but therein lay the whole point,' he says. 'I don't think Soane got in them, he just peered in.' This idea of Soane being 'very keen' on darkness and confined spaces, for all his reputation as an architect of space and light, is always what most impresses on visits to the museum. The smallest and most complex places are the most promising and atmospheric, precious and picturesque fragments taking on a new life in the flicker of candlelight at winter dusk.

Seen against these even Caruso St John's beautiful, elegant mahogany, mirror and Corian gallery cases can seem brash newcomers. This problem of new and old has faced the museum since it was bequeathed to the nation on Soane's death in 1837 with the injunction to keep things as they were on that date. As visitor numbers have risen from 85,000 in 2005 to around 110,000 a year the problem has gone from congestion to crowd management. So unlike most institutions development is not about increasing visitor numbers but giving visitors inside (70 and no more) a better experience. Yes, you do have to concentrate on those inside, says Knox – although discussions are under way that might give the museum some foothold in the square – a relief for those queuing.

Julian Harrap Architects' work on the museum over the last 25 years as both retained house architect and winner of the bid for Opening Up The Soane ('we were very pleased when he got it') has been tender and subtle. It is the restoration of historic rooms – with the museum's own team – that have proved most interesting. And work on Soane's private apartments, which were for many years co-opted as curator's office among other things, has begun. Most dramatic of these will be the model room. At the moment the models' vitrines are wrapped in tissue and shrouded in gloom but when finished the room will be stacked high like the famous Gandy painting, with 95% of the models on show. There is hope that some might be sponsored by architectural practices.

Knox might not have written his magnum opus while at the Soane but he has overseen the wider dissemination of its collection. He has made a start on opening up its catalogue –from oil paintings on the BBC's Your Paintings website to a more scholarly form on its own. This includes Soane designs of major works like the Bank of England and many of Adam's architectural drawings. And art historian Michael Hall has been commissioned to write a history of Soane's architecture, using, of course, the museum's drawings. However, Knox still sees his major contribution as reversing some of the 'disastrous' interventions to the fabric and collection under architect James Wild and other earlier curators.

Can Cambridge's Fitzwilliam offer similar projects and challenges? Knox must take on an academic as well as directorial role but he is full of enthusiasm. 'It is a fantastic collection, very beautifully displayed and with the most magnificent staircase,' he says. 'I am looking forward to immersing myself in the museum and the university.' He is holding fire on plans until he has spent time there, although top of his list are a storage overhaul and staff accommodation. He is clear that the 2002 courtyard development by John Miller + Partners, with which he appears underwhelmed, is not the last word. But the architecture, in the form of the 1790s house that goes with the job, is a clear draw. 'It is supposedly to a Soane pattern-book design,' he says. 'It is very grand with a beautiful garden, which the dogs will enjoy.' He hopes it will be 'simple' compared to his crammed London home, to which he will return at weekends, though he will be moving some of his collection up there.