Grand plans and intimate details go on show in the second phase of work to open up Sir John Soane's Museum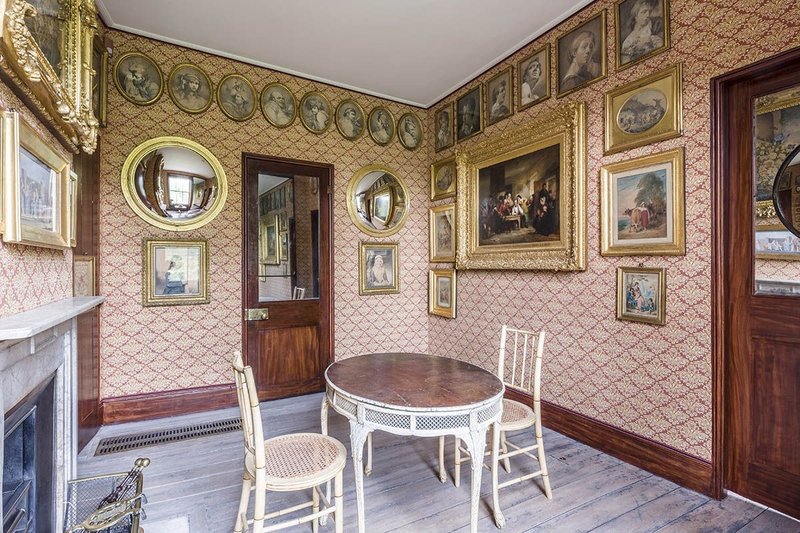 Mrs Soane's morning room.

Credit: Gareth Gardner
Unlike Tracey Emin, Sir John Soane was probably not particularly keen to show off his bed. He did encourage visitors, including his own Royal Academy students, to 13 Lincolns' Inn Fields, London, taking them into the second floor morning room and legendary model room. Next door to the latter, they may have glimpsed his bathing room (as bathrooms were called at the time), but not the bed chamber around the corner. An 1833 Act of Parliament to preserve his house, collection and library for the nation did not specify the bed. In any case, shortly after his death in 1837, it was soon gone. The second floor was converted to accommodate the first curator of what became the Soane Museum. It has now been exquisitely restored by Julian Harrap Architects. Among structural modifications and a cornucopia of artefacts is a four-poster bed, neatly made with pristine white bedding.
The new £7m works follow those next door at 12 Lincoln's Inn Fields, which was phase I of the 'Opening Up the Soane' project. The first thing we see of phase II is when coming up the stairs: an internal window inset with original stained glass (in storage since 1918), facing out from a small room for contemplation called the oratory. Soane's wife Eliza died in 1815, only two years after they had moved in, and the restoration of the second floor is true to his subsequent changes. In her morning room, for example, he hung a lot of paintings (including an extraordinary one of Shakespeare with all the flowers he ever mentioned, by Clara Maria Pope). These would have been viewed without electric light, and there are none now. Instead argon lamps, which replicate the oil lamps of the time in form and output, are to be installed.
Next door was Mrs Soane's bedroom, preserved for almost 20 years before Soane decided to convert it into not just a mini-museum of architectural models, paintings, drawings and books, but a sort of Mission Control Centre for developing and conveying his architectural vision. After more than 160 years, the model room is back, and it is simply gobsmacking. The great 2.7m-sided square, multi-level model stand is reconstituted and so big that the room becomes almost a passageway around it. A model of Pompei (surely a forerunner of the NLA's London model in Store Street, and all its worldwide counterparts) stands with classical building models in cork and, by François Fouquet of Paris, in dazzling white plaster. Soane's own designs, the original Law Courts and his most famous work, the Bank of England, are below. Soane Museum director Abraham Thomas says it's a 'a very didactic arrangement', a personal statement that says 'something of civic society and urbanism'. Around the walls are yet more models, and paintings by Joseph Gandy, who was also an architect, but collaborated with Soane to visualise the latter's designs. His Bank of England painting famously visualises it as a ruin. Paintings here include a 1793 version of the (unbuilt) Design for A Triumphal Bridge, setting it among idealised trees and a mountain backdrop. Such works were like renderings long before the arrival of CGIs.
The adjacent bathroom would have been a novelty because Soane's new-fangled bath had hot water on-tap. Patches of the original wallpaper have been found, but (as elsewhere) most of the wallpaper is new, handprinted by a company in New York State, faithfully reproducing pattern and colour. By the mantel piece, the boundary between old and new wallpaper is clearly seen, the latter long hidden and now faded. Some of the bathroom walls, and all those of the bedroom next door, are modified or new structures. Lost architectural openings have been re-opened. Decorative, non-structural vertical iron columns rise beside the frames of a north-facing window – oddly, they look a little like high-tech pipes. Doors are tall, enhancing a sense of grandeur. A small book passage is even taller, open to a skylight a full storey above it. Even in a cramped space, Soane was a master of making his architecture impress.
Historical restorations increasingly compete with multimedia experiences to convey special places, but there is nothing like the texture, space and light of the original. Here, the second floor restoration renews Soane's intention that his house be an educational tool. 'We really are steering back to the 1830s,' Thomas comments. The work is as near to perfect as is humanly possible, even in places such as the book passage which were not systematically documented.
Except for one thing... that bed. In fact, it's a loan from Pitzhanger Manor, Soane's country house in (now-suburban) Ealing, closed for restoration by Jestico+Whiles, working with Julian Harrap and others. However, the London bed situation is temporary - a replica of the original is being made.
Access to the private apartments and model room should be pre-booked here
---