Right-wing sympathisers are infiltrating architectural criticism to peddle reactionary views online, says Will Wiles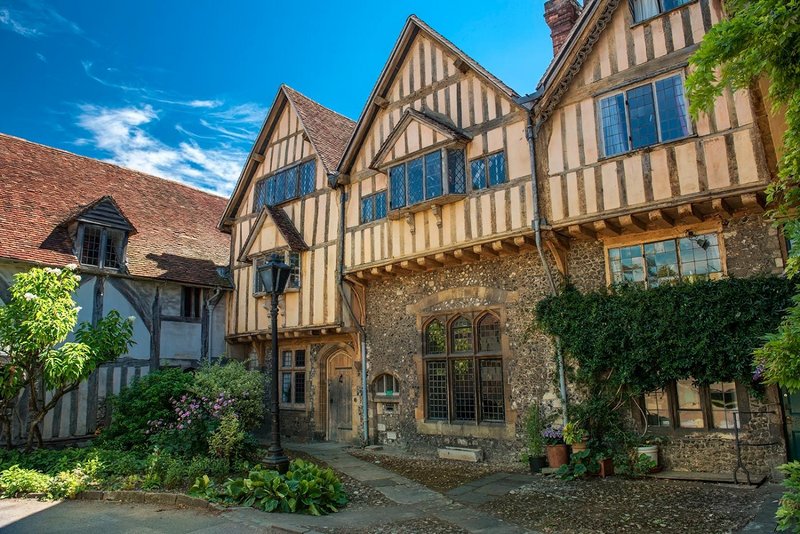 When is a half timbered building a Trojan house? Dome Alley, Cathedral Close, Winchester, Hampshire.

Credit: Istock - irisphoto2
Reactionary architectural opinions are a big hit online. They often build huge followings pushing out pretty pictures of half-timbered houses jettied over cobbled lanes, Hanseatic gables, Oxbridge Gothic, neoclassical Paris. So far, so harmless – and you can find plenty of modernist versions as well, with the same rotation of Paul Rudolph and Yugoslavian monuments. This is just the background jungle; we are looking for the viper.
Sometimes the chocolate-boxy accounts have an edge: a polemical thread, air of disquiet, a message. It is hard to distinguish at first but they have avatars taken from paintings or classical sculpture and over the pictures of Heidelberg or Mont-St-Michel they pose the question: Why don't we build like this now? Dramatic contrasts are drawn: a picture of (say) the Royal Crescent in Bath is set against (say) micro district housing in Volgograd and we are asked why, when everyone loves the former, so much of our environment looks like the latter? Appeals are often made to inarguable objective standards, which no one could dispute: beauty, timelessness, the human scale. Why can't we go back? What went wrong?
These are rhetorical questions – they like to explain the answer, generally (on Twitter, at least) in windy, pompous, multi-tweet threads. They don't quite explain all of it – there are some blanks the reader is left to fill in for themselves, but we are left with an important outline: we were led astray. A villainous caste of malign experts and assorted perverts decided to uproot our culture and history to impose a global order of placeless, soulless concrete, glass and steel to make us obedient socialists, or consumers, or (somehow) both.
You don't have to delve too far into many replies and retweets to see a large number of very sinister nationalist, racist, and outright neo-Nazi followers sharing this kind of content
While they pretend to historical literacy and flatter their readers as enquiring minds seeking truth and beauty, these accounts are generally striking for their incredible, wilful ignorance and incuriosity about why these shifts and ruptures came about. Some may be pretty harmless, but some certainly are not. They pose as enlightened bearers of deep wisdom while spooning out puddle-shallow sentiment. Anyone with a little understanding of the 20th century will detect something whiffy in this back-to-the-old-ways posturing, and you don't have to delve too far into many replies and retweets to see a large number of very sinister nationalist, racist, and outright neo-Nazi followers sharing this kind of content. But, disturbingly, many regular social media users don't go in for that very basic diligence and will happily share a few pretty pictures with some seemingly erudite commentary attached without looking too deeply. And some, without thinking too deeply, will be led down a very murky path.
That's the intent. The blanks in these aesthetic manifestos are there so as not to frighten anyone. They aim to create a general sense that a precious shared European patrimony has been stolen from trusting, right-minded folks by this malign outside force. Believe that, and the mind is ready to accept more blunt and racist far-right messaging.
Arguing is pointless, and so is sharing this rubbish to dunk on it, because it's engagement they want. This isn't really about architecture, and when I criticise these accounts I'm not attacking classical or traditional architecture. They don't care. They aren't interested in promoting better building; the only style that matters to them is paranoid. It's all just a means to set up a sinister stage play in which odious rootless cosmopolitans are undermining the pillars of European civilisation and polluting all that is beautiful and true. You don't have to know too much European history to know what happened last time those beliefs were widespread. Retweeter, beware.
Will Wiles' new novel, The Last Blade Priest, is out now from Angry Robot Books
---
Hunger games
Architects may be dismayed at how often this sort of online nonsense points the finger at them for the evils of drab modernity. As I say, arguing directly with these suspect characters can be counter-productive. But their existence does point to an appetite for intelligent architectural content online, and explanations for how the world looks the way it does. This indicates ways that architects might fruitfully find a following online – without the sinister dog-whistles.