It's not just a style, it's a sensibility – a generous and ethical one that is still very pertinent, a new book argues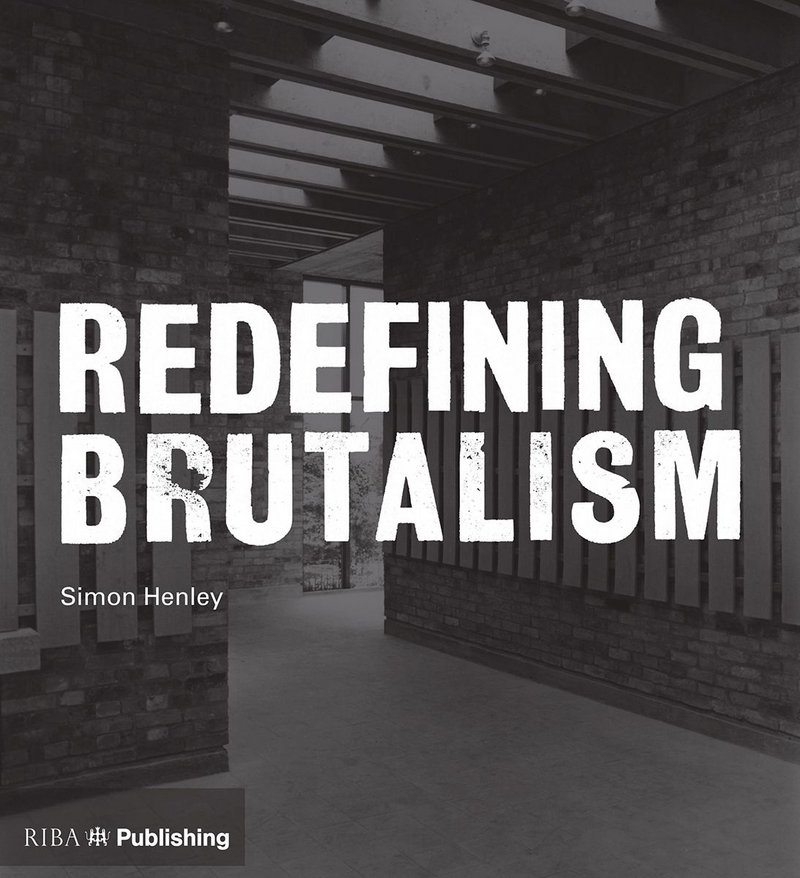 Redefining Brutalism by Simon Henley, RIBA Publishing.
Does brutalism still need detoxifying, as suggested in Simon Henley's new book Redefining Brutalism? Surely embracing brutalist icons and the tough beauty of concrete is now a well established part of urban chic. Anyone for a Trellick Tower tea towel?
Henley's book, however, moves purposefully away from this fetishisation of brutalism as concrete, urban and alien. It makes an engaging argument for a more sophisticated appreciation of the term by revealing brutalism in all its complexity via a dozen essays offering different speculations. These will, he hopes, extend many people's understanding of what brutalism is. He tries to demystify it by showing that brutalism was primarily a sensibility rather than a style that has come to be associated with the welfare state, housing estates and high-rise buildings. Instead of seeing brutalism as an isolated period in architectural history, he shows not only its long roots but its continued flowering today.
'I'm prodding it from lots of different angles,' says Henley, co-founder of architect Henley Halebrown and author of the entertaining homage to car parks, The Architecture of Parking.
His interest in brutalism was sparked by the Southbank Centre, which he encountered when he moved to London in the late 1980s. Then it had a quite different character to that of today.
'It was alien in an interesting way. It was fun. It was slightly subversive with a world underneath where people were sleeping rough or skateboarding… it wasn't constrained by the conventions of building faces streets – a remarkable piece of landscape,' says Henley, who went on to write his design thesis on the South Bank.
Thirty years on, he finds brutalism acutely pertinent at a time when architects are struggling to make buildings that aren't merely generic compilations of factory made products.
'It has a gut-wrenching, tear-jerking type of drama that helps us to make connections with existential questions – who we are, why we are, and what matters. Right now it's a huge antidote to placeless, international, parametric, manufactured work. It has a humanity.'
He is interested in far more than brutalism's physical properties: 'There's a thread of purpose, a determination, a substance, a generosity. It's political. It's spiritual, and it's ethical. It's not all of these things all of the time, but it is a combination of these things all of the time.'
While the book gives due consideration to Reyner Banham's The New Brutalism and his analysis of the work of the Smithsons and other leading exponents, it frames brutalism in a much broader timespan than its well-documented 1950s-60s heyday in Britain. It is explored in all its geographic diversity, taking in examples from as far afield as Cuba, Asia and South America.
Henley argues that brutalism of the 1960s had more in common with the highly crafted buildings of the past, which used primary materials, than the industrialised, product-led architecture that followed. An essay on craft is particularly illuminating about the inherently hand-made quality of brutalist buildings and what Henley calls the 'high art' of concrete shuttering. This is balanced by an essay on precast concrete buildings, which reminds us that precast components were made not in a factory but on site. Henley describes construction photos of the Preston Bus Station site as showing it resembling a shipyard more than a building site.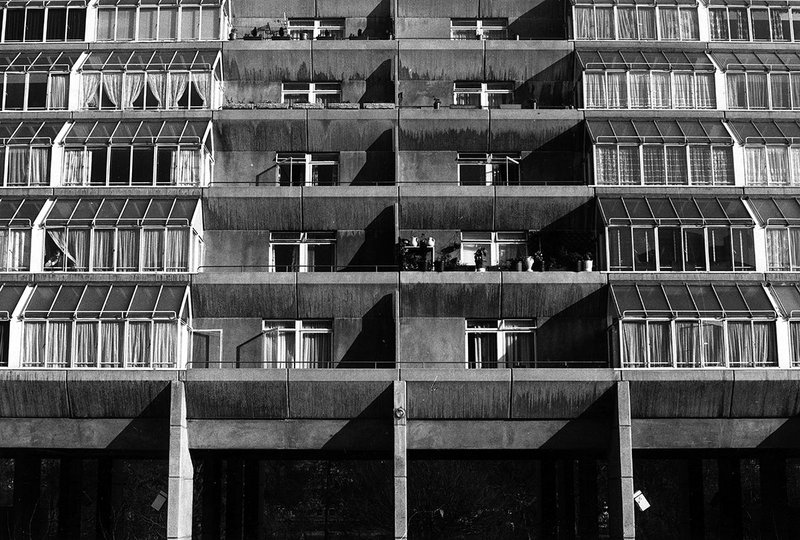 The Brunswick Centre, London: close up of the tiered flats from the square, Patrick Hodgkinson 1967-72.

Credit: Architectural Press Archive / RIBA Collections
Another chapter on 'Brickalism' considers that while concrete in all its virtuosity is the material traditionally associated with brutalism, it isn't the only one. This is demonstrated by a journey through half a century of choice brick examples including Hugo Haring's famous Cowshed at Gut Garkau (1922), Sigurd Lewerentz's St Peter's Klippan (1962-6) and ABK's Chichester Theology College (1961-5).
Other essays include a look at the brutalist city, large scale residential brutalism and a chapter simply entitled The Sublime. I found Henley's essay An Innocent State particularly fascinating. In this he considers how emerging nation states in the developing world or at the end of colonialism appear to have produced some of the best examples of brutalism.
'It is fair to ask whether these new nations embraced brutalism's rawness for being in step with their culture and politics, ideologically attuned either to their philosophy or stage of development as emerging, largely unregulated states,' he says, exploring work such as Le Corbusier's Chandigarh (1955-61) in the Punjab and Louis Kahn's work on the Bangladesh National Capitol in Dhaka as well as buildings by Lina Bo Bardi and others in South America and Cuba.
'All of these works are generous and hugely optimistic about humanity.'
Redefining Brutalism is well illustrated and includes images of some extraordinary and unfamiliar (to me at least) buildings. Mummers Theatre, Oklahoma by John M Johansen (1965-70), is a playful and colourful assemblage of concrete and metal boxes. Rather more brooding is the bunker-like Church of Bernadette du Banlay by Architecture Principe (1963-9) whose uncompromisingly tough exterior belies the harmony of its interior. In Berlin the Mäusebunker (1969-80) laboratory building at Freie Universitat, designed by Gerd Hänska, resembles a battleship with ventilation ducts positioned like protruding guns.
Henley follows the brutalist trail through to its late 20th century and continuing 21st century revival and considers what connects this work to post-war brutalism, with reference to the work of Tony Fretton Architects, Caruso St John, 6a Architects and Grafton Architects among many others.
While wisely not attempting to pursue a single narrative, this accessible and lively book succeeds in shifting appreciation of brutalism away from style and towards sensibility.
It is an uplifting reading of brutalism's importance not just to the profession but to society. Brutalism, Henley believes, is not only very much alive, but 'a reason for making buildings'.
'We can't build a brutalist building in the same way as in the 1950s and 1960s,' he says. 'But we can build buildings which derive from the same ethical principles and aspirations, with the same strong sense of craft, humanity and social democracy.'
Redefining Brutalism by Simon Henley, RIBA Publishing, £25 until 31 July (normal price £30).
---