Resilience, preparedness and agility are key to working for yourself. Four sole practitioners explain how those qualities are helping keep their businesses going during the coronavirus pandemic and how the future looks
Stefanie Stead working at her kitchen table with Joseph during lockdown.
Stefanie Stead schedules our phone interview at 10.00 am to coincide with CBeebies. Her 15-month-year-old Joseph babbles away happily in the background throughout the call. In January 2019, Stead received an MBE in the Queen's New Year's Honours List for services to the 'Architecture and the Construction Industry'. The youngest regional CIC committee chair when she was appointed for Yorkshire and Humber in 2012, she also sits on the RIBA Yorkshire Council and teaches HNC and Diploma Construction courses at York College – a passionate advocate for young people in construction. As a sole practitioner and director of Stead & Co Architects in West Yorkshire, she fits running her practice around caring for Joseph. Social distancing has reduced her childcare down from two full days a week to two half days. She is adamant that having a child, even during the Covid-19 crisis, has enhanced rather than detracted from her ability to prioritise and organise her work.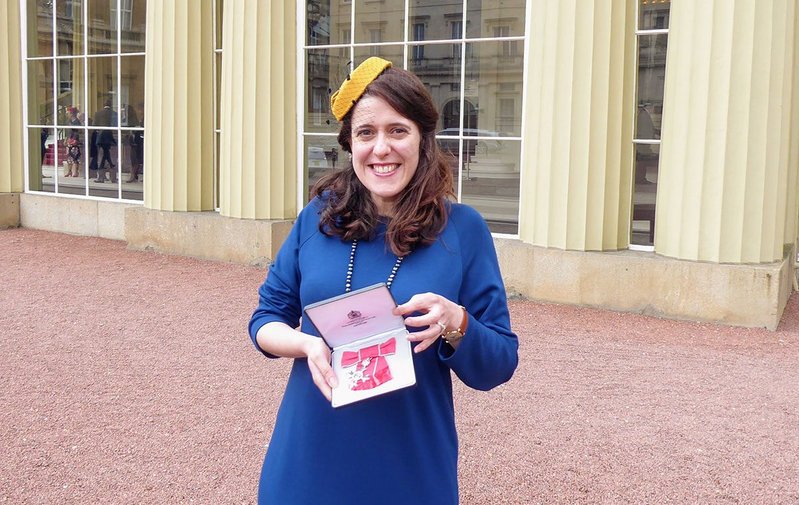 Stefanie Stead receiving her MBE at Buckingham Palace in April 2019.
For sole practitioners everything springs from them as individuals to lead and operate their practice. No new commissions happen, projects get delivered or invoices get generated without them. This is a strength during an economic downtown as they have a low cost base, but also extremely challenging. They have to be leaders in the true sense without any emotional or practical support to fall back on – everything comes from them and them alone.
Here, Stefanie Stead, David Ogunmuyiwa, Tara Gbolade and James Boon describe what the impact of the coronavirus lockdown has been on their practices and what their strategies are for getting through the next few months.
Stefanie Stead, Stead & Co
Stead runs her practice from her home in a traditional workers' terraced cottage in Otley. Her location gives her a 'mixed portfolio of rural and urban projects'. It is a 20 minute drive from Leeds city centre and 10 minutes from the Yorkshire Dales. About two thirds of her work is educational and community projects and the remaining third small-scale residential. It ranges from interiors to heritage sector work.
When social distancing was implemented in late March, Stead had two domestic projects on site. The first, redeveloping a house for a local family to create a teenager's annex – complete with kitchen and mezzanine – out of a garage, was put on hold. The second, more extensive, project remodelling the ground floor of a Victorian house in Walthamstow, east London, has gone ahead with the contractor largely working alone, and taking necessary social distancing precautions. The homeowners have gone back up north to live with extended family during the lockdown. Building supplies have been the greatest obstacle as builders' merchants closed immediately on lockdown, so the client had to move quickly to buy materials upfront.
'I haven't been greatly impacted by the lockdown,' says Stead, 'having adapted my existing way of working. In a conventional practice, it would be much more difficult to call the shots.' In mid-March, though, she responded with alacrity when it became apparent that social distancing was imminent. She booked Joseph into an extra day of childcare at his nursery and dedicated the time 'to creating a spreadsheet with priority jobs, using the RAG system to assess who was going to pay and manically finishing off jobs to get them out of the door.' This enabled her to work out which jobs to put on the back burner and which to proceed with. She sent all her clients an email. It also resulted in 'a whole month's billing taking place in a week, and everyone paying'. She also ensured her outstanding costs were paid so that she has no unexpected outgoings. She now has 'enough in the bank to see her through to the summer'. This process was aided by her existing billing schedules. These allow her to work out monthly what work to target on jobs and which to bring forward.
Day to day, Stead optimises her time by 'choosing the right task for the right time of day'. In addition to the two half days a week that her partner does the childcare, she works during the hour of CBeebies in the morning when Joseph is entertained and during his rests. Before the lockdown, Joseph came to meetings with her. For her clients – family homeowners and community groups – he proved an asset. It meant domestic clients would be reassured 'that she would know where to put the hoover and the ironing board'. She recognises that with her domestic situation now has 'no lines drawn between life and work', but she says she is passionate about what she does. When she has to work weekends, she makes sure that 'it is a pleasurable juicy drawing rather than administrative work'.
Stead admits that the practice has received fewer enquiries since the lockdown. She is continuing to develop her website to enhance her business. She recognises that fellow architects who are directors of limited companies are feeling the economic strain without the option to furlough themselves. She counts herself lucky that she is not in that position. Her teaching at York College provides an additional source of income and she is looking forward to the summer term, when remotely she is asking diploma students to write their own design briefs.
---
David Ogunmuyiwa, ArchitectureDoingPlace
David Ogunmuyiwa is the partner of ArchitectureDoingPlace, a small practice which celebrated its fifth anniversary during the first week of lockdown. He is not a sole practitioner, so technically should not be included in this article, but he describes other members of the practice as 'fractional'. One is a fine artist, working one day a week; another works two days a week so she can dedicate time to her own private jobs; a third is a Part II graduate; and his newest recruit is a practice manager who will spend two days a week undertaking everything from bid writing to business development and book-keeping. What Ogunmuyiwa shares with sole practitioners, though, is that all work is generated and perpetuated by him.
Ogunmuyiwa recognises that as a thought leader and professional, his greatest advantage is his 'biography'. Brought up on the Aylesbury Estate in south east London, his first degree was in construction management. He then worked as a housing officer for local authorities such as the London boroughs of Lambeth, Southwark and Tower Hamlets, and housing associations, including Circle 33 Housing Trust and West Hampstead Housing Association. He retrained as an architect at South Bank University while working as an architectural assistant at Burrell Foley Fischer for nine years, and has experience with leading practices, including Karakusevic Carson at associate level and DSDHA. He worked for three years in the Middle East, which enabled him to fund the founding of his own practice.
As the only chartered architect in London to have worked as a housing officer, Ogunmuyiwa's services are in demand as both designer and advisor. He describes his experience as the 'bedrock for his perspective'. While he wins work based on quality, he is able 'to undertake estate generation infill projects as an insider and 'interlocutor based on trust'. Having grown up in public housing, he can 'build bridges between the authorities and communities and [help] schemes to proceed more smoothly and quickly'. It is no surprise that he is a mayor's design advocate for the Greater London Authority and a non-executive board member for Urban Design London.
Longstanding experience in construction and architecture has made Ogunmuyiwa aware of the cyclical nature of the economy. He graduated from his first degree amid the recession of the 1990s and left DSDHA during the 2008 financial crisis. As a result he has made his career as resilient as possible, combining practice with teaching at the University of Portsmouth and sitting on review panels. With limited overheads he says he has 'to think about time and resources forensically' and tries to take on clients who are relatively resilient to recession, with a focus on public procurement processes.
A month on into the lockdown, ArchitectureDoingPlace is still in the process of delivering projects for councils. Having to pause plans to take on a larger studio, however, means that there are cash reserves to last the practice to the end of the year. The long term remains more of a concern with 'a couple of years of new austerity' on the horizon after the government bale out. He is confident, though, that review and feasibility work will remain areas of growth as local government is forced to reassess its priorities.
Ogunmuyiwa is now optimising on the 'nimbleness of small practice' to explore other sectors and build relationships. For him, developing his business is all about person-to-person relationships which can be undertaken on video conference calls. LinkedIn rather than Instagram is the key connector. He is also investing in a new website to demonstrate the value of ArchitectureDoingPlace's work.
---
Tara Gbolade, Gbolade Design Studio
Like Ogunmuyiwa, Tara Gbolade has built a successful practice off the back of a strong personal profile. In 2018 she was nominated an RIBAJ Rising Star and in 2019 was celebrated as part of the RIBA BAME Award Winners Campaign. The studio's r-House was also shortlisted for the 2019 Sunday Times: British Home Awards.
At Gbolade Design Studio, she is supported in an advisory capacity by co-director and architect Seun Gbolade, who has large-scale residential development experience. Tara has developed the practice by honing her own expertise to be recession proof; having graduated during the 2008 global financial crisis, she understands 'the need to adopt a strategy for the practice that diversifies its cashflow'.
She started Gbolade Design Studio with a clear vision of combining private and public sector work for large-scale developers. This tapped into a passion for transformative placemaking and delivering equality through design. Her previous roles at large practices provided her with an essential understanding of design and planning. She contributes to several review panels.
Over the last few years, though, she has further diversified her expertise. Having qualified as a Passivhaus designer, Gbolade has completed a year's part-time placement with architect Public Practice at Harlow & Gilston Garden Town (HGGT). As sustainability lead with the placemaking team at HGGT, she developed the sustainability strategy spanning across three district councils and two county councils to deliver 23,000 new homes. Since the crisis, she has been appointed to undertake sustainability strategies for two further local authorities.
Most of the practice's projects are at planning stage, so have largely been unaffected by the lockdown. An exception is a 20-unit student accommodation block that is on site for a public client, which has been paused at post stage 3 completion. The studio has enough work to keep going for several months. Gbolade continues to meet new clients on video calls, maximising on LinkedIn. She has found contacts are more readily available now than before the crisis. During any down time, she will be focusing on R&D or enhancing the iOS MyPart3App which the studio has developed to give architecture students high-level information on how to run a project and a practice.
---
James Boon
At the beginning of March 2020, James Boon was taking steps to develop his practice. Having left his job as an associate at Lathams in Derby 18 months ago, he had set up as a sole practitioner from his home office in rural Derbyshire. By last autumn he was on a roll. His project to design his own house in a village near Matlock received an RIBA East Midlands Award 2019 and was featured in Grand Designs' RIBA House of the Year on Channel 4.
Specialising in projects for both the heritage sector and residential clients, Boon has experience in conservation, adaptation and designing new builds in historic settings. One large-scale heritage project that he has developed at feasibility stage is set to amount to a £5 million contract on site and requires a team to deliver. On the first Monday of lockdown in late March, Boon was due to move out of his home office into premises in Cromford Mills and was about to advertise two positions – for an experienced architect and more junior member of staff. But Covid-19 has seen him scale back his ambitions; now he is considering recruiting a Part 1 student alone in a few months' time. In terms of resourcing, this will adversely affect his own time as the student will require additional supervision.
Boon estimates that he has about half of his projects on hold. These are largely at the beginning and end of Plan of Work stages, as it is not possible to visit people's houses to proceed with the early stages of residential projects and completion of works is proving challenging. He has one cottage refurbishment on site with a single contractor, but difficulties acquiring the lime and sand make it hard to finish the job. He has taken a rational overview of how he alone can take on all the work on his books. By subcontracting a local firm of technicians to undertake project drawings he believes he has enough work to last him until Christmas. But he remains concerned that, like some practitioners during the 2008 financial crisis, defaulting to caution to avoid a culture of hire and fire can result all too easily in overloading. With a protracted lockdown and ensuing recession, individual practitioners must be mindful of their mental health.
---
You'll Never Walk Alone
The upside to social distancing for James Boon has been that his wife is now also working from home. This has provided companionship during the day, but also prompted a lunchtime routine of leaving his office, taking a break and walking straight out into the countryside for a stroll with her.
All the practitioners in this article have tackled the immediate situation they have found themselves in with astounding tenacity and vigour. Within a matter of weeks, they have reassessed their projects, cashflow and future business. With no immediate resolution to the coronavirus crisis in sight, though, and a deep recession on the horizon, personal support from friends and family and the camaraderie of a like-minded network is essential to retaining stamina and sanity. Stefanie Stead asked for a special mention of the RIBA Yorkshire team, who have personally supported her and others in the region, sending out regular updates and setting up virtual meetings to share ideas and experiences; and James Boon also to thank the RIBA East Midlands team for the forums they have organised for practice leaders and around mental wellbeing. The RIBA London team is also reaching out to offer members support. Virtual activities are being set up by the five London groups and an 'Ask RIBA' virtual forum established for members. At a time when practitioners find themselves increasingly physically removed and alone, the benefit of virtual exchanges cannot be underestimated.
---
Helen Castle is publishing director at RIBA
Get in touch with your local RIBA
For more on coronavirus and architecture go to ribaj.com/covid-19