Assemble's architecture on stage presentation might have left some bewildered, but their zany take on the format was nothing if not refreshing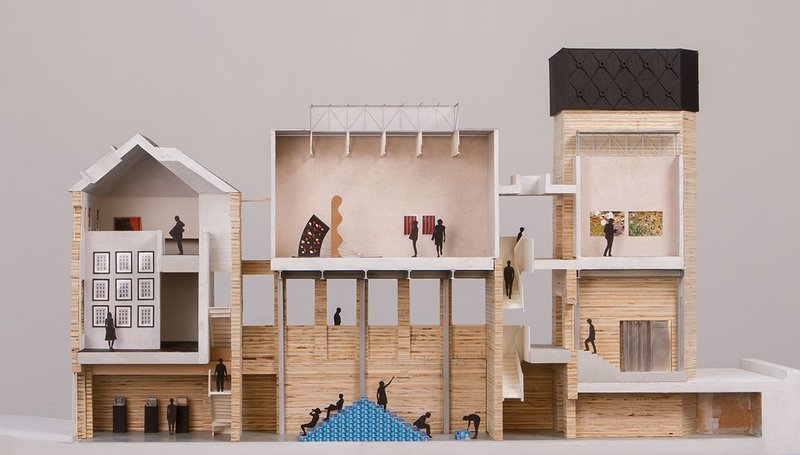 An ensemble of characterful spaces for the public art gallery at Goldsmiths University, proposed in a former Victorian bathouse.
Way before a member of Assemble started lobbing bananas into the Barbican audience, it was clear that this was never going to be a conventional architecture lecture. To the contrary, not only was the Architecture Foundation up for experimenting with format in its new monthly Architecture on Stage series, its first participant was Assemble, the Turner Prize winning collective which happily defies easy categorization. Still in their twenties, only two-thirds of its members have architectural training with none Part III qualified, which has evidently proved no bar to success. And critics love them – as chair Phineas Harper joked, in London you're never more than 30 metres away from a journalist writing an article on Assemble.
The format for Assemble – Some of its Parts was for members of the collective – the nine that could make it and another who sent in an audio file – to present five minute long, micro-lectures on anyone or anything that has influenced or resonated with them and their work.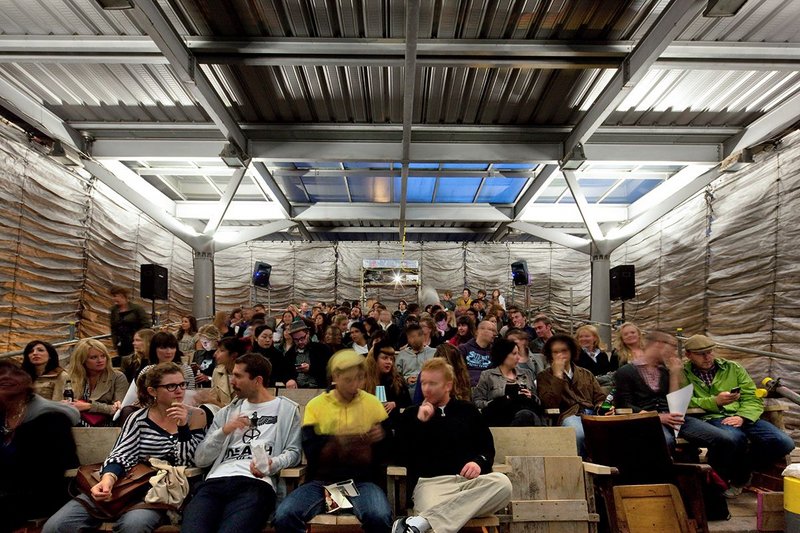 The Cineroleum in action. Photo by Morley von Sternberg.
So did it work? Yes, in that this gave a rare insight into the preoccupations and personalities of the individual protagonists within the collective, and in doing so, sometimes touched on themes in their work. Topics ranged from an appreciation of the Arts Council to parties, the Amish community and bananas. Some clearly resonated with Assemble's passion for communal working and hands-on making, such as Adam Willis's tribute to the Bodgers, the resourceful green woodworkers who once frequented the High Wycombe woods (not to be confused with botchers). Anthony Engi Meacock called for children to be trusted with properly-scaled tools rather than useless play building tat, and to be allowed freedom in their play, as at Assemble's Baltic Street Adventure Playground in Glasgow. Alice Edgerley's volunteering work in Sri Lanka gave her first hand experience of entrepreneurial community initiatives.
However you'd be hard-pushed to detect an obvious link between Assemble's work and the presentations on poet Frank O'Hara, film maker Jean Vigo and the Universe, but even the more oddball topics added to the picture of Assemble as a diverse, questioning, enthusiastic, lively yet serious bunch.
So how does an architectural collective work in practice? Members say they always make time and space for conversations and discussion, and feel that the multitude of opinions expressed can only improve the final work. All projects are signed off by everyone.
Call me conventional however, but I think that despite Assemble's Turner Prize-winning fame, a little project context beforehand for audience members who weren't in the know would have helped to underpin the presentations. I suspect some could have left clutching a banana, but otherwise rather perplexed.
Nonetheless it's refreshing to experience an alternative to the standard show-and-tell, project-based lectures that get rolled out again and again. It will be fascinating to see how Assemble's work, and their innovative collective set-up, progresses.
---