Adopted by Hauser & Wirth Somerset, Smiljan Radić's 2014 Serpentine Pavilion has triggered an exploration of sculpture, architecture and the landmarks they might make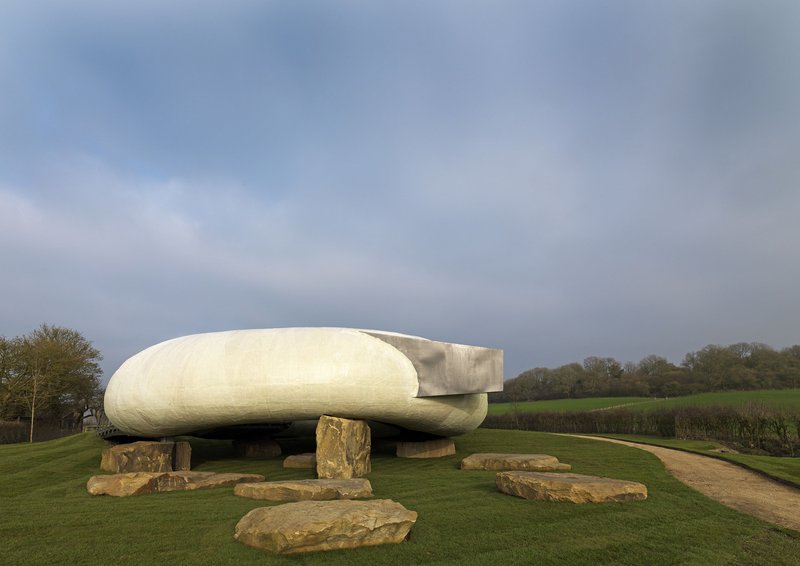 Radić Pavilion settling onto in its new countryside setting.

Credit: Ken Adlard
The short summer life of the annual Serpentine Pavilions belies their longer legacy in the hidden world of collectors and marketeers (in the case of Toyo Ito at Battersea Power Station). When Iwan and Manuela Wirth saw the pavilion designed by Smiljan Radić last year they saw something that was perfect for their new back garden.
But this was not just any garden. The gallery Hauser & Wirth Somerset in Bruton is a converted farm with a landscape by Piet Oudolf that is a piece of art in its own right, as its many visitors can attest. As the conversion of Durslade Farm was completing last year, the couple brought in Radić to look at sites for their next building project. A series of positions for the transposed pavilion were chosen, with local planners preferring the least dominant. The pavilion – now open – grows out of a rise, balanced on its stone plinths and looking out towards the rolling landscape on one side and the town of Bruton on the other. The least impressive of the long list of Serpentine pavilions seems to have found a resting place for its fibreglass shell and the massive stone feet with their echoes of rural granary staddle stones.
The Radić Pavilion has proved the excuse for an architecture season. Turner Prize-winning artist Susan Philipsz takes the Threshing Barn and cloister to imagine the space with a composition of country dancing and percussion that for full revelation demands visitors follow the sound between spaces and back again. Out of the store cupboard, unseen since its city home was closed 12 years ago, comes Dan Graham's S-Curve. Director of the gallery, Alice Workman, revels in how the slick, reflective piece is now set on grass, its planes pocked with the stone of the historic farmhouse and the multiple windows looking onto it. OK, so you may consider it sculpture rather than architecture. But the question of this boundary is part of what this season is exploring.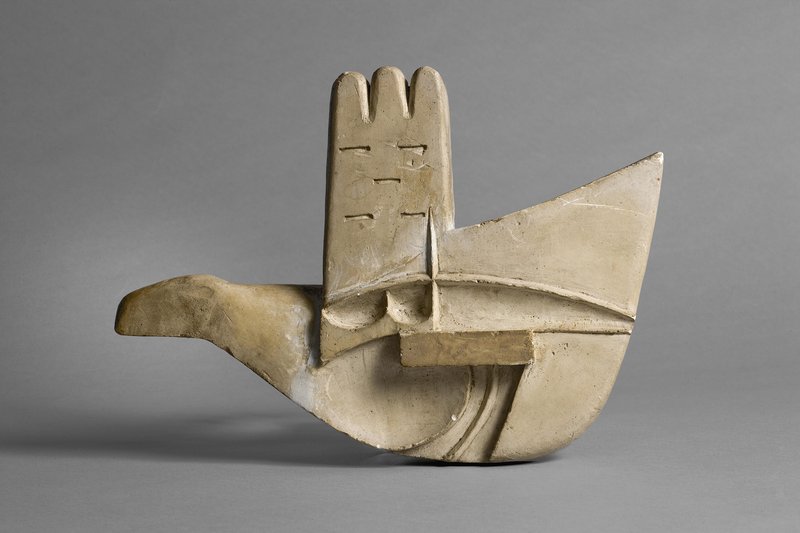 Maquette of the Open Hand Monument, Le Corbusier.
The 100, densely clustered works of 'LAND MARKS: Structures for a Poetic Universe' delve into this crossover between the two disciplines, represented by Le Corbusier's ceramic maquette of his Open Hand Monument, as used in Chandigarh. In this series of drawing and models, drawn mainly from private collections, there are many well known names (Louis Kahn, Buckminster Fuller, Yakov Chernikov, Superstudio) often represented by lesser known works. The exhibition's intention is to consider how those works reveal the 'lyrical or transcendental' qualities of their setting. It is as if these pieces, although standing alone, embody something of place in their form, whether paper, model or maquette. To that end the exhibition title speaks of marks on the landscape. But don't assume you will see any landmarks here – beyond, that is, the Radić Pavilion.
---
Architecture Season, To 21 June.
Hauser and Wirth Somerset, Durslade Farm, Bruton, Somerset, BA10 0NL. hauserandwirthsomerset.com