Joseph Emberton's designs for William Bean's Blackpool South Shore amusement park included the streamline moderne Fun House, photographed by Charles Howell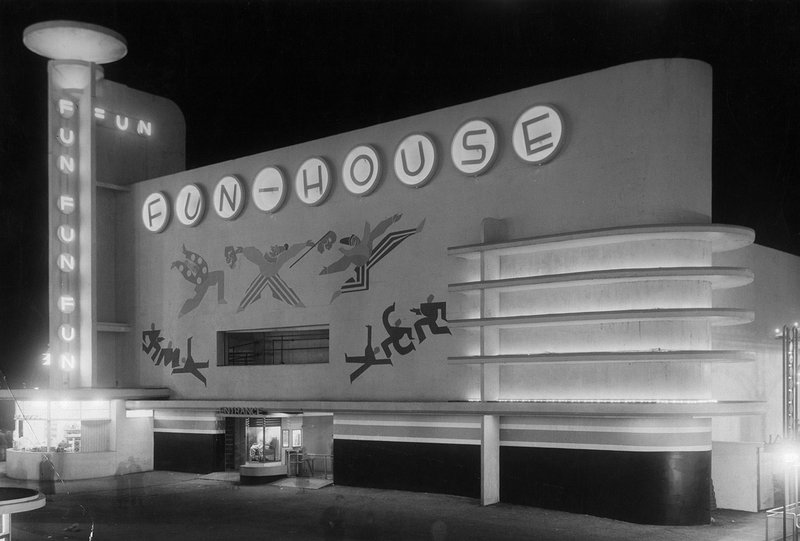 South Shore amusement park Blackpool.

Credit: RIBA Collections
A trip to Blackpool Pleasure Beach is one of the most British of summer occupations, but in fact the inspiration behind its construction was American. Trips to New York's Coney Island prompted William Bean to develop an existing funfair on Blackpool's South Shore into 'an American-style amusement park... to make adults feel like children again' and it opened in 1904.
Bean's daughter Doris Thompson and her husband Leonard took over in 1929 and began a dramatic rebuild of the park based on the theme parks that Leonard visited in Philadelphia. They employed architect Joseph Emberton, whose design for the Royal Corinthian Yacht Club had represented Britain at the influential 1932 International Exhibition of Modern Architecture, to create 'a unified, modern design'.
One of Emberton's new structures was the Fun House, photographed here in 1935 by Charles Howell. It housed an 'architectural promenade' through a series of surprising spaces and practical jokes. The streamline moderne facade was decorated with murals by Margaret Blundell and was particularly striking at night, illuminated by neon lettering and light features. It was destroyed by fire in 1992.