Perception-challenging art at the Hayward Gallery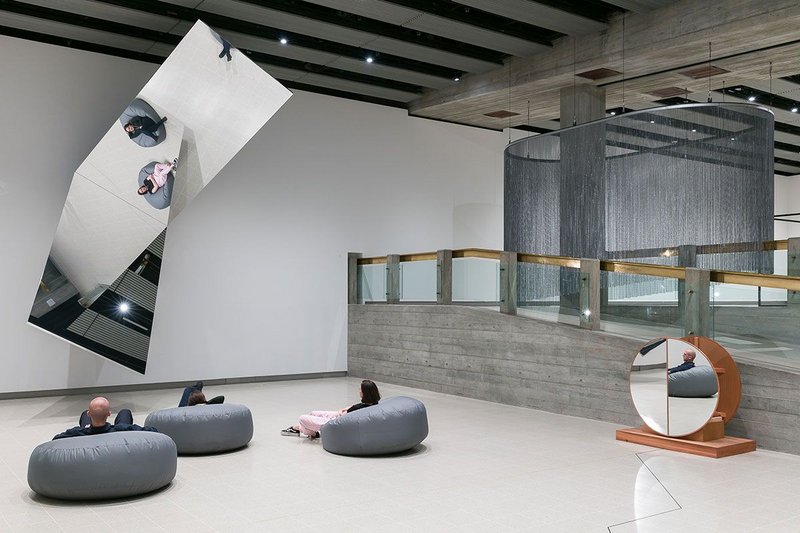 Installation view of Jeppe Hein_ 360° Illusion V, 2018 at Space Shifter

Credit: Mark Blower
It's disconcerting when you walk into an art gallery and one of the exhibits moves towards you. That's what happens at Space Shifters, the new exhibition of spatial perception-challenging art from the last half century at the Hayward Gallery. Here visitors encounter 20 artworks that act as 'optical devices' to redirect how we see space, including Josiah McElheny's aforementioned Interactive Abstract Bodies, a series of mirrored mobile sculptures worn a bit like sandwich boards by performers moving around the gallery in carefully choreographed steps.
From the distorted reflections of Anish Kapoor's stainless steel Non-Object (Door) to Richard Wilson's unsettling 20:50 room full of sump oil, this playful show is definitely a crowd pleaser that invites interaction, whether by looking at or around or by moving through the installation itself. There is a lot of movement – sometimes by the artwork itself but more frequently by the visitor, who is encouraged to navigate the piece.
It is also a show that invites consideration of materiality, often through the use of translucent or shiny, polished materials. There are plenty of mirrored surfaces – reflecting not just the newly refurbished architecture of the gallery but the exhibition visitor as well and, not surprisingly, these prove popular. This is particularly the case with Jeppe Hein's 360° Illusion V, which is suspended and rotated to reflect the gallery environment. Another winner is Yayoi Kusama's Narcissus Garden, a room-sized recreation of her 1966 installation of hundreds of stainless steel spheres. Decades ahead of the selfie-era, she sold off plastic version of these as 'Your Narcissism for Sale'.
My favourite piece here is Alicja Kwade's WeltenLinie, a slender steel framework forming a series of room-like spaces, some with mirrored walls reflecting the gallery and some without, with the effect that visitors start to distrust which are which, and end up gingerly reaching a hand or a foot through the 'wall'.
In contrast, it is harder to grasp the more insular pieces which invite the viewer to peer into their enigmatic interiors, including Helen Pashgian's Untitled epoxy and acrylic spheres and monoliths. The inclusion of a couple of walk-through hanging curtain pieces – by Daniel Steegmann Mangrané and Felix Gonzalez-Torres – bring an enjoyable element of tactility and sound as well as providing a hazy lens through which to view the gallery.
Some pieces directly engage with the specificity of the Hayward Gallery, such as Monika Sosnowska's Handrail, which at first presents as a rather strange handrail entwined with the gallery's own at the top of the back stairs but, once it turns the corner into the room, sheds the confines of its apparent function and lets rip in exuberant loops around the wall
For beauty, I enjoyed Leonor Antunes's delicately hanging brass and rope installation entitled Discrepancies with A., which alludes to the Bauhaus textile artist Anni Albers. For curiosity, Roni Horn's Untitled ('Everything was sleeping as if the universe were a mistake') is a mysterious work of solid cast glass brimming with a seemingly liquid-appearance surface.
Richard Wilson is an artist well known for interventions that disrupt and manipulate buildings and space. His showstopper, a recreation of a 1987 installation in Matt's Gallery, London, is the final room of the exhibition, and visitors should be prepared for quite a wait to see it. You smell the oil long before you see it, and when you do enter the installation, it is a strange experience. His unsettling piece creates a walkway that deceptively appears to taper and rise, cutting through a gallery full of oil, it's surface brimming to the edge of the side of the walkway and strangely reflecting the architecture of the ceiling.
By variously reflecting, distorting, muffling, deceiving and intriguing, Space Shifters is on a mission to get the viewer to open themselves up to new ways of perceiving space. These exhibits give it their best shot – the rest is up to us.
---
Space Shifters, until 6 January 2019, Hayward Gallery, Southbank, London