MAD Architects has burst out of China, building dramatic structures from east to west. Founder Ma Yansong believes the future lies in a return to more immediate, natural values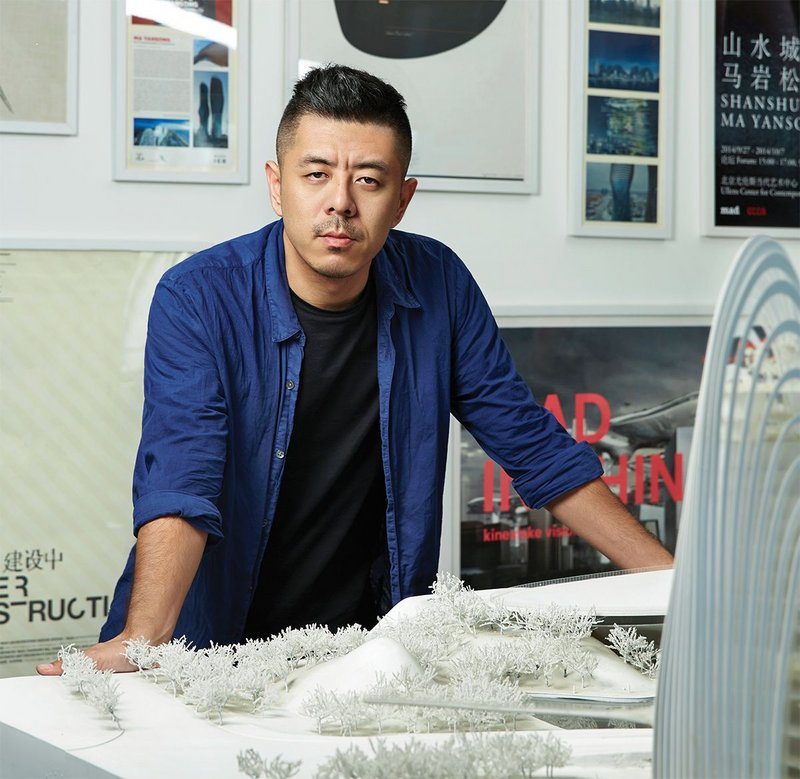 Credit: Penn Wang
Ma Yansong, founder and principal partner of MAD Architects in China, is convinced we are entering a new era. He believes it is the end of the Modern age – with a capital M – and, less significantly, that the time of the international style and philosophy is finished.
'There are many critical points about modernism… Everyone has a complaint about the modern city,' he explains.
Sitting beside him in the large meeting room at his hipster-esque office with bare brick walls, exposed ceilings and a pingpong table in a former printing factory in the Beixinqiao district of Beijing, it is easy to understand his logic. We are enjoying the last of the summer heat in September and crystal blue skies, but yesterday people were walking around with filtration masks, clogged throats and blood in their noses unable to see the next city block, never mind the mountains that contain the sprawling metropolis. It is Beijing Design Week, and the European expat architects and new practice arrivals hoping to find the land of plenty to support struggling headquarters back home are worried. The lustre of working and swanning around in exotic climes has, like the smog, been dissolved by the rain.
Ma's comments resonate with a feeling that there is something dangerously wrong but have a sense of being on the cusp of something truly, earth-shatteringly exciting. The state is certainly making much of the festival: 12km of Design Week banners on every other lamppost from the airport into the city. But it is matched by a surge of interest and visitor numbers Europeans can only dream of. The 200,000 in 2009 when the festival was launched grew to 6.5 million in 2015.
MAD has 55 projects on show at the China 1000 exhibition at the Art Factory in the Chaoyang area of the city, but we are here to talk about his other work – the stuff which is uprooting Westerners from previously safe jobs – such as the Absolute Towers in Toronto and the upcoming George Lucas Museum in Chicago, announced only last month. We are here to talk about what is happening to architecture in China, and discover if there is a Chinese way of doing things.
'Before 2008 there was no such thing as modern architecture. There were two types of building; traditional Chinese or Russian – columns and big facades, a Roman style by default,' says Ma. 'The Beijing Olympics changed everything. They gave the city international attention and foreign architects started flooding in. The projects showed what creativity in architecture was, and helped Chinese clients to understand modern architecture and open up to it.'
Ma launched MAD Architects during this momentous shift at the age of 29, having always wanted to start a practice to 'propose and express his ideas'. He began alone in 2004 in an apartment, joined soon after by his two business partners: Dang Qun, who he had met via the Association of Chinese Architects in New York in 2003, and Yosuke Hayano, who worked with him at Zaha Hadid Architects in London the same year. The firm's first job was a club house outside Beijing, but it won three projects almost simultaneously.
'The competition in Toronto was our turning point. We were surprised to get it built,' he says. 'This was 2005, when the conversation was only about foreign architects in China. Not the other way round.'
Born in Beijing and an undergraduate student of Beijing Institute of Civil Engineering and Architecture, Ma was propelled onto the global stage and the competition made him into one of the world's youngest starchitects almost overnight. MAD became the first Chinese practice to work outside of China. A mere 10 years earlier only state architects had existed in China, and 30 years before that there was virtually no urbanisation at all. The Toronto client liked its tower so much that it commissioned another next door, which became its inverse and MAD rapidly began to gain trust with clients within China too.
The Absolute Towers (completed 2012) were followed by the Ordos Museum, a 'giant UFO in the Gobi desert' (2011), the upside down U-shaped Sheraton Huzhou Hot Spring Resort (2011) and this month the firm will open the Harbin Cultural Island, a 79,000m2 wetland opera house/theatre and labour recreational centre on a natural landscape 25 minutes' drive from the city centre of China's far north-eastern regional capital.
'I understand the situation and culture in China,' Ma remarks.
Today MAD Architects employs around 80 people of many nationalities between its two offices in Beijing and Los Angeles. Ma says that the practice could grow larger, but there is a limit to how much work a firm can take on and retain a studio atmosphere. Project work is split into teams covering primarily cultural, residential and hotel schemes at home, but extends to an apartment block refurbishment in Rome, a kindergarten on the edge of a rice field in Japan and a dense 'hilltop village' in Beverley Hills. He encourages a conceptual level of architecture to remain, including recently a globe-trotting mobile Chinatown named Superstar, as well as a proposal to plant Tienanmen Square with a forest of trees 'for everyone to enjoy'. At any one time the practice is working on 10 to 15 projects.
Asked what defines his work, Ma's response is 'nature' – a thirst for it. While MAD's portfolio clearly draws on Ma's experience working for Zaha, there is a subtle but essential difference: it boils down to his critique of international architecture mentioned earlier, which he defines as technology driven, ruled by order and rational organisation in design and programme.
'Human emotion has been absent in modern architecture,' Ma explains. 'As has the relationship between architecture and nature. The 'green' and 'sustainable' architecture we see is still based on this modern logic – they are the same buildings, with the same kind of spaces, based on technology and materials.'
Ma wants to make architecture more emotional – he cites Louis Kahn – using concrete and asymmetry. He doesn't see this as contradictory, and his ideology does not seem to focus on the environmental/carbon neutral element of design, nor solar panels, ground source heat pumps and other green paraphernalia.
Rather it is about using nature as part of the building, not just the landscape surrounding it.
'It's about restoring a space for nature and people to connect. Nature is part of our body.'
This translates into green elements, and organic shapes and organisations. Designing by sketching instead of by computer is integral to his method, as is listening to his instinctive reactions to place.
'That is the only way you can deliver a building,' he says. 'If you start from programming and logic or analysis, there is never one answer as nothing is perfect.'
'It's about restoring a space for nature and people to connect. Nature is part of our body'
At Beverley Hills this means an urban block with a small community feel around a public space, while at the Huangshan Mountain Village, it's a housing development designed to form a new topographical layer in the landscape – trees and mountains at once. At Harbin it is taking a cultural centre out of the centre of the city where urban growth happens, whereas Chaoyang Park Plaza's two towers by Nanhu Lake in Beijing are almost a return to a gothic assimilation of nature.
Behind these ideas is a reaction to the North American style of doing things, which Ma sees as wreaking havoc on daily life in modern China, and making global issues problematic there too. He blames Chinese planners, though, not foreign architects, for choosing this convenient model of icons to address its hurried urbanisation process.
Now he wants a Chinese agenda for architecture. His focus on nature is inspired by the poetry and art of ancient Beijing: the carefully constructed gardens and parks, the beauty of that traditional culture and lifestyle. He is convinced that taste is changing, that Chinese architects are learning from good and bad architecture and that they will do better. A more human style is developing around community, independent offices and architects wanting to express a human value – he cites Daipu Architects as an example. It's a confidence being strongly felt around those foreign architects at Beijing Design Week.
Yet there are still dangers. And strangely, for Ma, its source is in the very machine that propelled his practice to instant global fame and acceptance in the first place – the media.
'Young designers get attention because ideas can spread quickly. Good opportunities come, but also pressure, because there's lack of time to think,' he explains.
In contrast to architects such as Zaha and others architects who exhibited at Philip Johnson's 1988 deconstructivist exhibition at MOMA, 'the real world accepts them,' he says. 'Today's architects do not need to push boundaries, they do not have to be aggressive and idealistic to get their ideas across. These young architects enjoy their success rather than fighting for what they believe. Consequently architects are becoming more collaborative with mainstream values. This presents architecture as a fashion problem. It will be increasingly difficult to isolate from present values to be forward-looking.'
---