A series of films made for architects by RIBA provides unique insights into the design, construction and experience of six buildings shortlisted for the 2023 Stirling Prize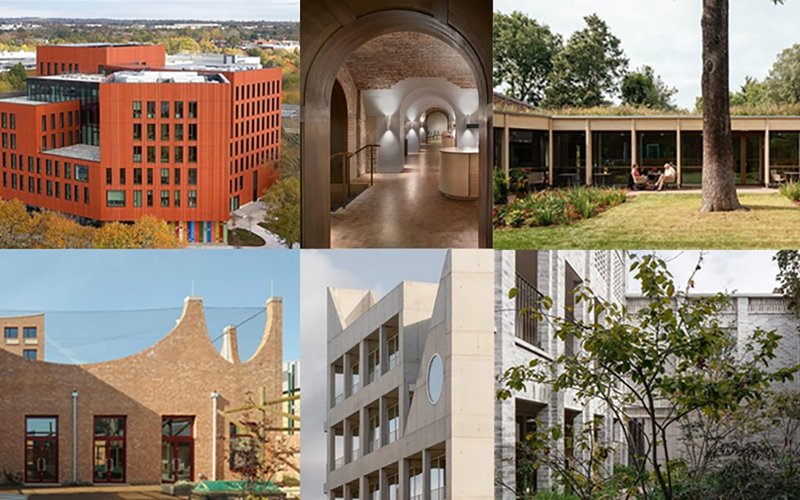 To celebrate the six outstanding buildings shortlisted for the 2023 Stirling Prize, RIBA has produced Stirling Stories, a series of in-depth films exploring their design and construction, and giving viewers a unique understanding of how each is experienced. Made for architects, students and consultants, the 30-minute films include interviews with
the buildings' designers, clients and users as well as extensive location footage, offering the most comprehensive overview of the innovative thinking behind each project, and successful approaches to the challenges of delivery.
A House for Artists, by Apparata: A raw concrete apartment building in London's Barking offers an ambitious model for shared living, with resident artists delivering free creative programmes for the local community via a street-facing exhibition space. Conceived as a challenge to the norms of contemporary housing design, the building is designed around paired access decks that double as social space and enable unusually adaptable, spacious homes. Explore its innovative fire strategy, flexible planning and low-carbon construction.
Central Somers Town Community Facilities and Housing, by Adam Khan Architects: Contributing to a wider regeneration plan, this city-centre development provides local residents with social housing, an after-school club with an adventure playground and rooftop football pitch, and includes premises for a theatre education charity, delivering significant social value on a limited budget. Explore Adam Khan Architects' approach to community consultation, design that achieves a sense of openness with privacy and security, and strategies for energy-efficient housing.
Courtauld Connects at The Courtauld Institute of Art, by Witherford Watson Mann: The painstaking remodelling of the Strand block at Somerset House has opened up one of the city's major cultural institutions. Complex structural alterations are combined with thousands of small, subtle adjustments and repairs to equip an eighteenth-century building for contemporary use while retaining its character and conserving historic fabric. Learn about Witherford Watson Mann's approach to research and brief development, handling of daylight and services in a listed building and on-site coordination of numerous specialist trades.
The John Morden Centre, by Mae Architects: In London's Blackheath, a 300-year-old residential and care facility has been given a new lease of life. With treatment rooms, a hair salon, nail bar, events space and wellbeing facilities, the centre has been designed to encourage interaction and movement among residents, supporting healthier and longer lives. Explore the building's construction in cross-laminated timber and brick, its use of natural ventilation and low-energy design, and Mae Architects' approach to design for later life.
Lavender Hill Courtyard Housing, by Sergison Bates Architects: Comprising nine homes on a constrained backland site in suburban south London, clustered around secluded courtyards, this ingenious scheme shows how cities might be densified with sensitivity and imagination. Sergison Bates addresses how communal space might be balanced with the need for privacy and the creation of build-to-rent homes with distinctive character
Faculty of Arts Building at the University of Warwick, by Feilden Clegg Bradley Studios: Bringing a variety of arts and humanities departments together under one roof, FAB is designed to foster collaboration through spectacular shared spaces, and support learning through innovative 'academic studios'. FCBS explains the development of the project from initial diagram to occupation, discussing the relationship between a complex plan and its strategies for structure and services, and the design of ceramic facades that help to blend the building with its landscaped setting.
The Stirling Stories series is available through the RIBA Academy, and illuminates key themes of the RIBA CPD core curriculum, from inclusive environments to procurement and contracts. The course caters to individuals seeking to expand their knowledge, refine their design approaches, and gain inspiration from this year's most acclaimed architectural projects. Visit RIBA Academy to book your seat.