What is the role of ceramics in architecture? Stoke Architecture Day sees a bright technological future ahead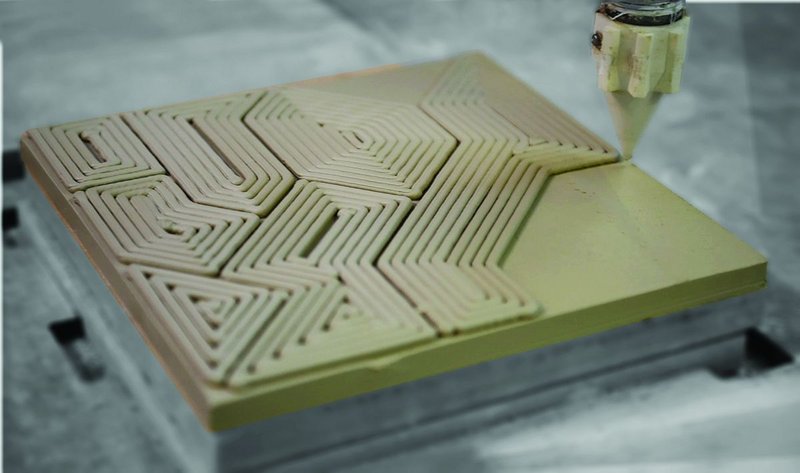 Ceramic tile being 3D printed by a robotic arm at Grymsdyke Farm for the Victoria and Albert Museum shop.
Stoke-on-Trent is well known for its rich ceramic heritage. But it's the innovative future of ceramics, not the past, that will be the focus of Stoke Architecture Day on 20 October at the British Ceramics Biennial.
Robotic technologies, 3D Printing and other cutting-edge processes will be showcased at the event, which is organised by the RIBA North Staffordshire Society of Architects. Such innovation is highly appropriate for an area that pioneered pottery manufacturing and grew to be the centre of the world's ceramic production. In its late 19th century heyday, more than 2,000 kilns fired millions of products a year in the Stoke-on-Trent area. As late as 1938, half the working population was employed in the ceramics industry, today that has dwindled to 20,000.
Speakers at the day – part of the British Ceramics Biennial – will explore the latest thinking in the role of ceramics within architecture. Dr Guan Lee of the Grymsdyke Farm research centre will talk about the next steps for architectural ceramics, including his pioneering use of robotic technology to create ceramic moulds and 3D printed ceramics. This includes the centre's recent development of a robotic arm capable of six axes of movement, which creates new possibilities for curvilinear rather than horizontal layering and, with it, new challenges. Lee will also discuss his team's recent production of 2,500 tiles for the V&A's new shop, created in clay using 3D printing.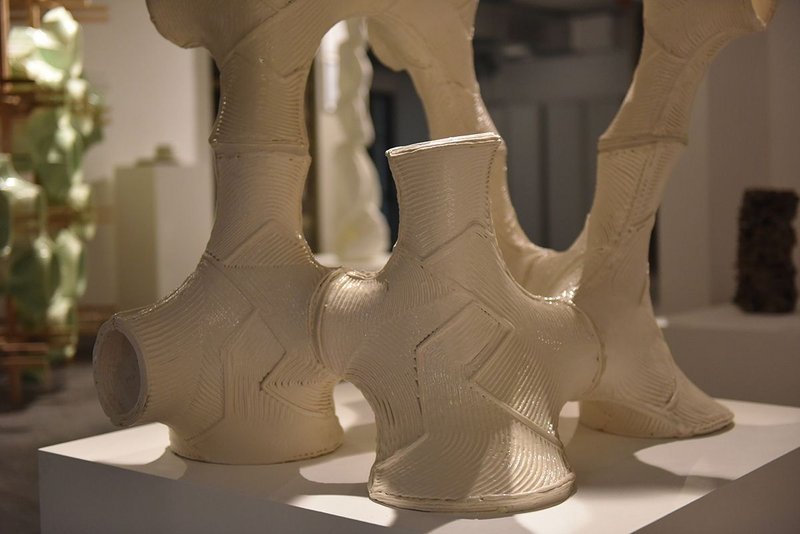 Ceramic components printed at Grymsdyke Farm using six axes of robotic arm movement.
'It was one of the most difficult things we've ever done. It's quite a big step from research-based experiments to an actual commission,' he says.
Cristiano Ceccato associate director at Zaha Hadid Architects, will describe his experience of digital building processes in relation to design, ceramics and architecture.
Peter Ayres, director of architect and designer Beep Studio, will present his Fountain 17 research project, which was inspired by 2017 being both the 200th anniversary of foundation of Armitage Shanks and the centenary of Marcel Duchamp's infamous Fountain urinal sculpture. For this, the studio analysed the geometry of the controversial ceramic sculpture and created a computer model of the curves. These contours were then continued to generate a new form accentuated with ridges out of 20 pattern-cut flat paper pieces.
'It's low function combined with amazing curves,' says Ayres, of the Fountain. 'It led us to make an ultra-complex curvilinear object out of flat sheet.'
The sculpture is on display at the Gladstone Pottery Museum during the Biennial. Beep plans to produce ceramic editions of the ephemeral paper sculpture.
Ayres is a previous participant at the Stoke event.
'It's a fascinating place – a world centre for ceramics that deserves celebration. It's fallen out of the limelight but the British Ceramics Biennial is a very good way of highlighting its ongoing global importance,' he says.
The event is also an opportunity to raise awareness among architects of Stoke-on-Trent's shortlisted bid for the 2021 City of Culture. Stoke has a lot to offer, according to Aaron Chetwynd, president of the north Staffordshire society architects and West Midlands RIBA regional chair.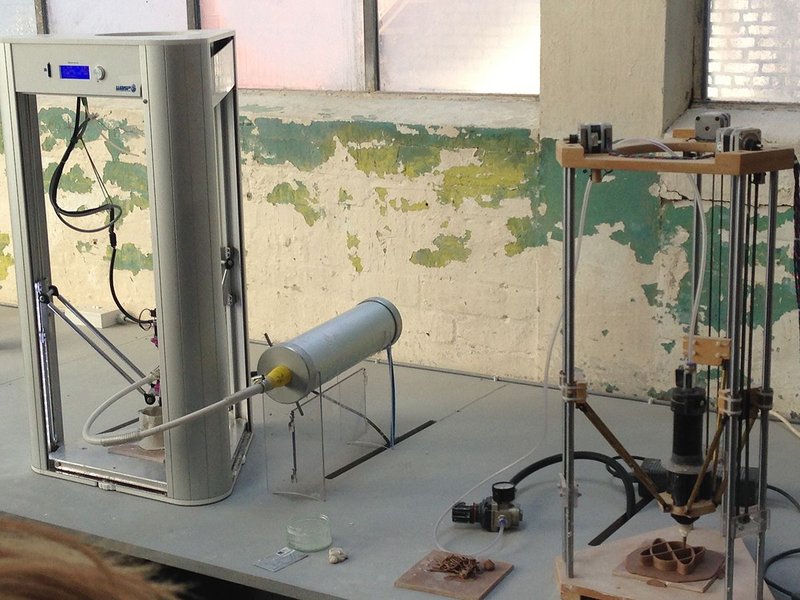 3D printing at a previous Stoke Architecture Day.
'As local architects we're very keen to see Stoke-on-Trent regenerate. There are a lot of post-industrial wastelands but it's very difficult to get new build done because property values aren't high enough,' he says, adding that more needs to be done to raise understanding of the value of good architecture.
'We want to see high quality architecture but quite often it's the lowest common denominator that gets built.'
He hopes that the Architecture Day, and the rest of the British Ceramics Biennial, will also help promote the ceramics expertise still to be found in the area.
---
Stoke Architecture Day, 20 October, Spode Factory, Elenora Street, Stoke-on-Trent, ST4 1QQ
British Ceramics Biennial runs until 5 November