Ceramics make an entertaining, slightly psychedelic, case for their place in the world of contemporary art at the exhibition on London's South Bank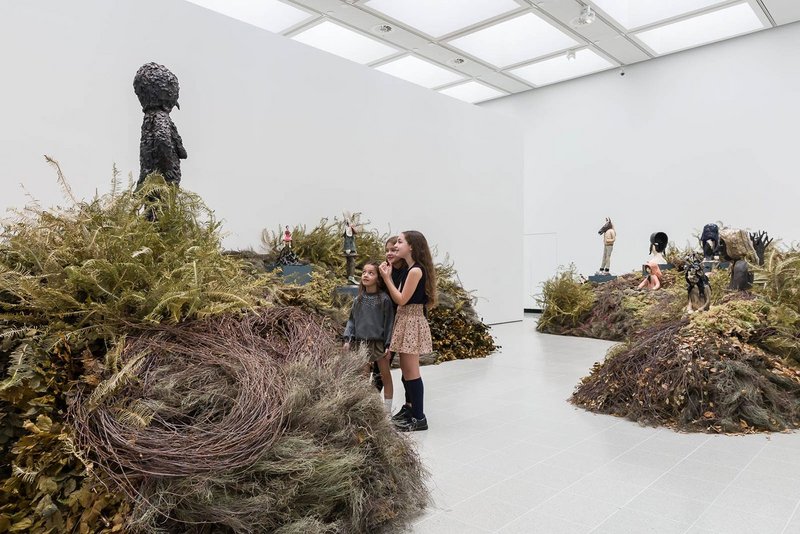 Installation view of Far from here by Klara Kristalova at Strange Clay - Ceramics in Contemporary Art, at the Hayward Gallery (until 8 January 2023). Photo Mark Blower. Courtesy the Hayward Gallery
There's an octopus emerging from a toilet at the Hayward Gallery, one tentacle looming out through the cistern while others erupt through the tiled bathroom floor. Nearby, slugs, cockroaches and vermin are locked in gory combat, all the witty work of Lindsey Mendick, just one of the exhibitors in the Haywood's entertaining new exhibition Strange Clay: Ceramics in Contemporary Art.
The clue is in the name. Surprising and unconventional, this is ceramic art a world away from traditional perceptions of what that might be - if you're looking for rows of well-behaved pots, this really isn't for you. But you'd be missing a treat.
According to curator Dr Cliff Lauson, the work in the exhibition 'absolutely pushes the boundaries of clay' and shows the 'exciting directions' that contemporary ceramics is going in. The survey of 23 artists includes some very celebrated names – among them Grayson Perry, Edmund de Waal and veteran Ron Nagle – alongside many less familiar artists from all over the world, both established and emerging.
It's a broad range of work, from individual pieces to immersive installations, wall panels to freestanding pieces, figurative to abstract and personal to political. The one commonality is the material itself, albeit transformed in multiple ways through very different treatments.
At the very start, Jonathan Baldock's Facecrime gets the exhibition off to an appropriately puzzling start. His installation of ceramic totem-like columns are adorned with strange elements such as basketry, hands and mouths, and shiny pendulous protuberances. Inspired by cuneiform clay tablets, the inclusion of small clay tokens with emoticon symbols relate to Baldock's interest in exploring the limitations of communicating human emotions.
Several artworks have strong narrative elements. Klara Kristalova's Far from here installation in the upper gallery can be smelled before it's seen, thanks to the mass of dried foliage that makes up the woodland setting for her stoneware creations. There is a real sense of fairy tale here, with strange creatures in various stages of metamorphosis – a tree stump has the head of a girl, another girl has a flower for a head, a plant has sinister little eyes, a creature looms over a sleeping figure, and much more beside. Intriguing rather than threatening, it's highly engaging.
Mendick's aforementioned Till Death Do Us Part, commissioned specially for the exhibition, is a definitely standout for its exuberant imagining of a 1990s home that has been taken over as a battleground by warring rodents insects and mini-beasts. Wittily realised – but not for those with slug phobias – the installation features everything from boxing cockroaches, rodents engaged in their own Trojan war, sinister moths imagined as bombers, flies poisoning rats, and spiders carrying out cyber warfare. Darkly funny, it seems a little less amusing when you realise it was inspired by domestic tensions experienced by Mendick during lockdown.
The recent Covid times were also a factor in the work of Serena Korda, who says lockdown, and having a baby, set her off in a new creative direction delving into mythology with a particular interest in female protagonists. Her installation And She Cried Me a River is inspired by the myth of the siren Parthenope, who drowned in her own tears after failing to ensnare the Greek hero Odysseus. According to Korda, each bead in the giant ceramic necklace of seaweed, sea fauna, rope, and symbols such as a two-faced Janus character, can be thought of as a spell, with Parthenope's suffering striking a chord with the grief of Covid. The witchy-ness is enhanced by the inclusion of weird 'finger snakes' created with casts of human fingers.
Given the nautical theme, it seems appropriate that this piece has as its neighbour an extraordinary ceramic squid by David Zink Yi, inspired by the elusive Architeuthis giant squid. Sprawling five metres across the gallery floor, it is surrounded by a seemingly inky slick.
A great variety of texture is on show throughout the exhibition. Italian-born Salvatore Arancio employs two contrasting approaches to dramatic effect in It Was Only a Matter of Time Before We Found the Pyramid and Forced It Open, a landscape of dark, volcanic-like unglazed clay interrupted by three glossy, psychedelically glazed protuberances. Lava references also crop up in the work of Taker Kuwaiti, whose work involves a special glaze that gives a cracked, mottled surface to reveal the contrastingly matt clay beneath.
Some of the less sculptural work is nonetheless high impact. Luna Chowdhary's four wall panels make a bold and colourful array of looping patterns. We learn that she perceives ceramic tiles as blank objects in which she can 'shed the historical associations' of working with clay. Emma Hart, meanwhile, uses clay to 'explore the confusion and awkwardness of everyday confusion'. There was a lot to enjoy in her 'traffic jam' of ceramic car windscreens. These playful compositions of handmade tiles – different on both sides – explore patterns from shattering, wipers and road markings, as well as tree-shaped car air fresheners.
Iranian-born artist Shahpour Pouyan's My Place is the Placeless contribution was inspired by finding out from a DNA test that he had a diverse ancestry traced to 33 different countries. He set out to explore the traditional architecture of each of these as a way of exploring his identity. The result is an array of buildings and roof structures representing each strand of his heritage, gathered side by side in a variety of colours, shapes, and levels of grandeur.
The scale, and positioning, of some of the exhibits encourage visitors to take in the distinctive character of the gallery, whether through wall-high installations such as Betty Woodman's House of the South frieze, or Liu Jianhua's Regular/Fragile, which covers walls and floors with everyday objects in white porcelain. A suspended sculpture near the start by Rachel Kneebone, meanwhile, casts a shadow that draws the eye to the timber-textured surface of the concrete frame.
At the show launch, Hayward Gallery director Ralph Rugoff identified a resistance to ceramics being considered a medium of contemporary art. Weird and often wonderful, Strange Clay makes a highly compelling case in its favour.
---
Strange Clay: Ceramics in Contemporary Art, until 8 January 2023, Hayward Gallery, Southbank Centre, Belvedere Road London SE1 8XX