Sue Barr left the New Year warmth of her in-laws' home to photograph the shadowy, forgotten spaces beneath the huge oversailing autobahns of Duisburg's industrial landscape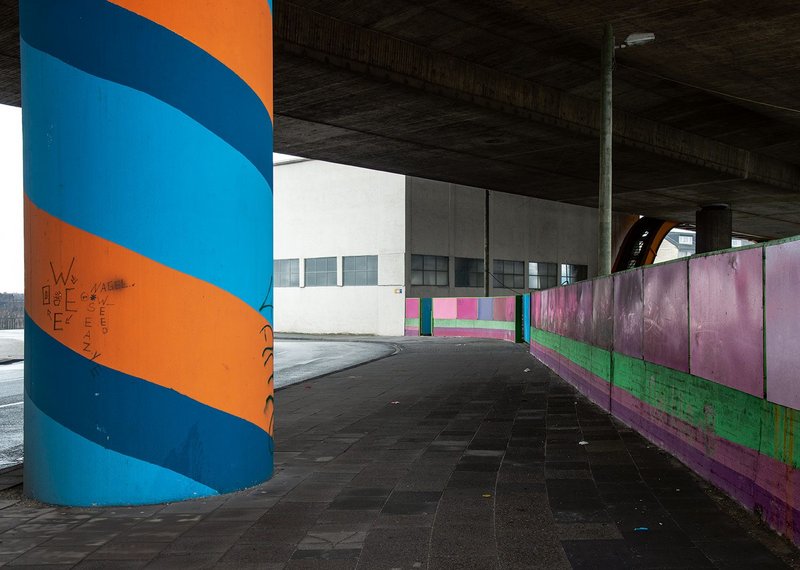 Silvestri Bicam with Phase One digital back and 90mm lens.

Credit: Sue Barr Die Streifen. Duisburg, 2019
Given that Sue Barr is head of photography at the AA School with a PhD specialising in readings of the modern motorway via the romantic lens of the sublime, her decision to leave the German in-laws on New Year's Day for a solo Ruhr road trip might look like a busman's holiday. Her book 'The Architecture of Transit' had already exposed her to the belly of the beast, with forays to document the shadowy, forgotten spaces beneath Italy's huge oversailing autostradas – where it all started – and Germany, where the type reaches its continental apotheosis.
Armed with plate camera, digital adaptor, hood and tripod she strode out boldly; a woman alone, into the sublime, 'barely held terrors' of those hinterlands. And, like a photographic bell, book and candle, these tools held potential evil at bay in the twilight before the sun rose. Perhaps her determination was a shield, she says, or 'seeing a woman with a camera at crack of dawn breaks perceived notions of normality'. Either way, her sublime bore her no existential fear.
This shot, in Duisburg's port area, is really as desolate as it looks. Barr parked up nearby, drawn to the view's flat inscrutability that she felt was 'spatially reverberant;' and out of the depth of the overpass' darkness and the icy cold, she was gifted a lick of candy-coloured popsicle.