Unbuilt, this year's architecture contribution to the RA's summer show, celebrates the profession's passion and creativity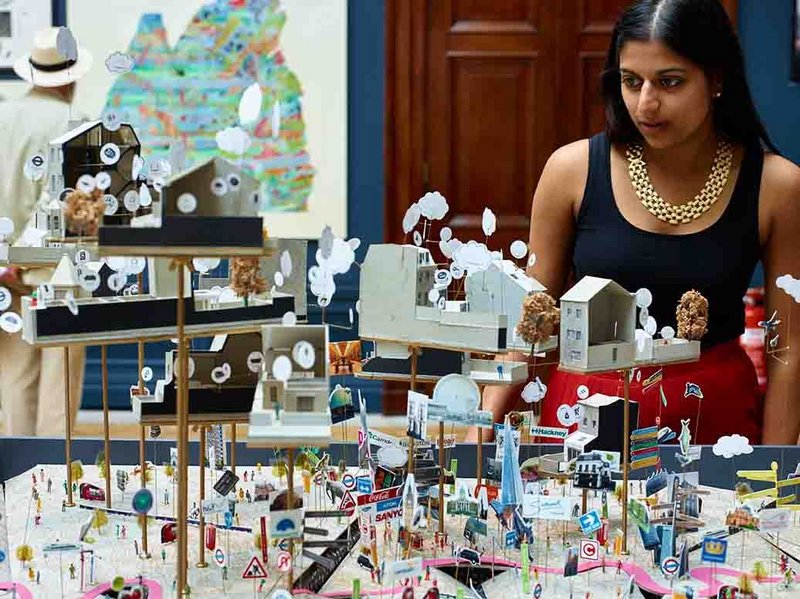 Mobile Studio's Planning Permission Granted (2010-15) depicts private residential projects, both built and unbuilt, designed by the practice.
Unbuilt, the theme of this year's architecture gallery at the Royal Academy Summer Exhibition, is a subject close to many an architect's heart.
Selected by curators Louisa Hutton and Ian Ritchie, it is intended as a celebration of the imagination, illustrating the 'passion, creativity and innovation' that are central elements of all architecture whether or not it is realised.
The result is an enjoyable combination of work by the usual suspects of esteemed Royal Academicians alongside that of lesser known architects and designers. An aerial view of Zaha Hadid's Cardiff Bay Opera House, perhaps the ultimate unbuilt project on show, looms large over the architecture room. But on my visit it was Mobile Studio's Planning Permission Granted 2010-15 that proved a magnet for visitors, as well as picking up the £5,000 Arup Prize for Emerging Talent in Architecture.
Mobile Studio's entry is a playful illustration of the practice's built and unbuilt projects, with models springing up from relevant locations on the London map and annotated by jaunty notes such as 'dinner is served' and 'just chillin' to illustrate the relevant activities in the different rooms. I was also struck by the virtuosity of drawings by Benjamin Ferns, one of the 2015 President's Medals student winners, and two fantastically detailed prints by Anja Kempa. The latter depicts intriguing mash-ups of urban landscape and paddy fields as if the city has been reclaimed by nature.
The veterans also put on a good show. Will Alsop scooped the top architecture prize, the £10,000 Turkishceramics Grand Award for Architecture, for his model of Heliport Heights. Norman Foster's Droneport depicts a proposed new building type for Africa that combines cargo drone facilities with civic functions. Richard Rogers' four unbuilt contributions also stood out including the Zip-up and Weekend houses, and there were lovely sketches of blossoms and leaf forms by Paul Koralek.
Good to see work by Leonard Manasseh, who recently celebrated his 100th birthday, as well as a poignant photograph of the late Michael Manser, shown 'contemplating the wreckage of a lifetime's unbuilt projects'.
As ever, the effect of so many ideas crammed into a single room is rather overwhelming. Bernd and Hilla Becher's five works in the adjacent gallery serve as a welcome counterpoint of austere stillness and contemplation. Also at the Royal Academy, the Floating IDEAS exhibition of drawings by Peter Cook from the last 50 years make a suitable and engaging companion display of largely unbuilt projects to celebrate the Academician's 80th birthday later this year.
---
Summer Exhibition 2016, until August 21, Architecture Gallery
Peter Cook RA: Floating IDEAS, until October 2
---