Takeshi Hayatsu's designs are about the people who'll use them and the context they're in – consciously putting the 'place' into 'placemaking'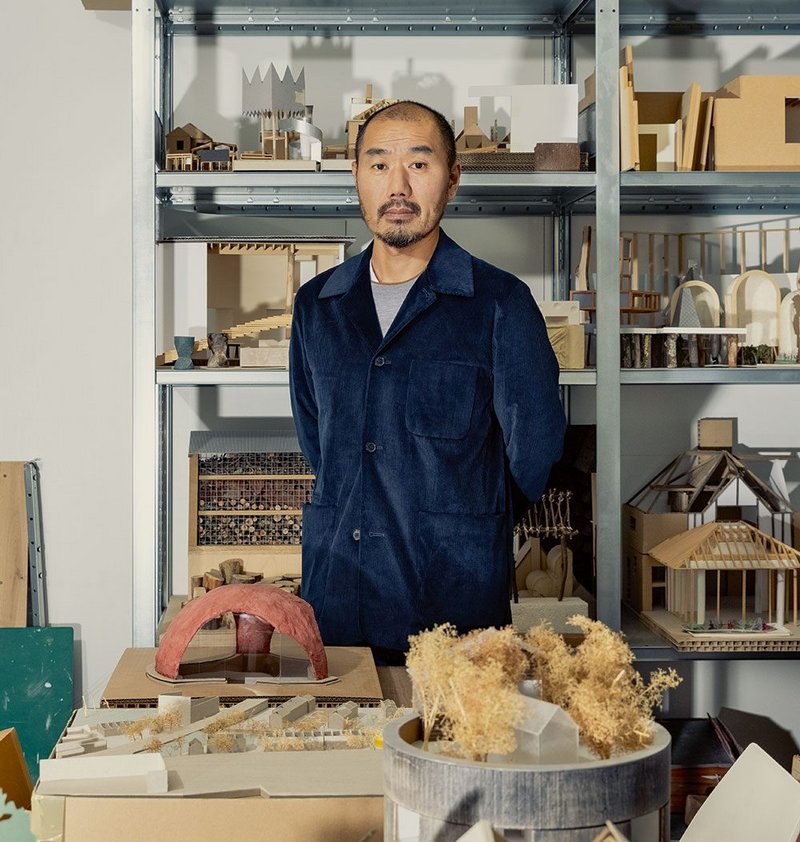 Takeshi Hayatsu in his Sugarhouse Studios office in Bermondsey, London.

Credit: David Vintiner
Takeshi Hayatsu's office, in Assemble's Sugarhouse Studios maker's space in Bermondsey, seems shockingly small and intimate. You are ushered in to face tall shelves of models before a forced right: it is narrow, two shallow rows of desks facing the long walls, a window at the end. Sat at a work desk by the door during our chat, Hayatsu's softly-spoken voice is accompanied by the murmur of his five staff; at times I feel as if I'm interviewing them all. Hayatsu doesn't seem bothered by this intimacy; perhaps it's an innate Japanese ability to retain clear psychological distance despite physical proximity.
But there's agency in near-ness too. Apart from the big timber temple-like model looming from the far corner, none of the models that he reaches for are much more than an arm's length away. The shelves are testament to the architect's love of models – perhaps a nod to the 2D/3D 'okoshi-ezu' representations of Edo-era teahouses or perhaps his fascination with how things go together. It is an indulgence 6a architects couldn't sustain when he was a director there, says Hayatsu: 'I loved modelling and fabrication, even at early stages, but that was something I couldn't do there – my overheads were too high!'
For now, everything on those shelves is modestly scaled, which might be his comfort zone, but Hayatsu has the skills and ambition for bigger, he says. 'An ideal size for me would be Churchill College (completed while at 6a) at nearly £10 million. It's a lovely scale to work at while being different mode of operation, but the office would need to be 12 people, and growing by one person every year, perhaps in 2028…' he clearly considers his skills base seriously, grafting new employees organically onto his company tree; growing it carefully over time, like bonsai.
And the craft of making is what makes him tick. The 51-year-old tells me he originally wanted to study fine arts at Tokyo's Musashino Art University but 'chose architecture as an easier examination route.' But he took to the subject naturally and, already an anglophile, found himself drawn to 'Archigram, inflatables and High Tech'. When it came to his masters from 1993-95, a university colleague, then studying at the AA, suggested he come too. Keen to see the world, Hayatsu agreed, although despite his Archigram fascinations, it was Peter Salter's unit he gravitated to. 'He had a profound influence on me,' he says. 'At the time, the AA was very much concept-based and few units were teaching building design. Peter's was one of them. I didn't know anything about materials when I got there – it was a revelation to learn how they behave in certain climates or might interface with geologies; Peter was doing all of that. His teaching was an eye opener.' Struggling with the language, failing and then re-submitting his diploma, it's clear Hayatsu was a survivor even then.
Post-diploma, Hayatsu's route to 6a began with working on overseas projects at David Chipperfield's before moving in 2000 to Haworth Tompkins, completing his Part III on the Hayward Gallery extension and the London Library. Perhaps it was these refurbishment projects that sparked his interest in getting under the skin of buildings: 'I think I was still being inspired by Peter Salter who was really into this kind of analysis', he explains, adding that he did consider the conservation architect route at the time. 'Steve [Tompkins] and Graham [Haworth] are modernists and concepts of old and new are distinct for them, but in the building conservation world I felt it wasn't quite so clear cut.' Hayatsu did look into a couple of conservation firms but lacked the specific skills they needed, so when he saw an advertisement for a lead architect for the grade I listed Raven Row Gallery in Spitalfields from young practice 6a architects – whose Tom Emerson had himself worked at Haworth Tompkins – the synergies seemed too aligned to ignore. In the 10 years he worked at 6a, he experienced Raven Row's steep learning curve and South London Gallery's original and Fire Station buildings. By the time he had completed its £10 million Churchill College student residence, 6a had gone from five to 45, and as a director he was 'spending more time on Excel spreadsheets than making things'. But all this experience ultimately built up his own confidence and self-belief: 'Tom and Stephanie produce amazing work and I couldn't think of anywhere else I'd want to be, so that was when I decided to set up on my own.'
Finishing at 6a at the end of 2016, Hayatsu's dive into the world of the sole practitioner 'maker-architect' was terrifying and exciting in equal measure. Luckily, with a small commission from the Barbican Art Gallery, he hit the ground running. Its 2017 show The Japanese House saw a teahouse designed by architect Terunobu Fujimori constructed at 1:1 scale by Hayatsu. 'On 3 January, Fujimori-san had me driving down to a forest in West Sussex to select the cherry tree to build his teahouse legs with,' Hayatsu recollects. He even wielded the chainsaw.
In the four years since, mid-scale interventions have been slowly coming to a firm that is clearly in it for the long haul. With a website tagline of 'Construction, Conservation, Community,' Hayatsu has a clear sense of direction for the office – and all three are linked to the philosophical materiality of the place where he's intervening. The 2021 'Modernist Glade' for MIlton Keynes Council and Milton Keynes Development Partnership aims to actuate Station Square on its Midsummer Boulevard. Part of a controversial plan to address underused spaces of the city, the idea here was to see how the townspeople reacted to the filling-in of parts of its civic spaces. A collaboration with producer Aldo Rinaldi and artist Tue Greenfort, Hayatsu's temporary pavilions pick up on the hippy Neolithic alignment of the 1967 new town, its 'Forest City' appellation and the city as a grid. Japanese boulder 'keystones' anchor the timber pavilion to its site, referencing Stonehenge and picking up on the Miesian porte cocheres that typify MK's civic buildings, working them in with shoji screens that echo the city's grid. 'It's not just pavilions,' says Hayatsu, 'there's a scooter hub, seating areas, an outdoor cinema screen and a wild flower meadow out on the lawn space. MK is formed of glass, steel and concrete and we are reinterpreting it using stone, cotton and timber.'
Similar interpretation is at play in a more permanent way with the firm's more recent Blue Market in Bermondsey, a collaboration with Assemble, after both were approached by Southwark Council and Blue Bermondsey Business Improvement District lead, local fishmonger Russell Dryden. Armed with £2 million from the Mayor of London's Good Growth Fund, the architects have been regenerating the square – here since the 12th century – in an initiative by local shopkeepers and the community. Hayatsu' involvement was in the central clock tower, a hybrid of arabesque pavilion and market cross, with a water fountain beneath – a model of civic form and service. The project in a way aligned with Hayatsu's MArch teaching practice at Kingston, Material Anthropologies: 'Any building work is a collaborative activity, whether high end or community, and part of my teaching research is about making things collectively that become of architectural scale,' he explains. To that end, he engaged P Wilkinson, a local manufacturer supplying tin containers to the likes of Fortnum & Mason, and the community to create 500 bespoke tin discs to clad the clocktower and shimmer in the sunlight. The structure itself is delicate but solidly built, as if it feels the weight of the site's history. 'It's built of Green oak, so should last 150 years, and the tower's "scales" reference the fishmonger who drove the project – though I wouldn't tell him that,' says Hayatsu. Is a clocktower anachronistic in an online world? He thinks not. 'There's still space in cities for making the passing of time visible,' he says, confirming that it's as much about the bigger picture as details, which the future connection of the marketplace to proposed housing and London Bridge beyond should compound.
So what of the future? Hayatsu is keeping it local with his latest project, the former Constitutional Club in Catford. The community component of a much bigger Lewisham Residential Regeneration project by Turner Works, this accretion of buildings from the Georgian era to the early 20th century panders to his conservation architect leanings. Winning it off the back of Raven Row and SLG experience, he'll need to hold his nerve; the £2 million project was designed to Stage 4 without full access to the derelict property, so while his delicate interventions will eventually yield the place back to the locals, 'the biggest challenge for us is mitigating the unknowns while controlling the cost – with clear deadlines due to GLA funding'.
Also in the pipeline is a residential refurbishment of a Victorian semi-detached house for artist Peter Doig in north London. Bought from artists, it will be moulded to the new owners' taste while 'taking on board the inheritance of the artists who lived there'. It involves a curious catenary dome structure in its 'magical' overgrown garden, with scalloped incisions so the trees can come close to the building. And, looking like he's recycled 6a's Churchill College by wrapping it around a big fat Havana cigar, his circular housing for Sanford Housing Co-Operative in New Cross, with its deep level of community engagement, will probably be as slow a burner. Ironically built of yakisugi timber cladding 1m thick structural straw bale walls, I ask how he'll get it past the client on an areas argument, but again, he's looking at the bigger picture. 'It's not about thick walls for thick walls' sake but for performance, reduced energy use and as much self-build as we can do.'
So, a Japanese architect, against the odds going it alone in the UK, and one who, through his teaching, has rediscovered his affection for the architecture of the country he left. This shows not least in his continuing work with the Lake District's Grizedale Arts. Every year Hayatsu takes a group of students for a summer residency in the village of Kiwanosato in Yamaguchi to engage in its 'Dream Plan' – a way of reinvigorating this dying village of 120 elderly residents. The project is a two-way street; it's not just about the things, like apiaries and wild flower meadows, that they build for the village to encourage new rural industries and tourism, but the skills the students learn from the residents themselves – a wonderful exercise in reciprocity for common benefit. For Hayatsu, it all relates back to how he sees his own practice. 'Making is in some way universal,' he says, quoting Grizedale director Adam Sutherland's own words to him: 'Everyone can make; and if you make it, then you own it – it becomes yours.'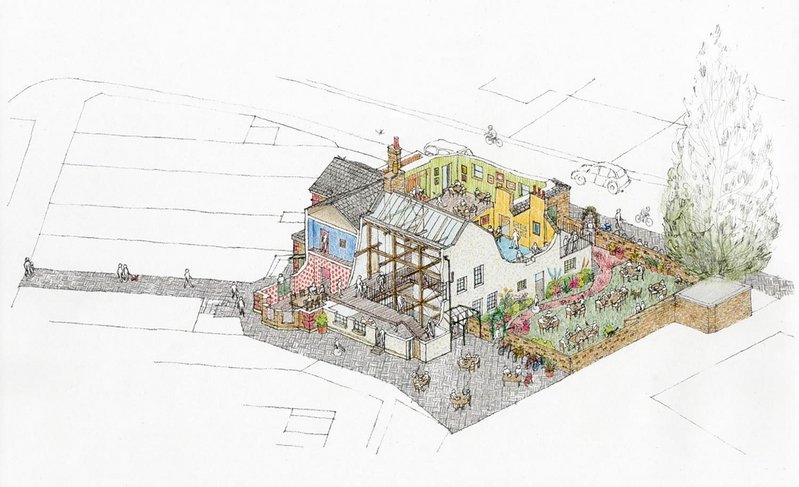 Sketch proposal for the restoration of the Catford Constitutional Club in Lewisham, part of the wider regeneration of the area by architect Turner Works.