An assessment of the controversial Aylesbury Estate in Hoxton mixes happy memories and communities with social failure and questionable policies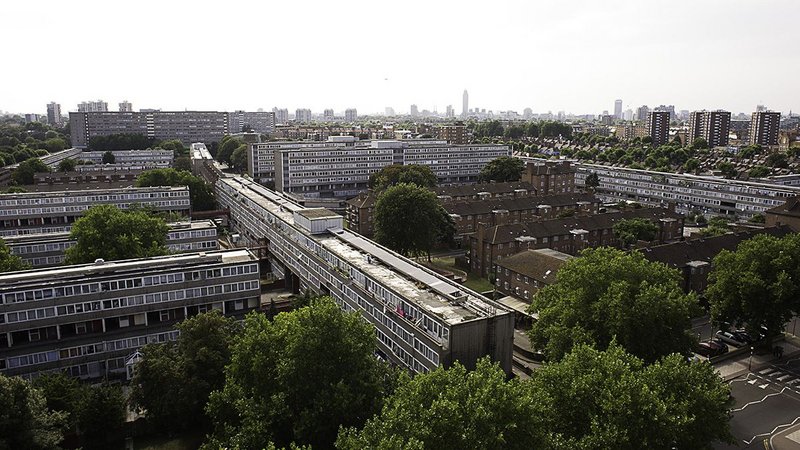 When it was built in the late 1960s, the Aylesbury Estate was one of the biggest of its kind in Europe.

Credit: Richard Baxter
There's something very poignant about the recollections of residents in The Aylesbury Estate as Home, a new display at the Geffrye Museum in Hoxton, east London.
When they moved into the shiny new estate in the late sixties, for some it seemed like some kind of paradise.
'It was a lovely place, beautiful. This was all modernised, everything, the lifts were all modernised, there were mirrors. It was what you'd call this palace,' one early resident recalls.
Others remembered the highly social character of the free laundry rooms, where residents could meet and chat with their neighbours. For children, the whole thing, we are told, was a 'vertical playground'.
Its later decline and the highly controversial, ongoing redevelopment of the estate are emblematic of the fates of many post-war council housing estates, fuelled by rampant gentrification in inner London and successive government housing policies since the Thatcher era.
The display draws on research by social and cultural urban geographer Dr Richard Baxter, a lecturer at the department of geography, environment and development studies at Birkbeck College, who specialises in post-war estates. He is particularly interested in highlighting the largely-overlooked impact of the long process of estate dismantling on residents and their sense of home, whether in terms of their tangible home environment, their memories or the broader community as a whole.
'Urban regeneration is very stressful because it goes on for a long period of time and the plans change a lot. People aren't sure what's going on,' he says, adding that this can result in an 'un-making' of what can often be very positive feelings people have towards their home.
'It's not just the point of moving that's challenging but also the long period before, which can be a 10 year process.'
Designed by the London Borough of Southwark's architecture department and built using the Jespersen 12M building system, the estate replaced run-down Victorian and Edwardian terraces with spacious, Parker Morris-standard flats. It was one of the biggest estates in Europe. In line with the well-intentioned thinking of the day, pedestrian movement was often provided on raised walkways to give safe passage away from cars around the estate. Looking back on the design, one of the original architects regrets the lack of attention given to communal circulation areas and it was often these areas – the stairwells, internal corridors and lift lobbies, that first suffered as the estate headed downhill in the 1980s. With poor maintenance, both building fabric and services began to fail.
But as is generally the case with troubled estates, the state of the buildings was only part of the story. Other significant factors were rising unemployment, and the council's allocation policy, which increased the number of vulnerable tenants.
Yet despite its considerable problems, it was estate that many residents felt positive about, appreciating the generous space and views, and the sense of community. When tenants were balloted in 2001 on whether to demolish and rebuild, 70% said no. In 2005, however, the council opted to go ahead with a redevelopment rather than a refurbishment, with the first work beginning in 2012-14. Protests and a public enquiry into compulsory purchase orders are still ongoing amid concerns that existing residents will be priced out of the new accommodation. Just 50% of the 3500 new homes are classified as 'affordable'. Work is due to start this year and complete in 2032, and will include housing by Mae, Hawkins/Brown and HTA Design.
The display is a sharp reminder that behind the percentages and statistics of large-scale regeneration lie very personal experiences of thousands of residents as they contemplate leaving what for many was a very happy home. For some, says Baxter, it may involve leaving behind significant possessions such as large pieces of furniture as well as their memories as they move to less generously proportioned homes. Many are facing a relocation further out of London as their former homes make way for a very different demographic.
The Aylesbury Estate as Home is accompanied by an installation by artist in residence Nadege Meriau. This incorporates hundreds of papier mâché bricks representing individual homes on the estate.
Although modest, the display is well worth a look, as well as being a welcome excuse to visit this charming museum again.
The Aylesbury Estate as Home, until 18 September 2016. Geffrye Museum, Kingsland Road, Hoxton, London E2 8EA
---