Wagamama is as known for its pared-down, canteen like décor as it is for its noodles. So no small pressure, then, on architect Archer Humphryes when it came to coming up with a quite different but equally memorable design for Wagamama founder Alan Yau's new venture Naamyaa, a Thai all-day cafe.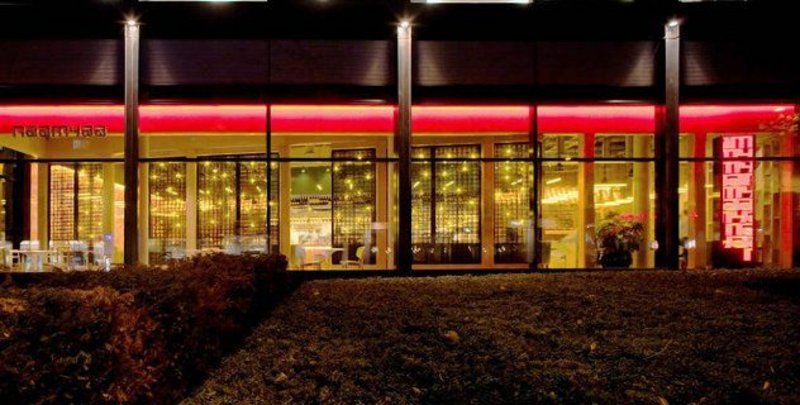 There can be a fine line between a restaurant that's themed and one with a distinctive cultural identity. Fortunately, architect Archer Humphryes' design is firmly on the right side of this line, even with its plentiful use of golden Buddhas, Siamese patterns, and Thai bricks.

Naamyaa, located in the Angel Building in Islington, London, is the first of what is hoped will be many of the new café concept, whose highly eclectic menu encompasses everything from noodle soups to burger and chips.
David Archer already had a long and fruitful relationship with Alan Yau, having worked with him on his Busaba Eathai and Hakkasan concepts. For Naamyaa, he and Yau carried out extensive research in Thailand sampling cafes and street food in order to understand that section of the market.

The result, says Archer, is a design that is 'culturally informed', rather than themed, utilising stacks of distinctive highly textural Thai bricks along a rear wall crowned with Buddhas. Along the flanking side walls are tiling with large format bespoke Siam imagery with geometric patterns in the washrooms, all adapted with the help of graphic designers North. An open weave mesh screen inspired by designs in Thailand divides off the main eating area from the window-side seating.

Archer says the concept has something of the flavour of a pagan temple, but instead of an altar, there's the kitchen, positioned centrally with seating all around.

'In Thailand there's a very close relationship between everyday life and religion – it's very casual. Here there's a casual religious content to the character of the space.'

But wisely, the architect has not overplayed the Thai influence, creating a fresh and contemporary interior with bespoke furniture in zingy green and red. With tasty, beautifully presented food to go with it, Naamyaa might just be another winner.