Christie Pearson's book moves from aquatic centre to sentō, waterfall to thermae bath, hammam to mud bath… in a stimulating, inclusive study of a social activity
Don't pick up The Architecture of Bathing – Body, Landscape, Art, in the hope of finding an easy coffee table book of beautiful photographs of architect-designed bathing spaces. Written by Christie Pearson, it is certainly an attractive publication and does include the usual suspects in terms of references to Álvaro Siza's coastal pools at Leça de Palmeira, the rooftop paddling pool at Corbusier's Unité d'Habitation, Zaha Hadid Architects' London Aquatic Centre and of course Peter Zumthor's celebrated Therme Baths at Vals. But these are submerged as ensemble players within a study that is admirably wide-ranging in terms of both typology and geographical setting, as it explores and expands notions of communal bathing spaces from the traditional to the contemporary, the natural to the man-made. Along the way, we take in Roman Baths, hammams (Turkish baths), Native American sweat lodges, mud baths, forest bathing, rivers, sea, waterfalls and ponds, and a great deal more.
While it is not a light read, it is stimulating, inviting the reader to consider such spaces through diverse lenses, particularly feminist, but also including queer, ecological and decolonial perspectives, in addition to more familiar theoretical references. For example, we learn how the architectural forms of public baths in Western European culture reveal what Pearson describes as a 'more general history of suppression through endless forms of segregation where young and old, black and white, male and female, able and disabled, pure and impure, organic and inorganic, are constantly being classified in an exaggeration that betrays uncertainty'.
It is highly illuminating. I'd never before, for example, considered the shower as the 'general suppression of the feminine in its mechanistic efficiency and phallic verticality'.
Pearson seeks to explore the architecture that supports bathing activities, but in a way that goes beyond form to consider bodily practices and cultural context. The communal bathing experience is celebrated – while bathing is a 'splendid solo activity', soaking together, she says, helps build kinship as well as a heightened awareness of our, and other, bodies. Doing so opens up our senses 'toward the physical world entwined with the social'.
Communal baths are explored as in-between spaces – neither entirely public nor private, and with one foot in ritual and one in theatre. They can also be liminal in the sense of shedding outside clothes – and maybe status and persona too – and stepping into a different, and perhaps liberating space. Here the author conveys the importance of the women's bathing facilities in cultures and times where women do not/did not have prominent public visibility. As well as the women's bathhouse at the hammam, these include the Victorian bathing machine, 19th-century gender-segregated river pools in Switzerland accessed by enclosed, floating platforms, and the floating river baths of Paris.
We get a truly international perspective, both past and present. The atmosphere of Roman Baths is brought evocatively to life as places for conversing, exercising, snacking, debating, reading, having sex, having massages – amazingly the Baths of Diocletian had a 3000 capacity. The author takes us with her in her immersive descriptions of mineral rich bathing in Iceland – 'I feel as if I am being steeped in a rich broth' – hot sand baths in Japan, the Russian banya steam bath and Japanese sentō bathhouse.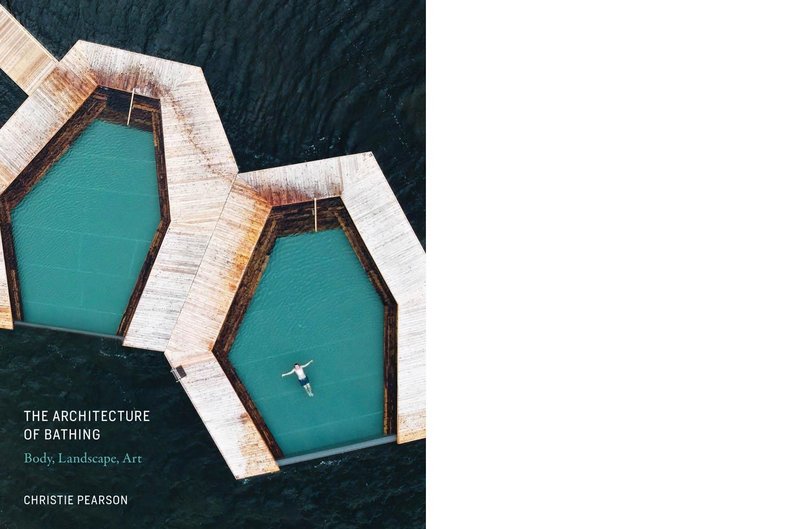 Cover of The Architecture of Bathing Body, Landscape, Art, by Christie Pearson, MIT Press, £40. The cover image is of Vok Baths in Iceland, designed by Basalt Architects.

Credit: Martijn Veenman
There's a look at the connection between bathing and rituals relating to cleansing and regeneration both secular and religious, including the Jewish mikveh ritual bath, with its particular role in relation to female purity. Bathing houses traditionally played key roles in life milestones in many cultures – in Finland, festive wedding rituals involved collecting the bride's sweat using dough in the steam room, and then turning this into cakes to be eaten by the wedding guests.
Interestingly, while there are plenty of historic and contemporary associations of communal bathhouses with sex, in Finland and other Scandinavian countries the expectation is that people should behave in a sauna in same way as they would in a church.
As well as the man-made facilities, the author plunges into naturally occurring waters, considering whether they may be the generators for different types of bathing, from the exhilarating, aerated 'dancing energy' of the waterfall, to the freshness and purity of springs, the flow of rivers and waves, and the murky joys of ponds. These have the frisson of the potential for encounters with nature, with their 'messy mingling of animal, vegetable or mineral. The act of diving is considered as opening a field of study 'where space and time are strung through movement, inspiring reflections on form-making and space-making alike'.
By taking on both natural and man-made settings, the book is complex in scope – including bathing in fountains, waterparks, artificial bathing landscapes, and a great deal on bathing-related artistic practice throughout, which adds another nuance to an already multi-faceted story. Pearson also proposes the idea of approaching all architecture as to be experienced as immersive material and social space.
However the author is best at conveying with visceral detail the experience of these bathing spaces themselves. In doing so, she draws on extensive personal experience of bathing settings all over the world, whether enjoying the intense experience of a mixed Turkish bath in New York, being pummelled in a hammam in Istanbul or baking in a heated sand bath in Japan. These personal experiences are a vivid and welcome counterpoint to the more theoretical aspects of this rich subject.
---
The Architecture of Bathing – Body, Landscape, Art, Christie Pearson, MIT Press