Composition, minimalism, complexity and detail characterise this year's Eye Line drawing competition
'Everyone can draw', a prominent architect once told me while foolishly encouraging me to take part in a sketching project. Ha ha ha. That's like me saying 'Everyone can write.' As Wittgenstein suggested, in certain environments you can get by on primitive languages of very few words. On a building site (interestingly, he having also designed and built a house) an unskilled worker could theoretically get by on just four, he suggested. Obviously one would not expect that worker to produce an award-winning novel, or even much of a Tweet, with 'block', 'pillar', 'slab', and 'beam'. Anyway, there neither writing nor speech was required: only basic understanding of what someone else was saying.
That's no bad starting point: one's ability to understand the work of others. Reading and interpreting drawings is not so different from reading a novel or poem: we can turn the marks on the page or screen into a world which we can comfortably inhabit. We suspend our disbelief, we put ourselves into those narratives. By communicating an imagined reality, architectural drawing is fiction. The wonder of it is that it can be turned into fact. The glory of it is that it does not have to be.
An architect's basic drawing tries to convey physical form in an immediately comprehensible manner. This can be very beautiful – note the drawing of a Selmer clarinet by one of our winners, George Saumarez Smith of Adam Architecture. It is as minimal as you can imagine, but all the information is there, conveyed with a superb elegance of line. Other drawings, in whatever medium, go into parallel universes of the imagination – especially, of course, the student entries. Eye Line celebrates the power of architectural drawing for its own sake.
This year's Eye Line judges were: architect, academic and noted draughtsman Alan Dunlop; artist Susanna Heron (a frequent collaborator with architects); last year's winner Tom Noonan, presently working on rebuilding his alma mater the Bartlett with Hawkins\Brown; Narinder Sagoo, partner with Foster and Partners who leads by example when it comes to excellence in drawing in all media; and me, supported by my colleague Eleanor Young.
We declared a joint winner in Amelia Hunter of the Royal College of Art, and Kirsty McMullan of the University of Brighton (now Part 1 assistant at Spacecraft Architects). Their projects are both grounded in place: Hunter's strategy for Maidenhead's waterways; a museum of the quarries of Portland in Dorset for McMullan. They demonstrate the beauty of possibility.
As Dunlop put it: 'The second year of Eye Line has produced an even more remarkable series of images from clearly talented young architects and artists. Although the work overall was deeply impressive, the hand-drawn images of the joint winner were stunning and, frankly, humbling.'
Hugh Pearman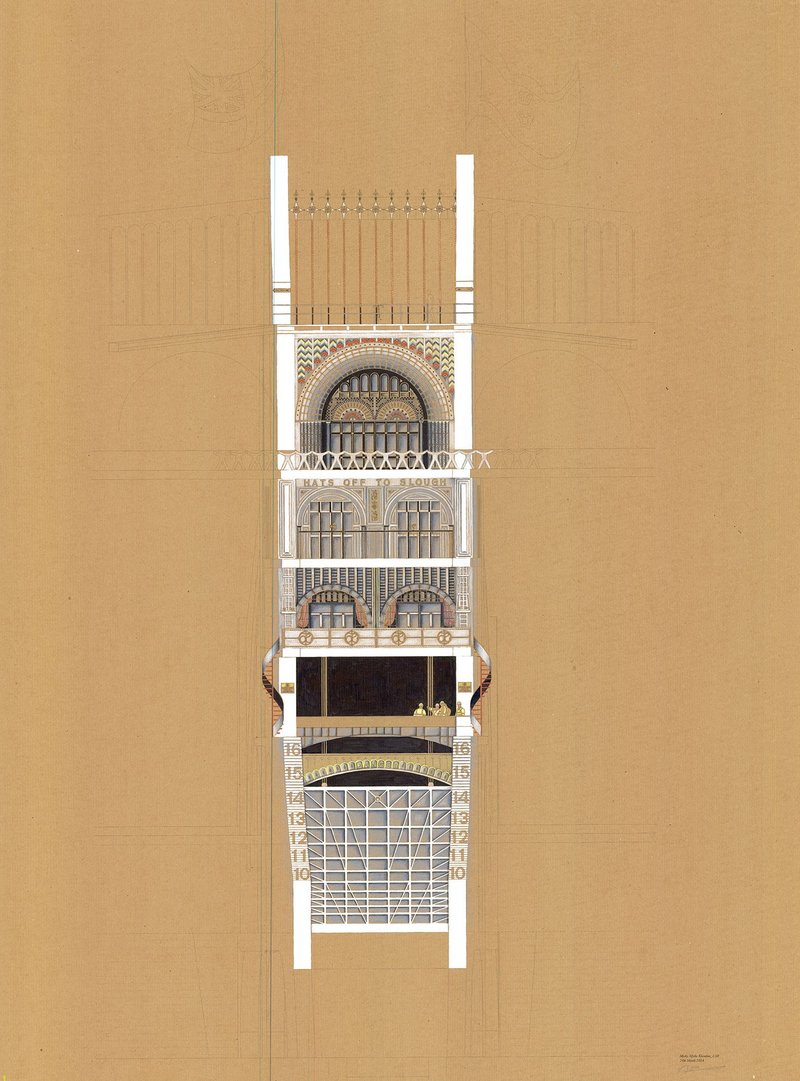 Myrkey Myrke Motel.

Credit: Amelia Hunter
Joint first winner
Amelia Hunter
Myrkey Myrke Motel
Drawn on a sheet of Kraft brown wrapping paper, the 1016mm by 762mm Myrkey Myrke Motel elevation impressed the judges first with its simple, traditional sense of a measured drawing. But zooming in, it was clear that here was both new and old, and a recognition of the language of Victorian architecture along with an understanding of how its elements might be put together. A closer look still revealed intense attention to detail, each dot at an equal distance, tiny viewing binoculars on the upper levels. As the group in high-vis jackets gradually drew into focus, so too did the wittiness and cleverness of the drawing. This was not perhaps surprising, given her choice to study for her MA in the studio run by David Knight (DK-CM) and Charles Holland (previously of FAT, now of newly formed Ordinary Architecture) at the Royal College of Art. Alan Dunlop also noted that a 1:60 drawing is a rare thing. 'There is a level of skill and sheer bravado here,' he said. 'Every part seems absolutely immaculate.'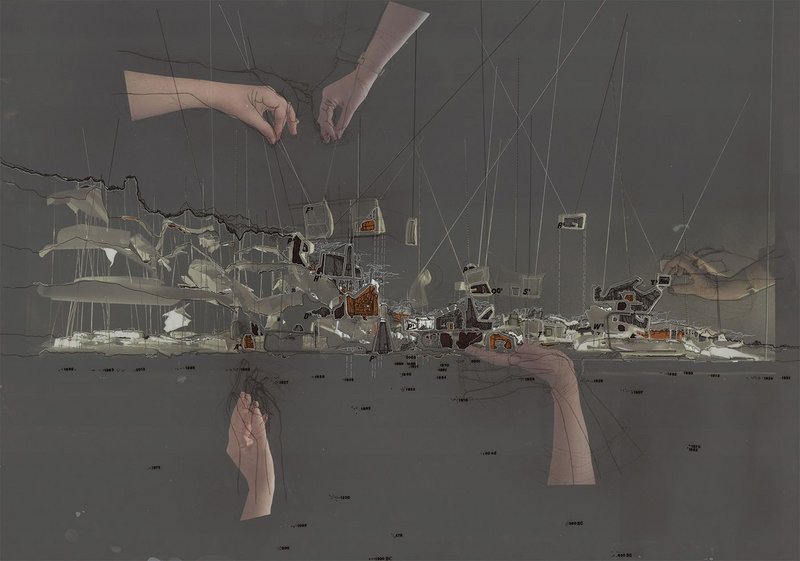 The Everyday Museum of Everyday Portland.

Credit: Kirsty McMullan
Joint first winner
Kirsty McMullan
The Everyday Museum of Everyday Portland
'Kirsty has made her drawings move,' said Susanna Heron. 'Yet she is not trying to impress us.' Despite that, the judges were impressed with every single one of the three 'very strong' entries by McMullan. The puppetry suggested by the expressive hands on the section is a thought-provoking way of showing images and, not content just to use these images of hands plucking at strings, McMullan also gave them a sense of animation with a series of drawings, almost like an artist's cartoon or early preparatory sketch where conditionality is everything. This was a very deliberate attempt to expose the influence of the architect/ curator in these drawings for McMullan's part 1 project at the University of Brighton for the Everyday Museum of Everyday Portland, with Catrina Stewart and Kate Cheyne as tutors. So was the use of Letraset-style annotations, that set off an interesting discussion among the judges about the importance of these letters to them. They were used with an artistic and discerning eye and made up for a thought-provoking set of drawings. 'I am going to go on thinking about that,' said Heron.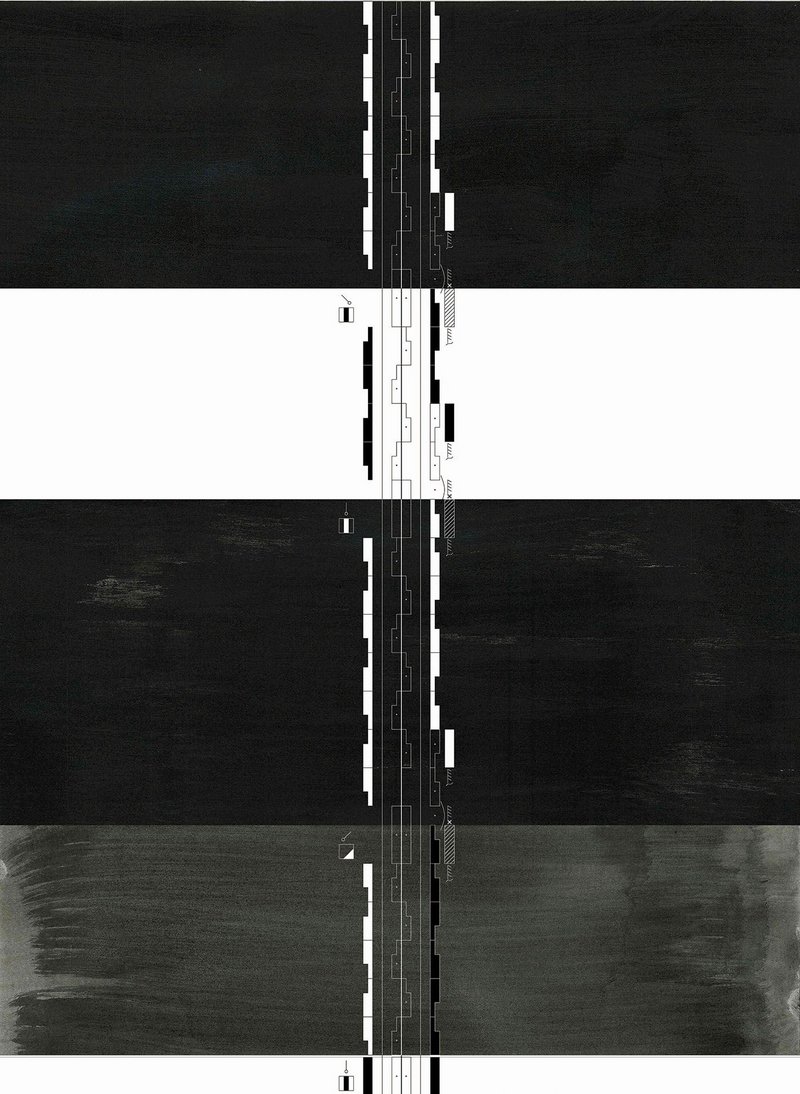 Acoustic Promenade Score.

Credit: James Hughes
Second winner
James Hughes
Acoustic Promenade Score
The texture of the paper and visible application of Indian ink made all the judges take note of James Hughes' three works exploring the soundscape of the city, refuting Juhani Pallasmaa's statement that 'the contemporary city has lost its echo'. This is another entry from an RCA graduate, Hughes having created this series of drawings for his MA. Alan Dunlop pointed out the clever way Hughes painted in the shadow. Part a device for mapping sound, for example from the corner of Ludgate Circus, it was the materiality and composition that struck the judges. 'It is very bold, and very interesting spatially,' said Susanna Heron. 'I really like these in terms of composition.'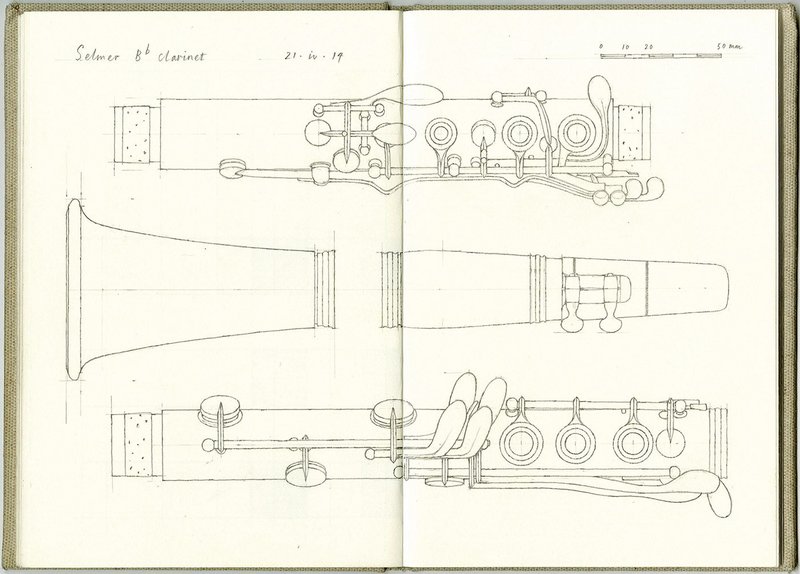 Selmer Clarinet.

Credit: George Saumarez-Smith
Third winner
George Saumarez Smith
Clarinet
As Saumarez Smith's drawing of a Selmer Bb clarinet came up on the screen there were murmurs of delight among the judges. 'I want to draw a clarinet,' said Narinder Sagoo. Then, less wistfully: 'It is an example of how people develop an ability to judge scale.' This measured drawing, apparently from Saumarez Smith's notebook, has an economy of line of and detail that all the judges appreciated. Hugh Pearman pointed out how he had elegantly answered the question of how to show cork with just a few dots. Susanna Heron was intrigued by how he had judged where on the clarinet the division of the notebook should fall. 'The relationship with the fold is very skilful,' she said. Saumarez Smith's linocut also attracted the judges for a different craft – this time representing a ceramic pattern.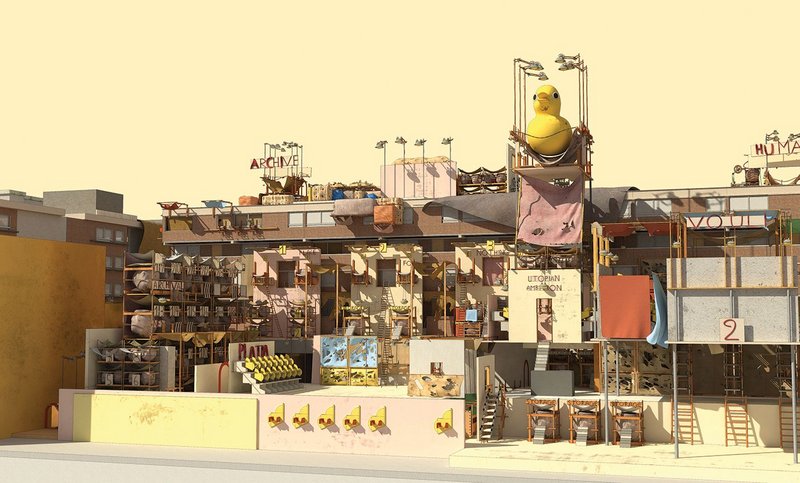 Morpheus Neighbourhood.

Credit: Chrisos Kakouros
Commended
Christos Kakouros
Morpheus Neighbourhood
This complex happy stage set borrows the ancient Greek god of dreams to collect human stories. On a social housing site on a major north London artery everyday fragments are preserved. This was developed as part of Kakouros' third year project at the University of Westminster with tutors Julian Williams and Jane Tankard. The Tintin optimism of the drawing with its rubber duck, surely a reference to the work of Robert Venturi and Denise Scott Brown, left the judges debating the methods of production. The considered hues and textures were both exciting and intriguing – take a closer look at the ripped and undulating fabric below the duck. 'He is an illusionist,' said Hugh Pearman.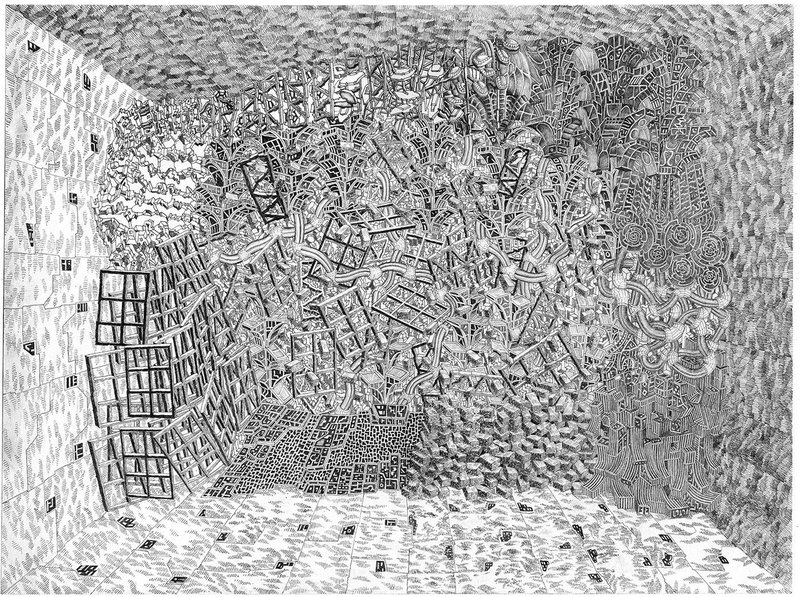 Messy Interior.

Credit: Oliver Pershav
Commended
Oliver Pershav
Messy Interior
The judges speculated that the full complexity of Pershav's drawings had something of a Magnus Magnusson logic to them: 'I've started so I'll finish'. Perhaps a passing resemblance to David Shrigley might be spotted, but the detail and the subject matter take them well beyond the work of the humorist's drawings. Pershav's Mechanised Architecture School took outlined drawings of the mechanical means of production – camera, coffee machine, CNC cutter – to give a sense of the way a student might be fed through this complete system. Messy Interior (right), part of his Architectural Association diploma project with tutor Natasha Sandmeier, started with a drawing snaking its way around the edge of a paper. The mess is highly controlled, ordered and believable; if rather perilously stacked.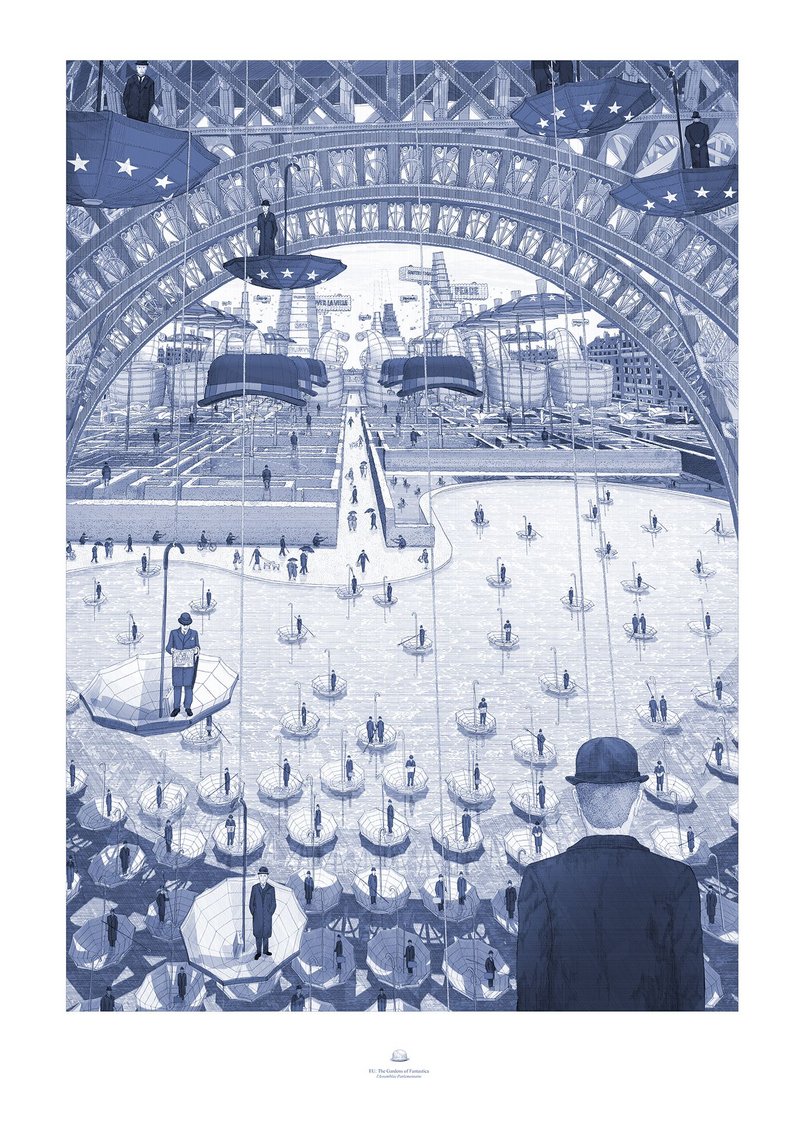 The Gardens of Paris Fantastica.

Credit: Steven McCloy
Commended
Steven McCloy
EU: The Gardens of Paris Fantastica
These pencil drawings, with their added blue hue, caught the judges' attention for the formal picture book portraits of busy, populated cityscapes. The strong focus on a repetitive, animated foreground and the long vistas show a Paris co-opted to the cause of European harmony and integration with a nod to the Bartlett's CJ Lim. 'Lovely illustration,' pronounced Susanna Heron. Alan Dunlop was impressed with the sense that McCloy had got the whole thing mapped out in his head. The Lowry-like figures and Magritte men with brollies give a sense of humour to the proposal that belies the underlying projects' more bureaucratic messages.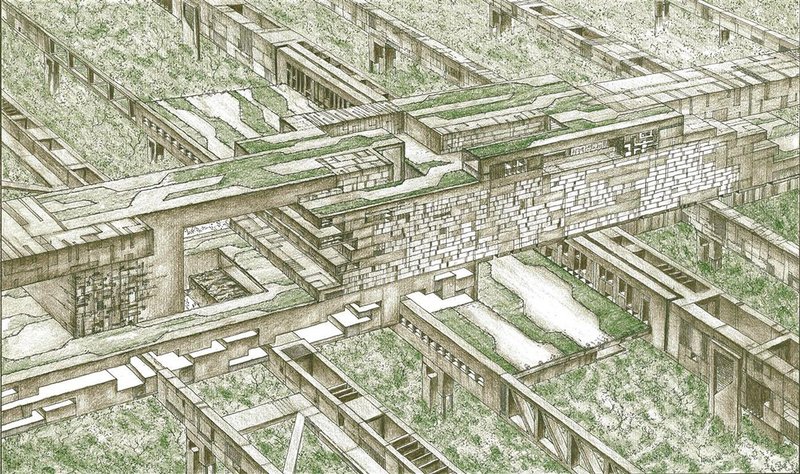 Bird Eye City View.

Credit: Povilas Jurevicius
Commended
Povilas Jurevicius
2121 Bird Eye City View
'I like the lack of perfection,' commented Susanna Heron. Three very different drawings showed a range of styles and materials, all exploring suspended forms and megastructures of a sort. The one that graces the top of this page particularly demonstrates how Jurevicius can concentrate the intensity of his effort where it is needed, allowing the lines beyond that to fade into sketchiness. His 'multiple tongues' showed a consistency of thought process and the importance of the dominant, angular line in the structure of his submitted pieces.

Temple of Narcissism, section.

Credit: Kevin Kelly
Commended
Kevin Kelly
Temple of Narcissism, section
'It is quite extraordinary how he draws landscape,' said Narinder Sagoo, looking at the three fantastical drawings submitted by Kelly. If a sketch is a word, then some of Kelly's drawings were 'shouting out words from a dictionary'. But the section shown does more, it draws it out and 'tells a story'. Kelly's 0.025mm flexible nib Rotring takes over when the B pencil leaves off, with drawing as much part of the design process as production – here exploring a hermit's pilgrimage. Kelly himself studied at Manchester School of Art and the Bartlett. The influence of architectural illustrators, such as Neil Spiller, on the biomorphism of the images was clear, but the judges also saw parallels with cartoonist Gerald Scarfe and pictures by Hieronymous Bosch, which perhaps lent it an air of familiarity. 'This is relentless but well composed; an exquisite doodle,' pronounced Tom Noonan.