Fifty years on, brutalist style at the University of Essex is being celebrated
'Something Fierce' is a 50th anniversary exhibition celebrating the architecture of the University of Essex. The title comes from Kenneth Capon of Architects' Co-Partnership: 'The English love making things shaggy and softening everything up. We decided to do something fierce to let them work within.' Capon's ferocity has been loved by some, loathed by many and blamed for years of student protest. Over years I have tried, with scant success till now, to promote my university's brutalist masterpiece.
In 2012 the vice chancellor demolished a fine vestibule to the library that we failed to get listed. But our new VC, Anthony Forster, is a fan of brutalism who initiated the rehabilitation of AC-P's Dunelm House when at Durham University. He gave me an tour of Dunelm and I reciprocated at Essex. He fulminated against the painting of shuttered concrete and enthused over the structural power of the cantilevered beams supporting the Library's upper storeys. And he asked me to curate 'Something Fierce', for whose venue he refurbished the Hexagon restaurant, overlaid with post-modern decoration in the 1980s and mothballed since 2000. His brief was to tell the story of Essex through its architecture.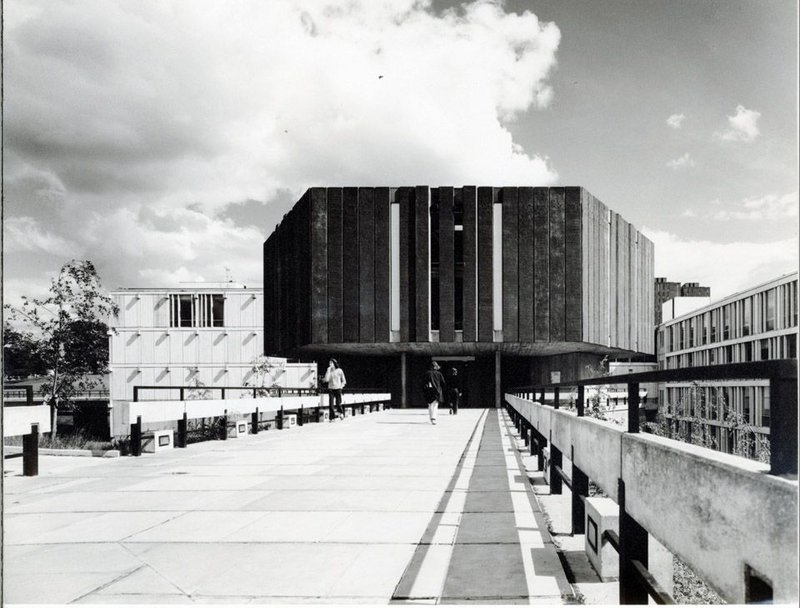 Essex was to be a campus of 20,000 recruits for the officer class of CP Snow's 'Scientific Revolution', with a small arts faculty to humanise the geeks
My most surprising discovery was that Essex was intended not as a socialist seminary but as Britain's answer to MIT, the Massachusetts Institute of Technology. CP Snow's Two Cultures appeared in 1959 just as Essex County Council began planning a university. Sputnik was launched in 1957. There was deep anxiety about Britain being left behind the USA and the USSR. Essex was to be a campus of 20,000 recruits for the officer class of Snow's 'Scientific Revolution', with some social scientists, and a small arts faculty to humanise the geeks.
Capon and the founding VC, Albert Sloman, planned it in 1962-3. A campus for 20,000 must be big, but they wanted community. Hence the high street of five pedestrian squares forming the town centre. Teaching courtyards would be added behind the squares. 28 residential towers were slotted between the courtyards. You can be out of bed and into a lecture within five minutes.
There are no freestanding buildings for autonomous departments. These are distributed along corridors in a continuous zig-zag around the five squares. Thus everything and everybody are intimately interrelated.
To socialise students from different subjects, as on an Oxbridge staircase, there are bed-sits on each floor of the towers with a kitchen/common room. Around the squares are shops, restaurants and social facilities. The importance of the library as a place of self-education is emphasised by its location on the highest square overlooking a new lake.
The style is 1950s brutalism. Corbusier's La Tourette provides the randomised mullions of the squares – low-key urban background for buildings like the library based on Kenzo Tange's Kagawa Prefectural government mall. The towers evoke Kahn's Philadelphia Laboratories. The Hexagon and its lantern are shaped like quartz crystals, deriving from the 1920s version of Buckminster Fuller's Dymaxion House. Our exhibition was designed by David Hillman to showcase its restored interior. Although we lost the library vestibule we have, thanks to Forster, regained the Hexagon and respect for our 1960s architecture.
Jules Lubbock is emeritus professor of art history at the University of Essex
---
Something Fierce: University of Essex – Vision and Reality
The Hexagon, University of Essex, 7 October-13 December 2014, Tuesdays to Saturdays, 11am-5 pm