Did the ambiguous abstract forms of brutalist playgrounds fire children's imagination or thwart their activity?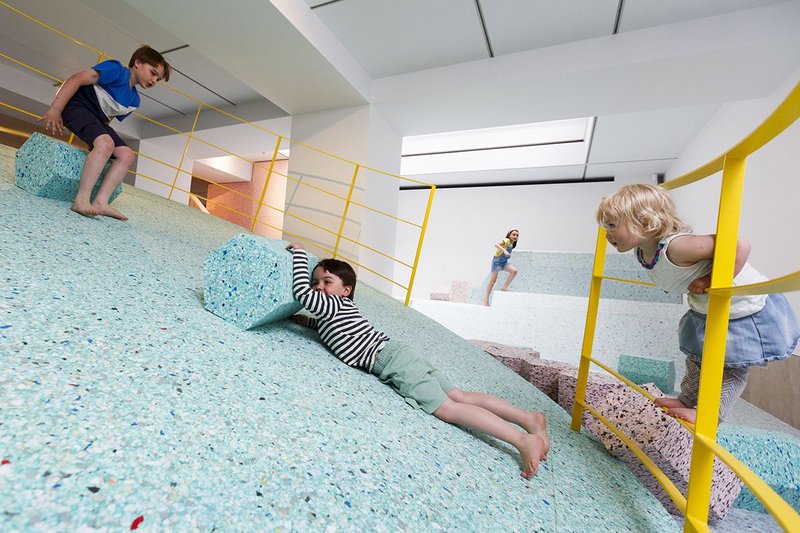 Children taking on the RIBA's foam version of the brutalist playground.

Credit: Photo by Tristan Fewings. Getty Images.
The Brutalist Playground, the exhibition at the RIBA's Architecture Gallery, draws attention to an almost-forgotten fragment of architectural history: the puzzling brick and concrete play spaces that were embedded in the landscape of post-war housing estates. With designs by architects such as Erno Goldfinger and the Smithsons, these surreal sculptural forms were works of art in their own right. They evoked crags, castles and rockfalls; one looked like a scary oven. These are mini-me masterpieces of post-war architecture; the babies of brutalism, by-products of an architectural imagination unburdened by the constraint of making houses.
'This is a condensed brutalism', says Joseph Halligan of Assemble, which designed the installation. 'We can see the fun the architect is having in making these amazing structures. These things are great and shouldn't be forgotten.' In other work, Assemble is engaged in the bottom-up process of creating a new adventure playground from scratch, led by children and hard-wired into the local community. So it is interesting that, in responding to images and drawings from the RIBA archive, the Turner Prize-nominated collective and the artist Simon Terrill should have chosen to replicate, at full scale, elements of the architect-imposed playgrounds at Churchill Gardens, Balfron Tower and Brunel Estate.
While the architecture and landscapes of modernism are said to speak of optimism and re-making the world anew, it is hard to imagine such spaces sustaining a real and vibrant play culture. Penny Wilson, a play advocate who spoke at the events surrounding the launch, says of these spartan and claustrophobic spaces: 'Although they must have done, we haven't found any evidence – photographic or anecdotal – of children actually using and playing in these spaces'.
Their architects claimed the ambiguity of these abstract forms encouraged children's imagination, but the environments were irrevocably fixed, their immutability thwarting the child's need to change, adapt and co-opt their environment. The only way to change this landscape was to vandalise it. Without swings, roundabouts or ropes, these playgrounds stayed still. It was the child that moved, testing the effects of gravity in clambering play that would today be called 'parkour'. Sealing the earth with their concrete, nothing grew or changed with the seasons; they precluded the mud cake-mix or hole-digging.
Nevertheless, with the hyper-real synaesthetic eye of childhood, I half-remember the compelling appeal of these curious forms, the way they called you to clamber, invited interrogation; they nominally belonged to the child, yet remained alien and inexplicable.
This was the era that saw the introduction of adventure playgrounds, a concept imported from Copenhagen by Lady Allen of Hurtwood, a founding member of the Landscape Institute. In doing so, she articulated that it is in these gloriously messy environments – with their dens, walkways, animals, tools, waste materials and fires – that children find the freedom, self-expression and self-determination denied to them elsewhere.
A closer comparison can be drawn with the 800 play areas designed for Amsterdam by Aldo van Eyck between 1947 and 1978, where we also find sculptural cast-concrete forms and unmoving equipment. But these were inserted into the existing fabric of the city, threaded like beads of child's-eye interest along the city's thoroughfares. The Dutch examples might seem the equivalent of our brutalist playgrounds in terms of play value, but they were arguably better integrated into the world (some were on traffic islands) and more adapted to their social context.
The architect and artist's creative step, of replacing cast concrete with foam, turns these structures into what Assemble's Jane Hall describes as 'the ultimate in soft play'. She says: 'Recreating them in a different material allows us to get away from the obsession with their materiality and see them as forms. They are the antithesis of what we think play should be today. What makes them so interesting is that they provoke discussion about how we should design for play.'
Now that these brutalist gems are mainly discredited, threatened or demolished, it is easy to fall into trap of debating the success or failure of the modernist project. But this misses the point. This exhibition doesn't attempt to supply answers; in fact, its tacit admission, says Assemble's Amica Dall, is that 'it is very hard to design for play because play is an incredibly complex set of behaviours, determined by the child'.
But the conversation it provokes, at the centre of the British architectural establishment, about architecture and design for children, is timely and welcome. As the architect Dinah Bornat says: 'The legacy of these spaces is the fact that we are here today, talking about children playing in the built environment, a discussion that is mostly lacking in the way we talk about architecture.' •
The Brutalist Playground, to 16 August, RIBA, 66 Portland Place, London, W1
Maisie Rowe is a landscape architect
---