The 'creeping epidemic' of privatised public space is the subject of The Garden of Privatised Delights, the biennale's British Pavilion curated by Madeleine Kessler and Manijeh Verghese of Unscene Architecture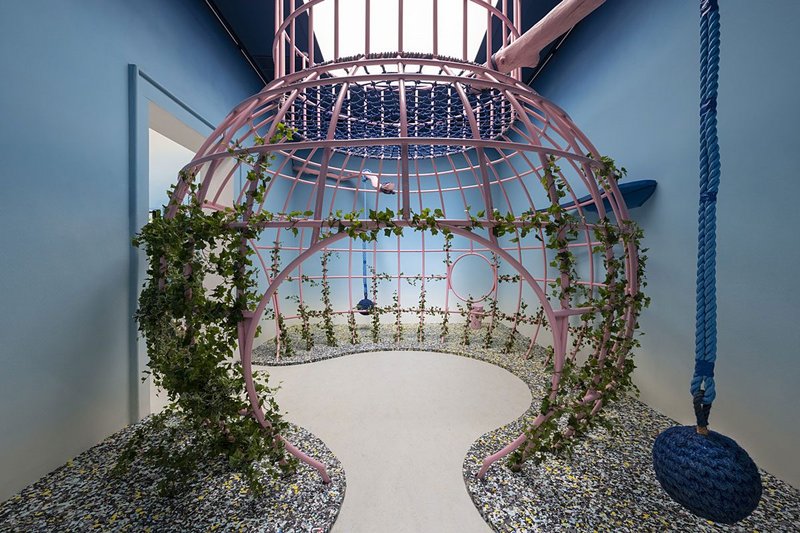 vPPR's Play With(out) Grounds climbing structure installation from The Garden of Privatised Delights, considers how teenagers can be given a voice in shaping their own space in the public realm.

Credit: Photo: Cristiano Corte © British Council.
With much of the world still gripped by the pandemic, it's somewhat surprising that the Venice architecture biennale is happening at all, albeit postponed from last year. But open it is (from May 22), including the British Pavilion, curated by Madeleine Kessler and Manijeh Verghese of Unscene Architecture, who thanks to Covid-19 have had to oversee the installation from afar.
The pavilion, The Garden of Privatised Delights, explores the debate around what the curators describe as 'the creeping epidemic' of privatised public space, a subject that has interested them for some years. They believe the theme is more pertinent than ever following Covid-19 and its accompanying lockdowns, when access to parks and other public spaces has been shown to be particularly important. For the pavilion, they take a broad look at different aspects of the subject, commissioning five practices to explore pubs, high streets, play spaces for older children, data and public land, while Unscene itself takes on garden squares.
It's a rich, serious theme which the curators and the five other participating practices have worked hard to present engagingly – from karaoke-style films to a 'hacked' ATM and a giant climbing structure for teenagers. Surely it's the first time that carpets from Wetherspoon pubs have been framed and celebrated for their distinctiveness.
'It's been refreshing in the last year to see people's attitudes to public space,' says Kessler, adding that while the curators had felt that there was a huge threat to public space, it hadn't previously been at the forefront of conversations.
The curators are interested in the 'weird middle ground' between private and public space, and in finding ways to promote accessible, public use.
'We wanted to break away from the binary idea of public equals good, private equals bad,' says Verghese, who is keen to explore the role of architecture in bringing together different people to find new, inclusive models for these hybrid spaces, perhaps through public-private partnership, perhaps through community-led initiatives.
They are on a mission to encourage public spaces which are more welcoming, more inclusive and more accessible, and their pavilion is conceived as a platform to explore the challenges to public space and showcase good examples of privatised but accessible solutions. It is very much a call to action for the public to have greater agency in shaping public space.
Visitors to the pavilion are promised an immersive experience. The pavilion's title was inspired by Hieronymus Bosch's painting The Garden of Earthly Delights, and a playful triptych reinterpretation of this on the theme of public space greets visitors, as well as plenty of lush foliage. Once inside, they are tantalised by views of a central garden space, but true to the subject matter of the pavilion, entry is barred by railings. Instead, visitors proceed into a succession of rooms, each conceived as a testing ground for rethinking a certain type of public space.
In The Decorators' exploration of the pub, visitors will learn how one quarter of British pubs have closed since 2000, and how just as this trend was halting, the pandemic struck, forcing all surviving pubs to shut for the first time ever. The presentation aims to avoid rose-tinted nostalgia and instead acknowledges the less-than-inclusive history of this institution, including exclusion on the grounds of class and gender, and the existence of colour bars in the 1950s and 60s.
It's clear, according to practice co-founder Carolina Caicedo, that pubs are 'constantly needing to adapt to change', whether it be by community ownership, adjustments to their offer, or in other ways.
'Pubs that are surviving and acting as community pubs are doing more than selling drinks,' she says.
The room celebrates examples of this with artefacts from some telling examples, such as a sign from a Desi pub in Smethwick, one of the many created by the Punjabi community which combine traditional pub features with Punjabi food. There's also a protest banner from the campaign to save the Joiners Arms LGBT pub in Hackney, and various Wetherspoon artefacts.
There are two quintessential items of pub infrastructure: a central bar, designed with a section of lowered counter for use by wheelchair users; and a pub TV. This shows warts-and-all films about the role of the pub in British culture, as well as karaoke-style 'More than a Pub' stories adapted from the song More Than a Woman.
Built Works' Ministry of Collective Data seeks to create a better understanding of how the public can take back control of its data. In the Ministry of Common Land room, Public Works shows how public land is being sold off by the government and offers strategies for protecting common land, such as the use of citizens assemblies.
In the High Street of Exchanges, Studio Polpo's installation aims to show how the high street can be 'more than a place of shopping and consumption', according to director Jonathan Orlek. Instead, it can offer 'different options of exchange' beyond financial transactions such as care, learning, social contact, activism. Examples include the barbershop with its in-built social interaction, libraries, and pay-what-you-can food cafés. The vision is for community-led high streets, based on long-term relationships and with different values beyond that of conventional retail.
I like the look of vPPR's Play With(out) Grounds, which addresses the lack of outdoor facilities for teenagers ('too young for pub, and too old for playground') and advocates for their needs to be articulated, heard and addressed.
'There's a perception that teenagers shouldn't be in public spaces,' says vPPR director Catherine Pease.
This room is filled with a spherical, 4m-high climbing structure accompanied by a soundtrack of teenagers talking. It is, says Pease, 'like a gabble at first. But as you listen to each, you can hear the different narratives.'
Visitors are encouraged to try climb on it themselves, and vPPR will be watching how the sculptural structure is used, with a view to finding a home for it back in the UK.
The procession of rooms leads us back to the garden, but this time, visitors are on the inside and can enjoy the space, rather than being denied entry as is common in London's gated squares. The curators talk about the value of introducing infrastructure to allow space to play, cook, grow things or maybe just sit and contemplate. In the installation, the railings have now been repurposed to become part of the infrastructure rather than a barrier, and there are signs that encourage activity: Talk here; Play here; Eat here – a pleasant change from the common 'no ball games' signs of so many public spaces.
A seventh, bonus space was prompted by the discovery of toilets in the basement, which are incorporated into the exhibition. Rather appropriately given the theme, red tape meant that these couldn't be used by visitors, underlining the important role of such facilities for enabling enjoyment of public space.
The curators hope visitors will be empowered, and feel that they can have agency over their public spaces.
'We want people to understand that we're all part of the change,' says Kessler.
Those not planning on visiting Venice this year can watch films about the different rooms, and the overall pavilion here: https://venicebiennale.britishcouncil.org/the-garden-of-privatised-delights-2021. Meanwhile the curators themselves hope to make it over to Venice in person to see their British Pavilion installation in-situ for themselves during the summer.
Commissioned by the British Council, this year's pavilion responds to the overall event theme of How Will We Live Together, set by the Biennale curator, the architect and scholar Hashim Sarkis.
---
This year's British Council commission for the British Pavilion, The Garden of Privatised Delights, is at the 17th International Architecture Exhibition – La Biennale di Venezia 2021, from 22 May - 21 November 2021.