Antony Gormley brings a harsher, more detached meaning to his bodies in Fit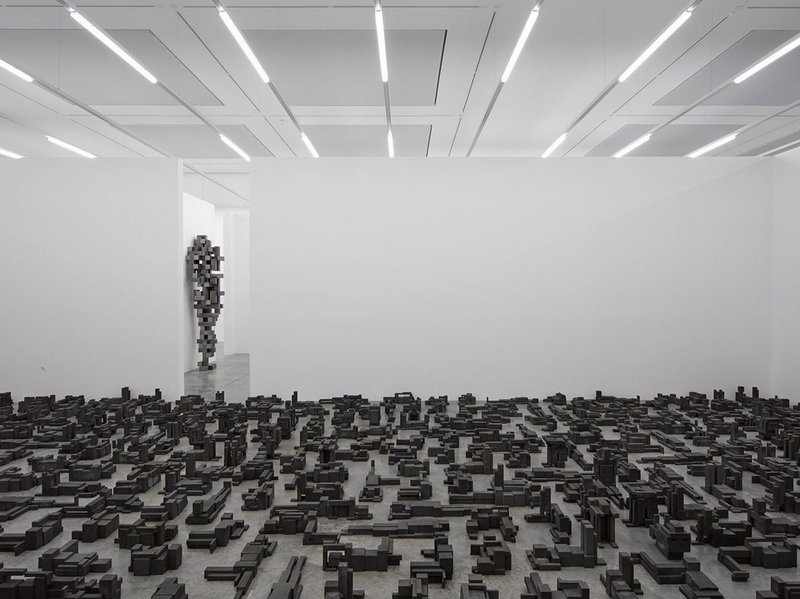 Fit exhibition installation, South Galleries, White Cube Bermondsey, with Sleeping Field in the foreground.

Credit: Antony Gormley/White Cube (Ben Westoby)
At first sight, they resemble hundreds of cast iron architectural models, arranged densely as an urban landscape on the floor of the central space in Antony Gormley's new Fit exhibition. But look again, and those towers are in fact a pair of knees from a sitting figure, and that groundscraper a person in recline.
Entitled Sleeping Field, this multiple installation of 517 angular sculptures is a sharp contrast to Gormley's best known mass gallery installation, Field For the British Isles, in which an array of standing terracotta figures endearingly cluster together. Instead, this new piece seems harsher, the metal and sharp contours lending a cold sense of detachment. Its title, apparently, touches on Gormley's belief that we have become sleeping servants of a system that denies collective imagination.
Sleeping Field may be the showstopper installation, but there's plenty of competition from the other 23 new and not-so-new works in Fit, arranged in a labyrinth of 15 rooms or 'chambers' that certainly succeed in getting the viewer lost as they attempt to navigate a way though. Not that this is a problem – it's an engaging work that rewards repeated views from different angles as you meander through again and again, first in search of the work, and then in search of the exit.
Fit, we are told, seeks to consider 'the degree to which we are measured by and measure ourselves against the scale and density of our built environment'. According to Gormley, the aim was to 'make a show that allows forms and materials to work on us, releasing us from any expectations of what sculpture is and how it might act on us.'
I'm not sure I quite got this message. But Fit certainly feels like a very spatial show, exploring scale and form through a dialogue between the sculpture and the space it is inhabiting. As ever, Gormley finds arresting ways of exploring the human form, but the new work here does so in a more abstract way than his well-known cast iron figures that populated Crosby Beach in the Another Place piece.
Passage is a 12m long tunnel through weathering steel, the shape of the void modelled on a standing human form. This monumental piece looms large in the confines of the gallery, as does Block, a huge, somewhat brooding abstract body composed of 22 concrete blocks.
Angular metal forms related to the figures of Sleeping Field feature elsewhere in the exhibition. I found the four Small Stop lead forms quite poignant, appearing tiny and vulnerable in the expansive room, and suggestive, to me at least, of sleeping children.
In other rooms, standing figures are formed in various other ways such as by outline or through grids of intersecting steel bars. Run, another new piece, suggests non-figurative form through outline using lengths of cast iron that change direction in 90 degree turns in a sort of spatial doodle.
Fit is an engrossing show. Just don't expect to make a quick exit.
Fit by Antony Gormley, until 6 November 2016, White Cube Bermondsey, 144 Bermondsey Street, London
---