Albert Hill and Matt Gibberd claim to have brought not only value to classic modernist homes, but protection too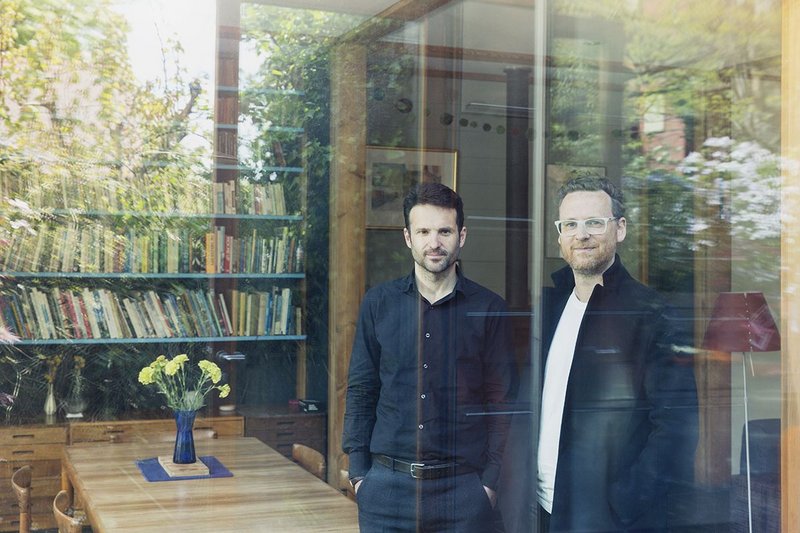 Albert Hill (left) and Matt Gibberd looking out for the future of modern houses at Marcus Lee's Framehouse.

Credit: David Vintiner
'It is a different kind of happiness when you make money or see a great house that blows you away.' Albert Hill and business partner Matt Gibberd enjoy the thrills of their jobs. They, and now seven others, are The Modern House. Ten years after quitting design journalism to become estate agents they are indulging in a small amount of celebrating.
You can spot that on the new website. It is as good looking, stylish and as persuasive as any of their house presentations. Not that you need to be convinced when it is Amyas Connell's High & Over, just come onto the market at £2.8m. The first house on Hill and Gibberd's books was Six Pillars in Dulwich, spotted advertising in the Twentieth Century Society journal. The owner was delighted when Hill approached him, saying a specialist agency was just what he had been looking for. Hill rushed back and set up the company properly. Using a set of old architecture magazines they identified the best houses of their time. Its early trademark was the generous, rational, light-filled generation of 1960s houses in the home counties, by names such as Manser and Dowson, that in the hands of local estate agents might be labelled 'needs substantial updating' or 'with potential'. Faced with a 60s facade on a generous plot the imminence of the wrecking ball is a common assumption, no matter its grade II listing.
We had no idea of what level of modern housing stock was out there when we started
Of course people bought these houses before, but Hill felt many were being mis-sold – not just below the price they should have fetched but also to people who didn't necessarily appreciate the qualities of the design they were buying. Putting treasured homes into the right hands is a great motivator for vendors; one original owner has written into his will that his specially commissioned 1954 house should be sold through The Modern House. Looking at professional photographs and reading the sales description, you will be convinced of the artistry and interest of the house, and the place. 'You want to engage people with a bit of awe,' explains Hill. 'There are people who need hand-holding when it comes to buying these things… They need a comforting environment from which to buy. Ten years ago we had a lot of people who loved the type of design but hadn't the bravery to buy a house. That's completely changed.'
Market making
The Modern House has to a large extent established a market, or at least a marketplace, for these sort of houses. They don't have to sit alongside the bucolic flounces or over-specified kitchens of other high end agencies, the Savills and Hamptons of this world, nor the botched conservatories of local estate agents. This has developed in tandem with a greater appreciation of modern homes in the age of Grand Designs and a time when mid-century modern furniture – which graces so many of the houses taken on by The Modern House – has become increasingly recognised and valued. Once both buyers and sellers were likely designers and media types, not to mention Turner Prize artists. Now the net is wider, with 50,000 unique visits a month to the website, surely including the more conservative, monied class too. There's a fair bit of house porn too, thus the viewing days to satisfy curiosity without ruining a seller's evening. That is a good thing in Modern House's book. 'They might not buy it, but they may be having dinner with someone…'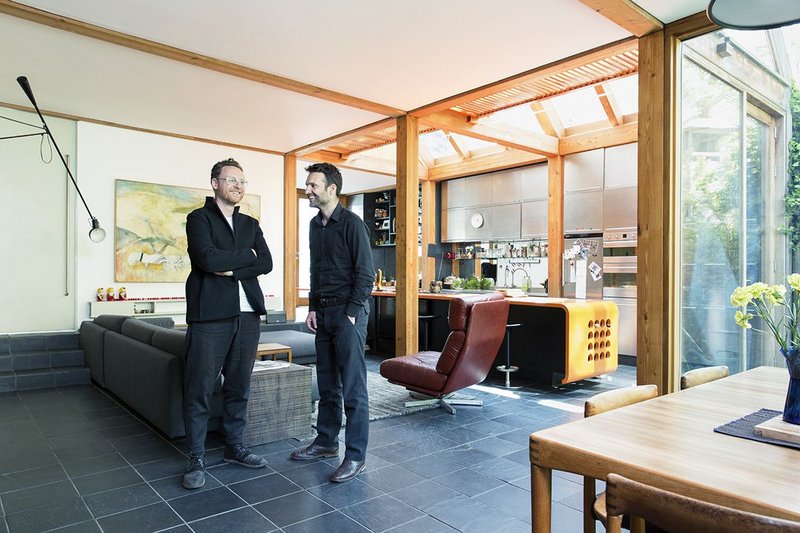 Credit: David Vintiner
Property search
Can they find enough homes to sell? One of the big punts was on how many 'modern' houses there were out there. 'We had no idea of what level of modern housing stock there was when we started,' says Hill. Certainly listed white modernism has proved limited in supply but there are other rich, liveable seams in the more English-Scandinavian architectural traditions. It took time in the early days to create a database of homes that were praised and recognised as they were completed – Hill still sees himself as ferreting out the most interesting properties.
This doesn't quite explain the phenomena of Span houses. These relatively modest light-filled homes on estates designed and developed by Eric Lyons have developed a cult status of sorts in recent years. Hill says, 'We have proved there is a lot of stuff around, it just needed a light shined on it. We would like to take a lot of credit for Span.' The suburban locations, community feel and relatively good value of the houses must also play a part in their popularity, as must a book on Span published just after The Modern House set up. Hill also credits the agency with bringing people to new places – giving them the strength to be brave about where they are considering buying, for the sake of the house. Taplow, East Maresfield, Bessacar; do you know where they are, what they would be like to live in? See The Modern House particulars and be convinced.
Of course, working with estates like Span has the domino effect of working with a local market – and offsets that lack of repeat buyers that is the result of settling people in homes they are genuinely happy with. But it also has downsides. The engaging design-savvy seller may get an excellent price for their house. The less stylish neighbour may hope for similar success. The Modern House will take them on but are well aware that it is people buying into other's style. 'People buy from humans. You know the person and the furniture won't still be there but they are part of what you are buying into.'
Some properties are relatively recent. Gibberd suggested he and Albert be photographed at the Hackney house architect Marcus Lee designed for himself in 2005 and still lives in. The warm timber volumes of the spreading living space has some of the best of the 60s about it, with a lot of clever thinking and planning in the other storeys. Architects as small scale developers, as well as home owners, have been many of The Modern House's clients, though this month it entered the big league offering 30 Tom Dixons Research Studio designed studios and penthouses off plan – a hefty step up in volume from its usual six properties a month.
Open minds
Though describing the agency as a luxury brand they pride themselves on not being snooty about less valuable commissions. I was tempted to conduct this interview in the form of a valuation of my LCC-designed ex-council flat. Could I have got the pair there? They wouldn't turn their noses up at it on principle. But by the time Hill and Gibberd, who conduct most of the valuations, go and visit a property they already have a good idea that they will take it on from people's own snaps and discussions: a display of a certain awareness of design values is a strong positive indicator. They look for 'integrity'. If ex-social housing just north of King's Cross with a windowless living room can be sold as Copenhagen Rooms then The Modern House has merely bestowed some its property magic on it. 'Deciding what to call things can take some time,' says Gibberd. There are wider questions about the role of estate agents, along with mortgage lenders and the shortage of supply, that call into question anything that inflates house prices, especially among the sort of homes that poorly-paid architects and designers have bravely bought into in the last couple of decades, against the trend. But Hill and Gibberd aren't troubled by them.
Alain de Botton has said that he wanted Living Architecture to make modern design something you can sample: try it on holiday. Hill and Gibberd are in the same mold, with a sense of preserving the best of the modern and giving it its due value. If they were just interested in the square foot value they would be local estate agents, but it is the artistic value that interests and intrigues them. It is short of commodification, but it comes with an appropriately substantial price tag.