The King's Cross Railway Lands have been slated for redevelopment for at least a quarter century. And finally - what's this? The former badlands are suddenly inhabited with the gorgeous peacock students of the famous Central St. Martin's art school, strutting in all their edgy finery.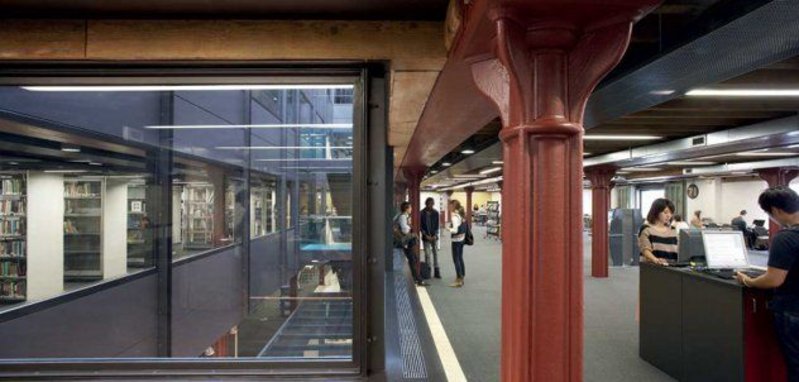 The one-time area of goods yards, cement works, mail distribution and general dereliction covering some 25 hectares acres to the north of King's Cross and St. Pancras stations in London is one of the longest-term of all regeneration projects. Building work on the latest manifestation, developer Argent's 'King's Cross Central' eight million square foot mixed-use project could only begin once the new 'High Speed One' line into St. Pancras was built and opened in 2007. Now it is starting to happen. It's so big it has a new postcode: NC1. And at last, we have the key cultural component there: the new £200m Central St Martin's art college by Stanton Williams.
This pulls together the famous art school from a number of different Central London locations, putting them under one roof. And it's quite some roof, or series of roofs. This was originally a goods interchange and the main Granary Building, built in 1851 - 2 by Lewis Cubitt who also designed King's Cross Station, was a transhipment point between rail, road and canal. Cargo boats from the Regent's Canal which passes in front floated directly beneath the building. Up above, arriving and departing goods trains used the eastern and western transit sheds to either side of the Granary. A series of turntables redirected the locomotives.
A large part of this complex has now become the art school, with new building marching back from the Granary between the flanking transit sheds which themselves become part of the complex. It's a city district in itself, an enclosure of a new urban crossroad. A broad public route crosses east-west behind the granary, while the axial street for the college runs north-south beneath an elegant shallow-arched ETFE roof. This colossal atrium finally ends to the north with the performing-arts department and a complete new black-box theatre.
It is all so big it takes quite a while to find your way round but I can report that there are plenty of student-friendly nooks and crannies in the building, which is deliberately left with tough industrial finishes. There's even a large roof terrace, and plenty of outdoor space to colonise. Noisier departments are on one side of the building, quieter ones the other, but students of all disciplines can mingle as never before. The old Granary makes an ideal setting for the library.
Final judgment must wait until the extensive landscaping works from the frontage down to the canal are complete, along with Argent's office-retail section on the western side and the consequent opening-up of public access. But it's looking good, and the students are colonising it nicely.
A campus of creativity, you might say.