The New London Model, just unveiled at the Building Centre, reflects the shift in interest from the east to west of the capital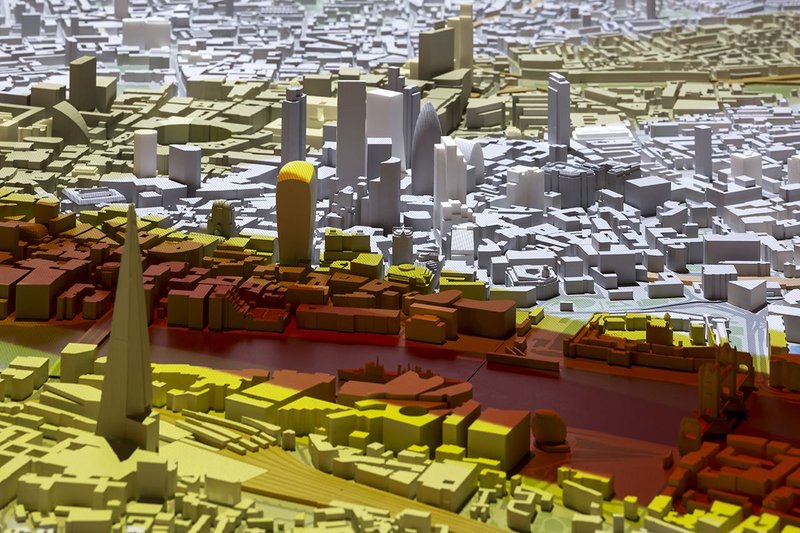 In the words of the Pet Shop Boys, go west.
That's the message implicit in the impressive new interactive model of London unveiled by New London Architecture at the Building Centre. The New London Model replaces its 2005 predecessor, which was launched days after the announcement of the 2012 Olympic bid success. Back then, the emphasis was all about the east of the capital, with proposed developments in the Royal Docks, Stratford and beyond.
Ten years on, how things have changed. The New London Model is the ideal vehicle to show both the results of the Olympics-led, East End regeneration and the new thrust of development over the next decade. Regeneration in the east continues but the new hotspots are to the west – Earl's Court, White City and in particular at Old Oak Common, proposed location of the rail interchange for HS2, Crossrail and the Great Western Main Line. NLA chairman Peter Murray sees London becoming increasingly polycentric, with fringe areas such as Hounslow and Brentford in the west and Romford and Ilford in the east beginning to benefit from regeneration as inflated prices push people out of the centre.
Covering more than 85km2 of the capital, the 1:2000 scale model is a great way to get an understanding of London and its current and future developments. New features include a projection and lighting system across the surface of the model that will highlight its various aspects and development themes – such as infrastructure, for example. Touchscreens provide information on individual buildings and projects. Once it is fully operational in mid May, visitors will also be able to use one of the screens to control the video projections.
Built by Pipers using Ordnance Survey data, the model works in tandem with five new films on different development themes, including the future development of the city, which highlights the location of the 263 tall buildings planned or under way. Others include stunning bird's eye fly throughs of the city. Further films are planned.
As a south east Londoner, I would have liked to see the 12.5m long model stretch even further to take in Lewisham whose city centre is undergoing radical transformation, and beyond. East Croydon is similarly out of the frame. But with space limited, it had to cut off somewhere – for now, at least.
New London Model, New London Architecture, Building Centre, Store Street, London
---