Soane Museum celebrates an architectural style that curator Owen Hopkins sees receiving a new appreciation
When Terry Farrell had the inspired idea of adding 12 egg cup finials to the TV-am building in Camden in 1981-2, he could little have imagined that decades on one would end up mounted on a specially-designed plinth at the Sir John Soane's Museum. But here it is, playing its role ably as a provocateur intervention within the museum's new exhibition on Postmodernism.
It's a fair bet that many of the visitors flocking to the museum will be more than a little confused, yet intrigued, by the presence of a fibreglass egg cup among the hallowed artefacts of the museum. But that's just the effect that exhibition curator Owen Hopkins wanted to achieve in the opening two rooms of this show, in which carefully chosen and positioned postmodern objects and drawings interact with the abundant collections of the Soane. Opposite the egg cup is a splendid Memphis-inspired easy chair from the interior of the TV-am studios, while elsewhere objects include Charles Jencks's curious Window Seat Window chair from his Thematic House in Holland Park, London, designed in 1978–84 by Jencks and Terry Farrell. There's also a lavish chaise longue by Piers Gough for Aram, appropriately displayed beneath an even more extravagantly styled picture frame. In the other two rooms, a more formal display of drawings and models tells the story of postmodernism in Britain.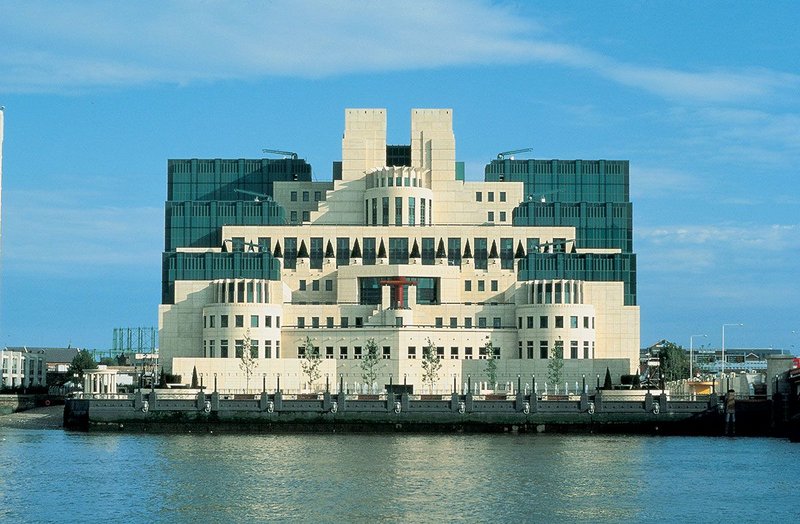 Terry Farrell, SIS Building, London, completed 1994.

Credit: Nigel Young
It is, says Hopkins, very much a celebration rather than a critical appreciation, focusing on the work of Terry Farrell, CZWG, James Stirling/Michael Wilford, Jeremy Dixon and John Outram. It is also extraordinarily well-timed – coming at a time when postmodernism is clearly having a moment, with the listing last month of 17 postmodern buildings including several featured in the exhibition. This announcement followed Historic England's decision to grade II* list Stirling's No I Poultry in late 2016.
As well as timing, the setting seems right too – just as Soane was mining classical architecture as source material for reinvention in his own work back in the late 18th and early 19th centuries, the protagonists of postmodernism were looking to the past as they sought a new architectural expression in the 1970s and 80s.
Hopkins feels that the time is right for a broader reassessment of a highly influential movement that was very quickly maligned, but that he feels can hold its own as much as any other in British architectural history.
'The wheel of taste is turning. A lot of people looking at this stuff are actually looking at it for the first time – they weren't part of the backlash [against it] in the 1990s. They're seeing it with fresh eyes and enjoying it,' he says, speculating that just as postmodernism emerged at a time of transformation in British society, we're once again experiencing social, economic and political flux.
For many, the pluralism of postmodernism was a breath of fresh air after the 'alienating' nature of some late modernist architecture. 'It reconnected architecture with the user, meeting them on their own terms and on their own level in complete contrast to the abstraction of modernism, which was ultimately trying to create a universal architecture,' says Hopkins, pointing to projects such as St Mark's Road in London by Jeremy and Fenella Dixon in 1979, which (radically for the time) returned to the traditional terrace typology but gave it new form.
Many of the buildings in this exhibition are of a far grander scale, and didn't always meet with critical favour, as press cuttings from the time demonstrated. Cascades, designed by Rex Williams of CZWG in 1987-88, was derided by critic Stephen Gardiner as 'grotesque and shapeless' and as a 'crazy jumble', yet it was recently one of several CZWG buildings to be granted grade II listed status. Visitors familiar with Farrell's Secret Intelligence Service headquarters in London – completed in 1994 and featured in recent James Bond films – can see drawings showing how the architect worked through different configurations before settling on the final expression of the building. Another project featured is the Jeremy Dixon/Edward Jones extension to the Royal Opera House, depicted in paintings by Carl Laubin. These include a dusk image positioned atop a George Dance cabinet to deliberately resonate with a nighttime view by Joseph Gandy of a Soane design hanging on the wall behind.
Postmodernism was an architectural movement of knowing references but it was also full of colour and ornament, with a broad visual appeal regardless of whether you 'got' the in-jokes and references. This is particularly the case with the No I Poultry building, says Hopkins.
'I always think No 1 Poultry is the greatest postmodern building in Britain because it operates on two levels. It's an incredibly sophisticated, really taut building with so much going on with different geometries and layers. But walking down the street, you can read it as one facade or a series of facades with references to surrounding buildings such as the Midland Bank and Soane's Bank of England, which it reinterprets. It appears new, but also has these echoes.'
Its fascinating to see the works by John Outram in this exhibition, particularly the unrealised, richly decorated 200 Queen Victoria Street with its vast columns concealing services, and Wadhurst Park, a rare rural postmodern house built in East Sussex in 1986. The exhibition also includes a booklet of drawings by Outram cross-referenced to his lectures – an echo of Soane's own famous Royal Academy lectures.
Back to the egg, which was loaned to the museum by Farrell himself. Apparently Farrell couldn't persuade the TV-am client to pay for the finials so got the fibreglass egg cups made himself for about £100 each, only to end up having to pay a second time a few years ago when he shelled out several thousand pounds more than he anticipated for one at auction after it was removed when the building was refurbished. It may have taken a while, but its value has finally been recognized, just like the postmodernism movement of which it is so iconic a part.
The Return of the Past: Postmodernism in British Architecture, until 26 August, 2018, Sir John Soane's Museum, 13 Lincoln Inn's Fields, London WC2A 3BP
---