Yukihiro Akama lost touch with architecture because he didn't enjoy desk work. But his beautifully-crafted miniature houses, now on show at Yorkshire Sculpture Park, allow him to use his hands and enjoy design again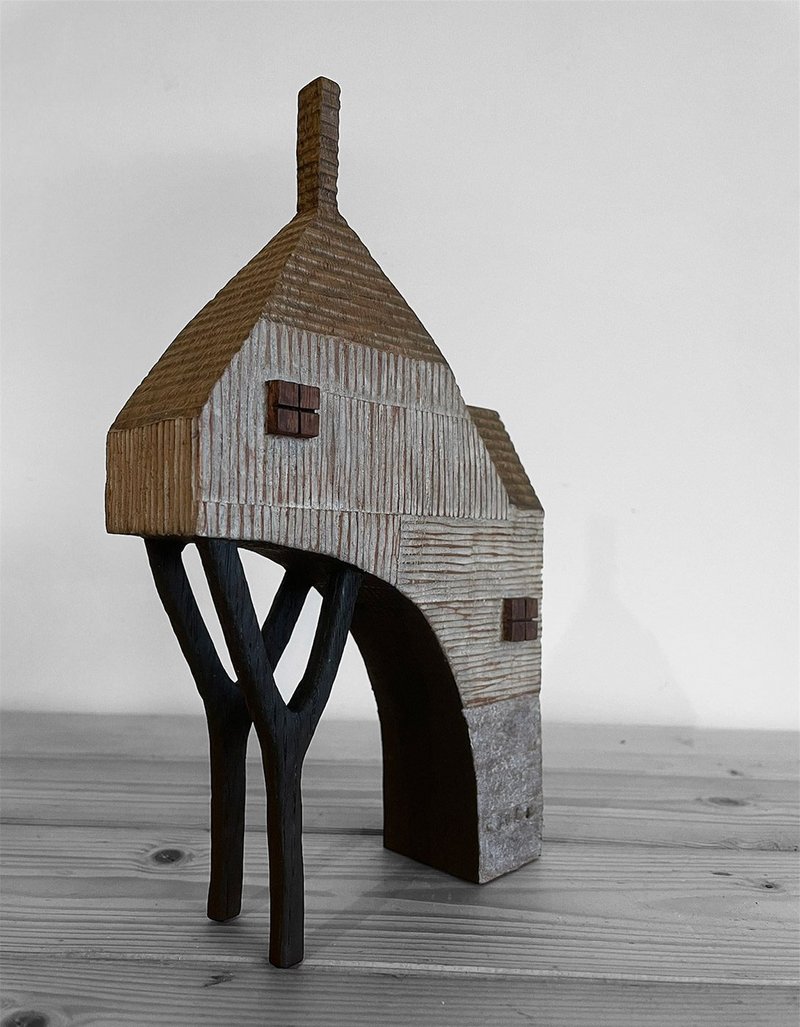 Yukihiro Akama, The Arched Treehouse, 2021

Credit: © Yukihiro Akama
Not many architects can say that they've completed more than a thousand, one-off houses. In the case of Yukihiro Akama, a Japanese architect based in Huddersfield, the houses in question are miniature pieces of art, each hand-crafted by Akama on his days off and after hours from his day job as a cabinet maker. Sixteen of these are on show in the exhibition Ki no ie (The Word of the Wooden House) at the Yorkshire Sculpture Park.
Measuring from 20-85 cm tall and characterised by their dramatic stilted form and prominent chimneys, these look like houses from fairytales that might be inhabited by witches or goblins, although Akama insists that he has no particular narratives in his head when he is making them.
'Many people look at my houses and say they feel a story. But when I make them I don't think about any stories – I just get an idea in my head and make it.'
His journey from architect in Japan to maker of little wooden houses in Yorkshire has been convoluted. After studying architecture, he worked in practice for several years on schools, hospitals and houses, but it didn't work out.
'I didn't really enjoy sitting in an office and drawing by CAD. I preferred using my hands and body to create things,' he said.
He left the practice and ended up combining CAD work with carpentry, plastering and construction of traditional timber-framed houses, plus interiors of a café, pizzeria and sweet shop. After a year away backpacking, he spent five years working as a lumberjack before the 2011 earthquake prompted him to move to England, and to Huddersfield, where his wife was studying for a PhD. He found respite from unfulfilling restaurant work when commissioned by a gallery-owner friend to make something from wood for an exhibition of work by Japanese designers, and hasn't looked back.
The miniature houses clearly satisfied a creative need lacking in his then day job.
'I needed to design and create something that makes me feel like I'm in the right place,' says Akama, adding that with his cabinet-making job, he now has 'two right places'.
Retrospectively, he thinks the houses may have been subconsciously influenced by the stilt houses he saw when he travelled around Asia, and also by the work of his favourite Japanese architect, Terunobu Fujimori.
'Maybe I am unconsciously attracted to things that are a little further from the ground. I don't know, maybe it's a symbol of freedom, maybe it's a longing for the sky, maybe it's a desire to be higher than the surface of the water because I saw the images of the tsunami in my hometown in 2011, or maybe it's something to do with a lot of things,' he says, adding that he likes how the houses look as if they might be about to start walking.
He works with off-cuts from the workshop, taking on average a day to create a 20cm tall house, longer for larger and more complex pieces. While he favours oak for its smooth cutting surface and beautiful grains, he finds that all woods have different good points. After sketching the design for the house, he uses handtools, including small Japanese cutting chisels, to create the form, taking great care to create the highly textured finish. Sometimes he chars the wood, sometimes he stains it, or applies clay mixed with glue and to the surface of the wood. Some houses are inset with tiny pebbles.
No two are the same.
'I worry that I might run out of ideas for houses one day. But it hasn't happened yet,' he says.
Nor does Akama show any signs of missing his early days as an architect. After all, he says, with his miniature houses: 'I can design whatever I like'.
Yukihiro Akama: Ki no ie, until 29 May 2022 at Yorkshire Sculpture Park Centre, West Bretton, Wakefield, WF4 4LG