In this, the bicentenary of the birth of the great Gothic Revivalist Augustus Welby Northmore Pugin, what better way to celebrate than to join a bunch of chums to rent the man's own house in Ramsgate, Kent? So that is just what we did, thanks to the Landmark Trust's exemplary restoration of the house a few years back.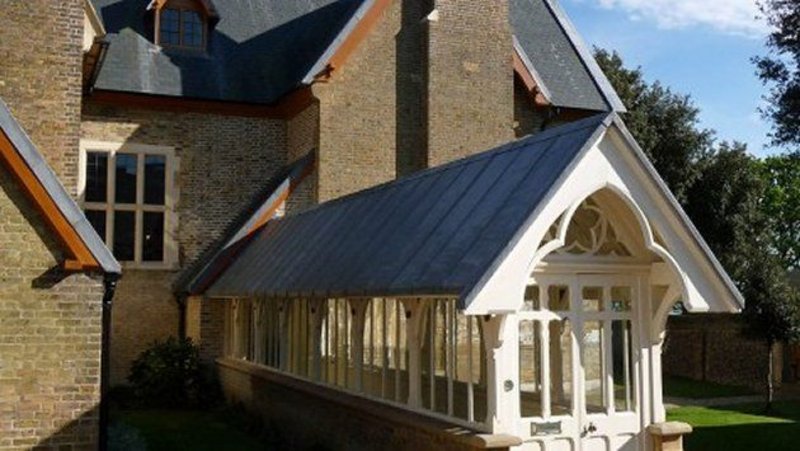 Ramsgate has a lot of Pugin because next door to the house is the Roman Catholic church of St. Augustine's that he funded and built (and in which he is buried) while across the road is St. Augustine's Abbey, which he imagined but which his son Edward Welby built. There are other Pugin buildings in town, not least the splendid Granville Hotel by Edward Welby - now apartments slightly spoiled by a not-quite-good-enough rebuilt west wing which at any rate part-replaces a war-damaged section.

We got to see inside the church with its hyper-realistic medieval-clothed Stations of the Cross. A restoration programme is planned. The Abbey is now closed, the few monks left having departed - that's a worry for the future.

Perhaps it's going a bit far to call for this part of Ramsgate to be declared a World Heritage Site, as Clive Aslet did in the Telegraph recently. But it certainly fulfils Pugin's dream of a pre-Reformation, pre-Renaissance settlement. I can confirm that to stay in the house with its vast rooms and vibrant (for once a correct use of the word) interior colour scheme is a delight. You soon get used to the evidence of Pugin's Catholic zealotry everywhere - Virgins, crucifixes, even his very own private chapel. It is a very comfortable and usable family home.

And it's great to be able to climb to the tower and gaze out to sea as he did, looking for wrecks to salvage in his boat. Or sit at his table in the window of the library overlooking the garden and the sea beyond. There he dashed off the plans for the Palace of Westminster while humming snatches of opera or Gregorian chant.