Visiting London Zoo I have always found the big cats the most disappointing. Sleeping or walking rather slowly in the distance, they in no way live up to their starring roles on an Attenborough programme.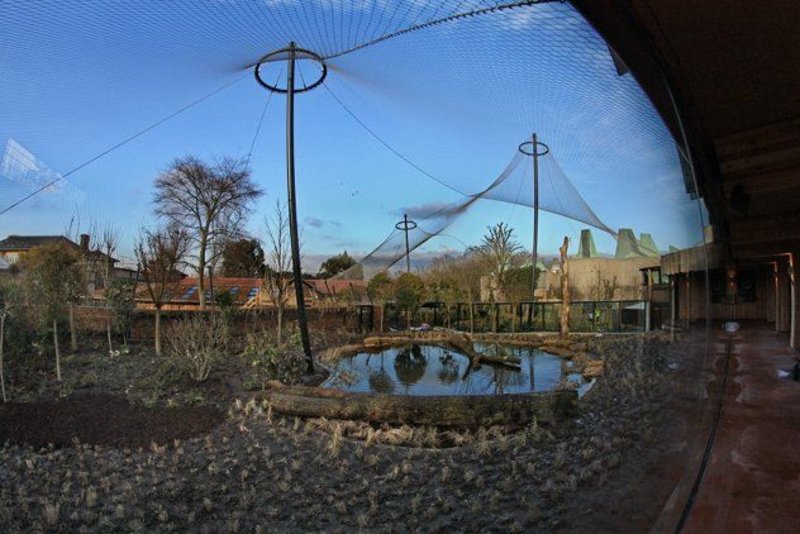 Well a jungle chase is perhaps a bit much to expect in a zoo. But how to give visitors the interaction and that thrill of proximity that you can't get on film? That has been Michael Kozdon of Wharmby Kozdon Architects' concern as he designed ZSL's £3.6m Tiger Territory that opens to the public today. 'We want to make people feel the barrier doesn't exist,' he says. Standing under the same roof as the tigers, separated by just 32mm of glass from a tiger looking out from its den, that seems to have worked. Elsewhere surprisingly open-gauge mesh and planting is all that keeps animal and human apart.

That's at ground level but the stainless steel mesh is the defining material of the new Tiger Territory. Specialist subcontractor Base Structures had the huge pieces cut to fit like the fabric of a giant dress and brought to site. They were then stitched together with the same 3mm diameter wire they are made from. The mesh acts as most of the structure, held in tension by poles just pushed into the ground. This absence of foundations, assisted by duckbill anchors that open out deep in the London clay, Kozdon sees as the most radical part of the structure. Each of Wharmby Kozdon's buildings for London Zoo over the last 20 years has tested out something new, from the sustainability of the children''s zoo before the word was in common parlance, to the energy efficiency of 'Bugs', the insect house. For the tigers, alongside zero foundations it has also chopped around the existing buildings, one as a den, the other as a view platform so visitors can get up to tree level with the tigers.

But innovation is not what is needed, the zoo already has Lubetkin's Penguin Pool and Casson Condor's Elephant House among other listed buildings that they have struggled to adapt to modern animal welfare standards. And anyway if you don't want listless (and tedious) tigers you need to give them a bit of enrichment, or stimulation to you and me. So in their new 2,500m2 enclosure they can climb, as they love to, and they can also survey the distant horizon as they are used to in the wild, never mind it is Regent's Park. Will the two new Sumatran inmates be happy enough in their new home to breed? The zoo hopes so. And in the meantime tigers just got a whole lot more exciting.