The case for wood to challenge concrete and steel's dominance of tall structures is set out at Timber Rising, a new exhibition in London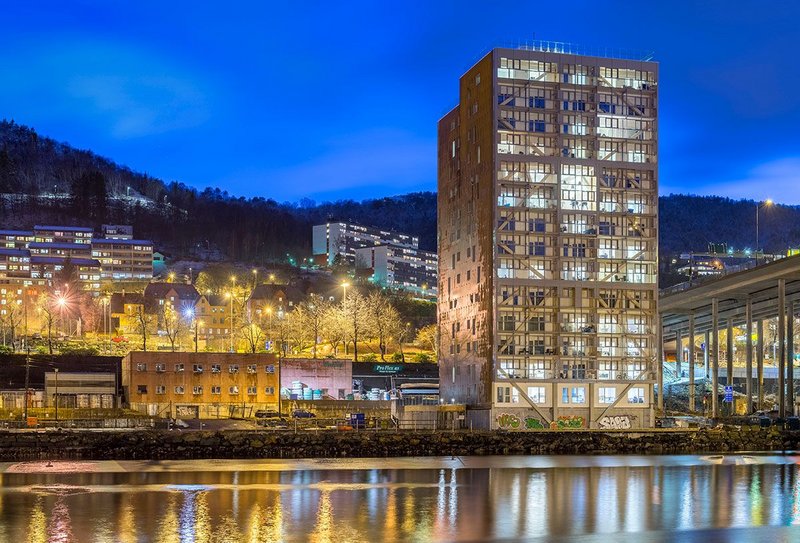 Treet ('The Tree'), in Bergen, Norway, designed by Artec AS with a loadbearing glulam structure.

Credit: David Valldeby
Close your eyes, squeeze the pump and inhale the scent it emits to transport yourself into a forest of pine, cypress and cedarwood. This olfactory experience sets the scene for the main content of Timber Rising: Vertical Visions for the Cities of Tomorrow, a new exhibition at the Roca London Gallery.
The thrust of the show is that we are at a tipping point in the development of timber high-rise structures thanks to a combination of technical progress and the pressing need to build more sustainably. Faced with climate change, high-density cities, housing shortages and mental health issues, could building high in wood become mainstream and eventually eclipse heavier, more energy-hungry constructions?
'Things do have to change,' says Clare Farrow, who co-curated the exhibition with Studio Woode. 'We're exploring a future in which wood will challenge the soaring, dominant structures of concrete and steel.'
With the recent emergence of a number of pioneeringly large wood buildings, it's a good time to consider such issues. Substantial completed projects include Waugh Thistleton's 10-storey Dalston Lane in east London, currently the world's largest CLT building, and Treet (The Tree), a 14-storey modular timber framed apartment block in Bergen, Norway designed by Artec AS. The first timber high-rise in the US, a 12-storey housing/offices building in Portland designed by Lever Architecture, is currently under construction.
This show also features a number of high-rise timber proposals and Sweden's Kulturhus Skellefteå, a 19-storey hotel and cultural centre by White Arkitekter already under construction that will, when realised, be the tallest wooden building in the Nordic countries. PLP has been researching new design potentials for tall timber buildings with the University of Cambridge's Centre for Natural and Material Innovations and engineer Smith and Wallwork. Two of its Oakwood tower designs are displayed in the exhibition, including a 130m high tower with a facade of criss-crossing glulam columns.
Although fairly modest in size, Timber Rising does a good job of providing a historical context for contemporary timber architecture as well as explaining responsible forestry and the technical properties of laminated timbers and engineered wood. The exhibition pays attention to timber's credentials – not just its strength, lightness and ability to sequester CO2 but its biophiliac contribution to wellness in the built environment, particularly in hospitals, care homes and schools but also in homes and the workplace. Some research suggests that children learn faster in schools with timber environments, while the smell of wood is found to lower the heart rate and blood pressure.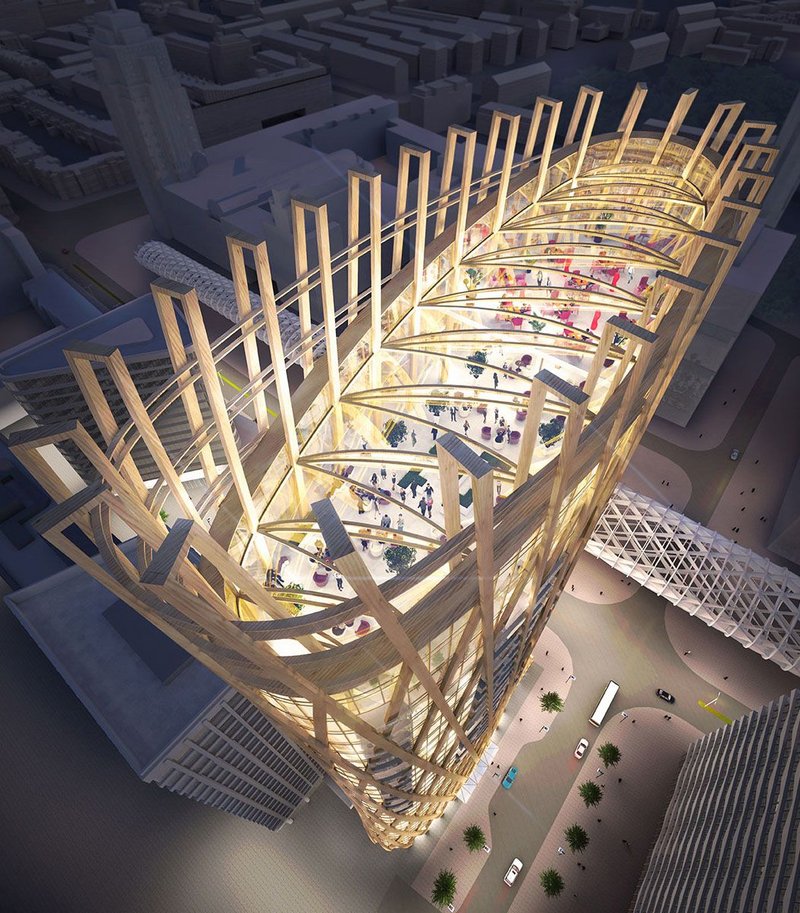 Bird's eye view of Oakwood Timber Tower 2 proposal The Lodge, designed by PLP Architecture for client Provast NL in The Netherlands in collaboration with Cambridge University's Department of Architecture and engineer Smith and Wallwork.
Exhibits such as tools, wood blocks, drone footage over the super-dense Hong Kong, and a tower-like wooden sculpture by David Nash enliven what could have been simply a collection of visualisations, photos and models. There are also extensive quotes from timber champions such as Vancouver architect Michael Green, who is working on the design of tall timber towers in Paris, and Waugh Thistleton's Andrew Waugh, who believes that just as reinforced concrete produced a new language for modernism, 'we will discover a new architecture from timber'.
The exhibition suggests that while high-rise wood buildings are obviously achievable, that doesn't mean they have to be as tall as possible. Waugh suggests that people are generally most comfortable with lower rise buildings of 10-15 storeys. Timber architecture could also assist in the need for urban density by providing lightweight rooftop extensions.
But while there's obviously plenty of research and project activity, the exhibition makes it clear that more needs to be done to change people's perceptions so that they trust timber's suitability for high rises, in particular its ability to withstand fire. Historical disasters, from the 1666 Great Fire of London to the Chicago Fire of 1871, and the more recent Grenfell Tower disaster, cast a long shadow.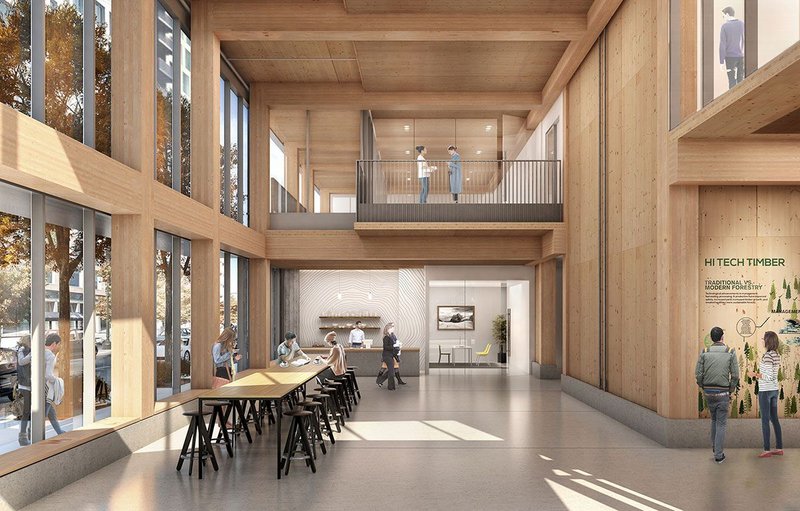 Rendering of lobby in the Framework, set to become the first mass timber high-rise in the US.

Credit: Lever Architecture
'We are so familiar with wood and have such an intimate relationship with it and yet it's surrounded by prejudices,' says Farrow.
She hopes the show will further debate and inspire young architects and designers to find out more about building high with timber:
'It's a revolution that is still very much in its infancy.'
---
Timber Rising: Vertical Visions for the Cities of Tomorrow, until 19 May 2018, Roca London Gallery, London SW6.