With 70 fascinating entries to choose from, judges re-lived entrants' many and varied experiences of lockdown and life. See the stories that have enabled six of them to explore those effects in a week at Shangri-La The Shard, London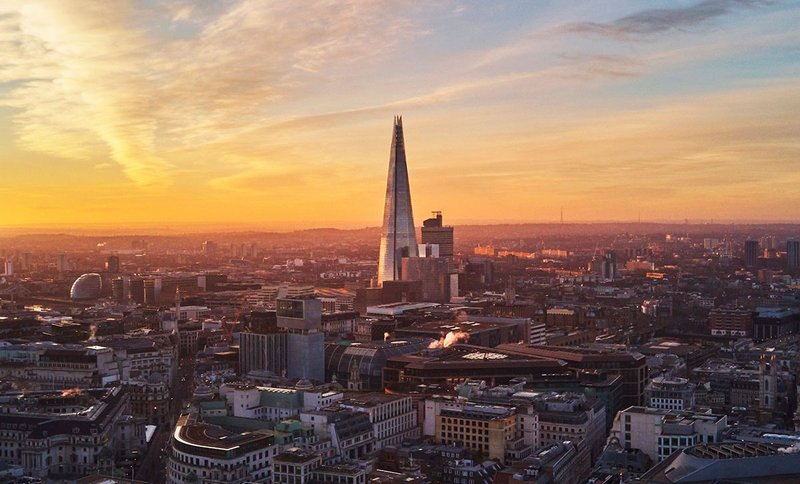 View to the Shard at sunrise.

Credit: James Loveday
After more than a year of general pandemic misery, the idea of winning a week in at the Shangri-La The Shard, London, far above the twinkling night-time streets, felt luxuriously indulgent. But that was precisely what the Time to Reflect judges were being asked to deliberate on from the similarly luxurious situation of one of the hotel's north-facing suites, overlooking the Thames and City beyond.
It was a difficult job. We received 70 entries for the competition, asking our architect readers to tell us in 500 words why they thought they should win the residency prize. It was down to our judges Ben Campkin, LionHeart, William Matthews, Adjaye Associates' Yohannes Bereket – standing in for associate principal Lucy Tilley – and me, to evaluate the submissions and reach a decision on the six winners. Each will win a stay in the hotel, nestled in the mid-levels of Renzo Piano's iconic skyscraper.
You can read more from the winners below: Simone Bloom, principal, Simone Bloom Architects; Jasper Middleton, senior architect, AHMM; Vinesh Pomal, project architect, TateHindle; Kirsty Curnow Bayley, director, Living Space Architects; Charlie Moore, architect; and Robert Kronenburg, emeritus professor, University of Liverpool.
You did not disappoint. All your entries, whether winner or not, gave us a rare and on occasion intimate insight into the lives that you have been leading, both as design professionals and as part of the collateral damage of two successive lockdowns. In your writing, we felt the blurred edge of frustration, fear and anxiety; of working schedules disrupted through furlough and home-schooling; of those trained in liberating space, desperate to be free of the shackles of their own four walls.
But out of all that came the sense that forced internalisation brought about alchemical reappraisals of your lives, that burned bright like phosphorus in the darkness. We read of your dreams of relocation with family, of plans to move into academic study and personal research, of the wish to reconnect with forgotten interests and fascinations. In this regard, every submission was valid – every story merited recognition.
In the end, this was a writing competition, and it was the nature and quality of writing, as well as the subject matter, that would distinguish those to be premiated from those not. And for that, we were looking for a richness of thinking, a certain playfulness or philosophical intensity that ran subliminally to the lines on the page. We think that the six winners we arrived at evidenced all these qualities.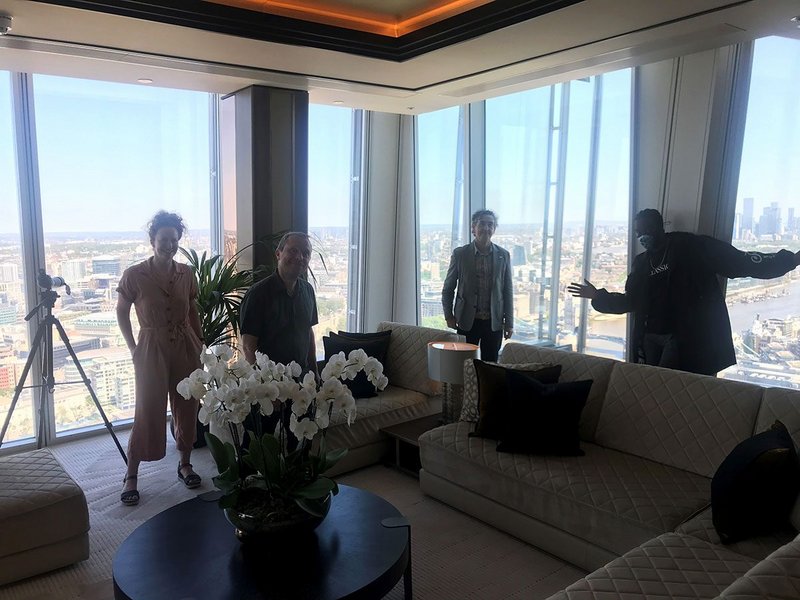 Some of the Time to Reflect judges in their judging suite with a view. From left: RIBA Marketing manager Charmian Beedie, William Matthews, Jan-Carlos Kucharek and LionHeart.

Credit: Jan-Carlos Kucharek
'There is nothing more poetic and terrible than the skyscrapers' battle with the heavens that cover them' – Federico García Lorca
One winner uses random thoughts and adjacencies to jump as if on stepping-stones from one idea to the next in a flurry of associations. Another uses their own spirituality to inform their experience of both form and memory. One academic-cum-musician looks to research, from a personal point of view, the debilitating effects of the pandemic on an already beleaguered live-music scene. The death of a grandfather instigates, for another, a process of general reflection on inter-generational living; and for a working architect and mum, swapping the view of a kitchen window for a window on the world gives her space to ask of herself and her girlfriends why their architectural visions waned. And a CV of qualifications is channelled through an absurdist sea-shanty of a discourse between a walrus, a carpenter and an oyster.
A river of experiences, these words you all took the time to flow past us; and we hope you agree that our winners are worthy pearls picked from the stream. We thank the Shangri-La The Shard, London, for its sponsorship of this competition, and look forward to seeing what their architect guests generate from a week of living with their heads in the clouds.
Jan-Carlos Kucharek
JUDGES:
Yohannes Bereket Senior associate, Adjaye Associates
Ben Campkin Professor of history and theory of architecture and urbanism, Bartlett UCL
LionHeart Hon FRIBA Award-wining poet, BBC Radio London presenter, TEDx speaker
Matthew Williams Founding partner, William Matthews Architects. The Shard project architect
Jan-Carlos Kucharek Acting deputy editor, RIBA Journal
---
WINNERS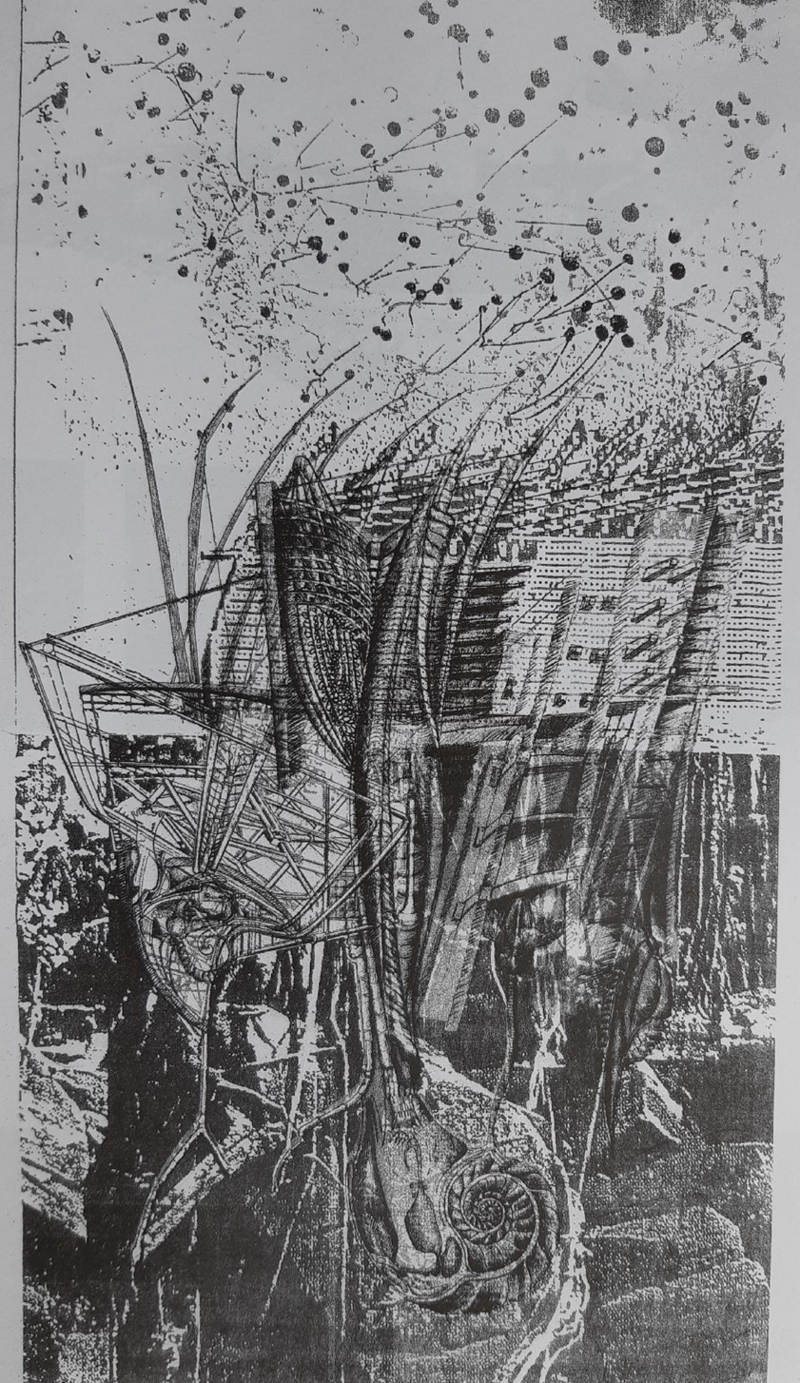 Study for Walrus & Carpenter.

Credit: Simone Bloom
Simone Bloom. Principal, Simone Bloom Architects
The Walrus & The Carpenter
A walrus and a carpenter walk along the Thames beach at low tide, each carrying two river oysters
Carpenter (looking up at The Shard): Mr Gently knew what he was doing. A structural triumph.
Walrus: It'll still be standing when the sea comes in, like Mount Ararat, while sea creatures like myself….
Oyster No.1: And us
Walrus: … enjoy the moment.
Carpenter: When its function has ceased, and only its beautiful form remains.
I've heard Simone wants to spend a week dreaming at the top of that spire.
Walrus: On what pretext?
Carpenter: She's just finished her 24th house extension and feels there are books to be written, art to be made and songs to be sung.
Walrus: Does she have the imagination for the task?
Carpenter: She's designed community centres with interesting roofs and schools and couple of modernist houses …
Walrus: Not convinced.
Carpenter: She writes songs and took a theatre company to Edinburgh to perform her rock opera.
Oyster no.2: Irrelevant!
Carpenter: She went to art school. She designed the Here Today, Gone Tomorrow bus and the facade for the Brixton Fashion Centre. She's had exhibitions and won a national art prize.
Oyster No.3: Irrelevant!
Carpenter: She's written a novel.
Oyster No.4: Irrelevant! Off with her head!
Carpenter: Wrong play. She became interested in the poetics of space, so studied architecture at South Bank. She proposed an amphitheatre immersed in the Thames and a subterranean music school in Vauxhall. She went on a magical field trip to Lisbon when it was still a ruined city, stacked, layered, peeling, pale green and blue, fish-scented, luscious in its entropy; and the vast favela that surrounded it. She learned a bit about community spirit and survival, and exhibited an assemblage of detritus even the orange-box dwellers had no use for, hung proudly on the wall of a gilded hall.
Walrus: (picking up a shard of crockery): Rubbish can be beautiful.
Carpenter: (picking up a discarded crisp packet): Or not. At the Bartlett she learned how to 'grow' structures out of chaos. She designed apocalyptic mosquitos which would erode Canary Wharf and rehabilitate it as social housing: a satirical piece with some prescience.
Then she visited the heaving hills of Istanbul, and invented fruity 'grenades' to be flung by a giant 'broadcaster' across the Golden Horn dispersing seeds of peace.
As a teacher she collided architecture, fashion and film students together in joint projects. Her students also had to design a rehabilitation centre on a narrow 'wasteland' off Russell Square, taking their cue from the poem of the same name.
Walrus: So how will she spend her time at The Shard?
Carpenter: Exploring the building and its environs and using collage to comment every day on its real and possible purposes, its critical views of the city, and the strange times we are living through.
Carpenter: So does she qualify?
Walrus: We'll see. Let's have lunch. Pass the salt and lemon juice.
---
Jasper Middleton. Senior architect, AHMM
It's been said the only way to be sure of catching a train is to miss the one before it. Sounds like a pre-pandemic aphorism to me. This past year I've missed one trip after the next. What's more, a new impediment to travel has been installed, a space that exists between the end of the journey and the start of the destination: hotel quarantine. Well, if I can't go anywhere else, I want to go there. I want to know what it's like.
The very notion of hotel quarantine is a paradox. Not quite the Bangkok Hilton, more like the Hotel California. Such a lovely place, but you can never leave.
And at the Shard, paradoxes abound. Iconic office spaces fill the lower levels, without an iconic tenant among them. A pinnacle of spectacular residences, which I'm told remain spectacularly unoccupied. Sandwiched in between, the Shangri-La. However did they squeeze such a voluptuous brand into such an angular building? Adolf Loos would admire the machine-tooled architecture as much as I do, but at the Shangri La, ornament is chrome.
If ever there was an appropriate stage for hotel quarantine, the Shard is it. In all my years living in London, I've never set foot inside the building, it's new territory for me. People have said lockdown is a great time to learn a new instrument. Well, I choose Piano.
I want to end my lockdown with a lock-up. I vow not to leave the building during my week-long stay. I want to find the key to turning endurance into enjoyment, by throwing mine away. I will not work while I am there. At least not in the usual sense.
I will make origami swans from folded towels.
I will cook scrambled eggs with an upside-down iron.
I will walk miles across the width of my room, accompanied by the dulcet tones of Jason Statham on the telly.
I will remain blissfully unreachable – except by room service.
Make no mistake, there will be club sandwiches.
I will make phone calls from the toilet.
I will play basketball, with crumbled paper and a wastebasket.
I will draw.
I will draw half of London – the half that will be visible from my vantage point in the sky.
I will think about the things I want to do, in a place where I absolutely cannot do them.
So, I have a plan, I just need a venue. Preferably one with a better view than the Heathrow long-stay car park.
Neil Armstrong travelled to the moon to plant his flag. I will venture a little closer into the sky, just south of the river, and my flag will be the kind that holds a club sandwich together.
Did I mention there will be club sandwiches?
---
Vinesh Pomal. Project architect, TateHindle
The Home: A Moment to Pause and Reflect
2020.
The beginning of a global pandemic where our daily lives were turned upside down. Things that were an everyday necessity, luxury and essentially the norm were turned to privileges. Who knew hand sanitisers, wearing a mask and not seeing friends or family for months would become the norm?
2020.
The beginning of the decline of my grandad. A heart failure patient for the past few years, he took a nasty fall in our bathroom and was trapped behind the door. It was like a scene out of Casualty (or Holby City if you prefer that!) and we were told he had days to live. A year of ups and downs which led to many hospital visits including having two operations myself. Fast forward to 10am Christmas Day, my grandad passed away peacefully.
So why a residency at The Shard?
In simple terms, it'll be an opportunity to pause, reflect and think about the way we have lived in the past, present and future drawing upon my lived experience. Having been raised in intergenerational living, it was my grandparents that taught me the values of life. I still live with my family today, which now consists of my mum and dad (sister got married a few years back).
It will give me the opportunity to have some time to myself after a turbulent year which has had a negative impact on my mental health and wellbeing. The time spent will allow me to write about my experience in detail, with the view to share this journey with the wider public.
Housing (or the home as I like to call it) has become one of the key talking points since the pandemic yet we are designing these spaces as an excel spreadsheet. Intergenerational living has become a new buzz word but very few architects who talk about it have that lived experience which varies depending on your background (cultural, socio-economic…).
The residency will provide me with an opportunity to find my inner self and provide a moment of tranquility while looking out to the city I call my home.
Output?
A video diary comparing my stay in The Shard to that of living in an uninsulated end of terrace 1930s property, adjacent to an industrial estate close to an A road under the Heathrow flight path; pre and post the death of my grandad.
2021.
The beginning of a journey of self-reflection.
---
Kirsty Curnow Bayley. Director, Living Space Architects
She wasn't sure why she felt the way she did, but everything was suddenly more overwhelming. Clients seemed more demanding, time was always of the essence. They wanted it all – a beautiful project, on time and on budget. Why did she feel she couldn't cope anymore? Where had her passion and confidence gone?
London was where it had all started 20 years ago; the love affair with architecture. Initially it was trips to London on the bus, walking the streets, discovering its secrets. She started looking at buildings differently, at the details, the way they sat in the street scene, how people used them and how they made them feel. Architecture was a career where you could change things and help people, it had a purpose.
She'd dreamed of having her own practice, to be able to pursue her own ideas. She'd left London with her architect boyfriend and started up a company from her parent's kitchen table. Slowly the mechanics of running a business became as interesting as the architecture – the peaks and troughs, the strategies. She should be happy, this was what she had wanted all along, so why now did she feel like she wanted to give it all up?
Priorities were different now; she had children and not many of her close friends were architects – dare she say it, there were more important things in life now than design. What about the women she had studied and worked with? She was in touch with some but not many; she'd seen some of them in the journals, others she followed on Facebook and Instagram. She knew a lot of them had decided to move away from architecture and start something new, why had they made that decision? With so many different backgrounds and cultures, architecture had drawn them together, but what were their stories now?
Reading the RIBA journal she saw a competition – a chance to stay at the Shard for a week, alone. Suddenly she felt a rush of excitement – she knew people would be drawn to meet her there; it was such a destination. Up there in the clouds with their shared memories stretched out before them, they could step out of their present world. They could swim in the pool together, drink cocktails in the bars, have dinner, walk the streets and share their stories – then she would write them down.
This would be a chance to pause and take stock, to write and think. With the view from her kitchen window swapped for the expanse of glass, vistas stretching for miles, she would have more clarity. She would write an article, maybe even start a book – it could link her to others with the same thoughts that she just wasn't aware of yet. Whatever the outcome, she hoped she could find some answers – why did so many of her female friends and colleagues decide to move away from a career they had once been so passionate about?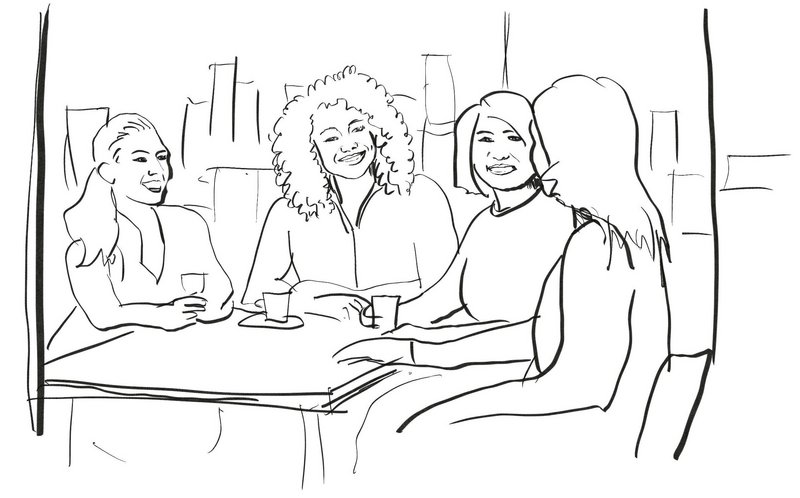 Lost ideals? Why do women leave architecture?

Credit: Kirsty Curnow Bayley
I am an Architect and Priest, living near the Shard, with a continuing practice in Drawing, Painting and Photography.
I am fascinated by the interplay between the layers of Human and Historical memory, People and Place, as expressed by and through the Architecture and Archaeology of the area around the Shard.
Daniel Libeskind's projects for the Jewish Museum in Berlin and proposals for the World Trade Centre site in New York come to mind. As Libeskind writes in his memoir "Breaking Ground- Adventures in Life and Architecture" (p14) about his visit to the site of the former World Trade Centre towers and the descent into what used to be the foundations: "Down we went, awed by the magnitude of the foundations of the vanished buildings… Seven stories of foundation and infrastructure, gone. When the buildings were there, who of us ever thought about what lay underneath? We always think of the skyscrapers of New York, but it's down below where you perceive the depth of the city. Every building stands on such a foundation. Yet whoever touches bedrock?"
Libeskind speaks about an experience of almost spiritual intensity as he touched the massive concrete "Slurry" wall which contains the pressure of the Hudson River.
As Libeskind looked down, I understand that Renzo Piano looked out: beyond the Shard site, to the spires of the numerous churches found in the city of London, and these provided inspiration for the architectural form of the Shard as built today.
Personally, I witnessed the construction of the Shard, over a number of years- sometimes invisible from beneath clouds and in other times (such as during the recent COVID 19 pandemic) as a beacon of hope, glowing blue in the colour of the National Health Service.
I have walked the streets below and I have seen Greenpeace banners of protest drop from above, I have surveyed those streets from the Shard itself, I have travelled on Trains along the tracery of tracks leading out from London Bridge and in Tubes through the tunnels beneath.
Drawing on my own relationships, experience, and extensive Archive of photographs and images, I would use the opportunity of spending a week in one of the Shangri-la Hotel's rooms, to explore the endless connections, above and below, across the cityscape and beyond, past to present and present to future.
The complex network of Streets and tunnels under the Shard and beyond the River Thames - itself a silent witness to destruction and development, life and love, over the centuries - are steeped in history and seeped with memory. I have often wondered:
"If buildings could talk, what would they tell us?"
Pondering on this, I would and write and record by means of a number of different media, a series of Architectural and Spiritual reflections: Clues are there to be found and photographed, recorded and remembered, documented and drawn…
These images and imaginings would be the trace of my time spent there.
---
Robert Kronenburg. Emeritus professor, University of Liverpool
Alongside my career as an architect and educator, for more than two decades I have been a semi-professional musician, playing with friends and bandmates to audiences in the bars, clubs, halls and other venues that form the support network for live entertainment. I have developed a strong respect for the venue operators, music promoters, and the wide range of enthusiastic, hard-working people who make these places possible. Fighting tough local authority controls and unfavourable economic realities, they are mostly not places that make their owners rich, but operations that are kept alive by the commitment of people who love what they do and believe in the social and artistic contribution they make to the urban identity of their neighbourhood and their city.
About 10 years ago I began writing and publishing studies of the buildings that provide the essential places for live music to be performed; not the well-funded officially approved concert auditoria, but the much smaller venues where popular music of all kinds is played to fans who like to dance and shout as well as sit and listen. Prior to the pandemic, these venues were already in crisis with more than 50% of Britain's nightclubs closing in the last 10 years. Pressures from enhanced licensing rules, sound-transmission regulations, and gentrification had led to many clubs becoming unviable. Now, the danger of losing these places has increased exponentially. If left unchecked this decline will lead to a profound impact on the way cities operate, both culturally and economically: who wants an urban centre that exists solely for shopping and commerce and is completely dead at night?
Music venues are part of the matrix of night-time entertainment that supports pubs and restaurants, theatres and cinemas, each with their own locale in the city, each with their own time during the long night. Already existing on the edge of commercial viability, music venues will be the last to re-open and many have already closed for good.
What can be done? Recognising what is happening and what might be lost is one way to help halt the decline. I don't live or work in London, or even nearby, and recently left my employer of more than 20 years. A week living in the city at the Shard would enable me to re-evaluate my own dual experience of architecture and music. After more than a year without live performance, I am more than ready to engage with London's musical environments. I will visit buildings and neighbourhoods during the day and performances at night; see the city from above in the Shard where I will work writing up my experiences, and from street level in the bars, clubs, and halls where I will be able to talk to venue operators, musicians and audience members about making these places bounce back and what they need to help this process. I will write and publish, and make photographs and drawings, that will communicate the importance of this vital part of what makes London a great city.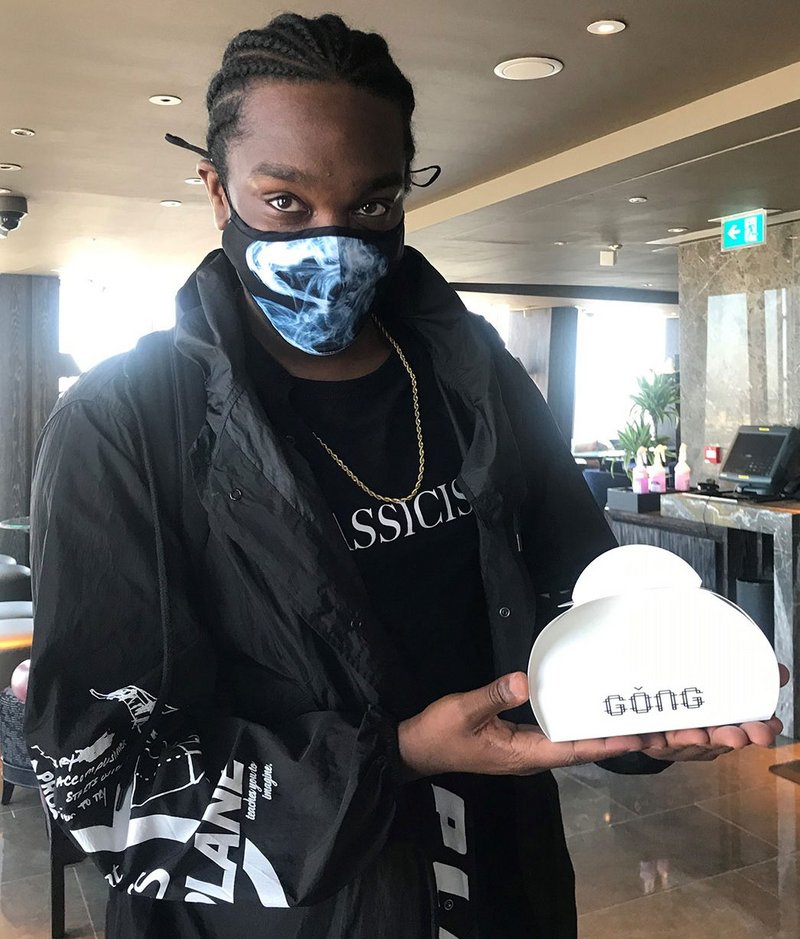 Time to Reflect take out: Judge LionHeart leaves with some Dim Sum from GONG bar.

Credit: Jan-Carlos Kucharek