Designer of a wide range of typologies – new build and conservation – best known for his award-winning terrace of 13 houses on Richmond Green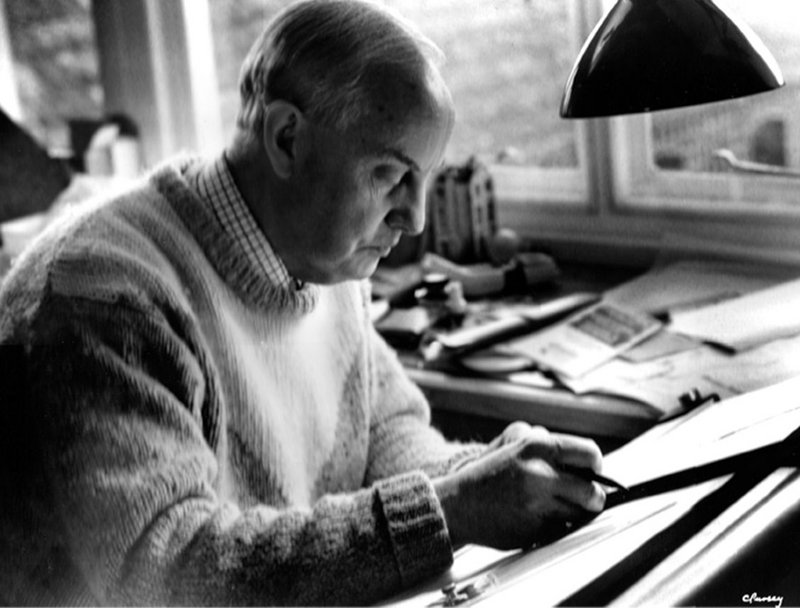 Tom Manning 1924-2013
Tom Manning, who died in late September 2013, was a leading light in that generation of architects who returned from military service in the Second World War – in his case, as a young officer in the Royal Artillery – to complete their training, and who then worked for the next 40 years or more to create a humane, civilised and unpretentious modern architecture, much of it for public sector clients.

Until his retirement in the early 1980s, Tom ­Manning was the senior partner in Manning Clamp + Partners, which he founded with Hugh Clamp in 1956 and based in elegant late-17th-century offices on the southern corner of Richmond Green in Surrey. Together with his original partner – and later with others, Alexander Hamilton-Fletcher, Phil Butchers, Tony Dick and John Ball – Tom Manning was directly responsible for the ­design of a wide range of buildings, including the competition-winning Carnatic Halls of Residence for the University of Liverpool, housing for both local authorities and housing associations, local authority schools and swimming pools, almshouses, residential development for the Crown Estate, and private houses. Under his direction, the firm also undertook significant conservation work, including work at Buckingham Palace, Windsor Castle, The National Physical Laboratory at Teddington and in a number of Anglican churches in south-west London.

Born in India in 1924 and educated at St Paul's, Tom trained at the Bartlett School of Architecture at London University, where he also taught in the early 1950s – his students including the late John Darbourne. Under his leadership, Manning Clamp + Partners provided a sound and unrivalled training for many young architects, who owe him a great debt of gratitude for his quiet and calm influence as teacher and mentor.
Tom's sensitive approach to the design of new buildings and to the alteration and extension of those already existing between the 1950s and 1980s is reflected nowhere more clearly than his terrace of 13 houses on the north-east side of Richmond Green for the Crown Estate, completed in 1970 (Civic Trust and Ministry of Housing and Local Government Awards, 1970) and his new buildings for St Mary Magdalen Almshouses near the River Itchen in Winchester, completed in 1984.

As well as the demands of running the practice, Tom was much involved in working for the local community in Richmond, and played a key role in the re-establishment of the Richmond Parish Lands Charity. As a trustee, he was responsible for commissioning a masterplan for the redevelopment of the Queen's Road Estate at the edge of Richmond Park, and for its realisation by London and Quadrant Housing Trust, involving the construction of some 400 new homes by Darbourne & Darke between 1978 and 1984. Popular with residents, the Queen's Road Estate became a blueprint for similar schemes throughout London. It remains, 30 years later, a benchmark for high-quality, affordable housing for local people.

A person of great integrity, modest, unassuming and soft-spoken, Tom was delightful company, with a gentle wit, a kindness and a love of life that endeared him to all who knew him. His much-loved wife Rene, the centre of his life for more than 60 years, died on 4 January this year. Tom and Rene are survived by their daughter, Julia, and their two sons, Paul and Matthew.
---
IN MEMORIAM
Patrick Horsbrugh
Elected 1949, United States
Eric Charles Browning
Elected 1951, Hounslow
Douglas Alexander
Elected 1951, Welwyn Garden City, Hertfordshire
Geoffrey William Mills
Elected 1951, Warlingham, Surrey
Kenneth William Lane
Elected 1955, Beccles, Suffolk
Christopher Fyson Stell
Elected 1956, Rickmansworth, Hertfordshire
Trevor Andrew Richard Davies
Elected 1961, Brixham, Devon
Kenneth George Claxton
Elected 1962, Petersfield, Hampshire
Gladstone Fitzroy Barker
Elected 1966, Barbados
Charles William Attwood
Elected 1974, Beckenham, Kent
Caroline Delilah Anne Lwin
Elected 1985, Hastings, East Sussex
Aneurin John
Elected 1949, Newport, Gwent
Ernest David Kay
Elected 1949, Holmfirth, Yorks