Reinventing Texture installation in Japan's pavilion at the London Design Biennale explores texture and cities using digitally enhanced traditional Washi paper. Plus six of the best remaining installations
Is it possible to 'capture' the texture of a city? That was the challenge Japanese architectural designer Toshiki Hirano set himself in Reinventing Texture, one of many intriguing installations at the London Design Biennale, which takes place over June at Somerset House.
Located in the Japanese pavilion, the project is the first in the UK by Hirano, who last year took over as co-director of the experimental laboratory Sekisui House – Kuma Lab, founded by Kengo Kuma at the University of Tokyo. As well as exploring the nature of the city, the installation considers how the traditional, biodegradable Washi paper, created from natural plant fibres, could be transformed digitally for new design uses.
The installation is a digital papier-mâché that stretches in an 8m relief around the gallery, augmented with sound and lighting, to evoke aspects of Tokyo and London. It is conceived as a 'pavilion of friendship' that celebrates both international collaboration and local traditions to explore the complexity of the city. Hirano describes the cities as formed by myriad textures layered at multiple scales.
It's a curious piece, that certainly strikes a chord with the pandemic times and the Biennale's theme of Resonance. Overseen by artistic director Es Devlin, with 38 contributions exploring themes from the sustainability challenges posed by global crises such as climate change to Covid-19.
During the long months of lockdown, Hirano walked the often-deserted streets of central Tokyo, using photography to 'collect' textures and objects.
'I tried to scan the things that people don't notice or take for granted,' he says.
This included abandoned small wooden houses that are in danger of disappearing during the rapid transformation of the city in the run-up to the Olympics. He also involved often banal ephemera such as Japanese sweets and donuts as part of the city texture. 'We don't understand the city only from its built environment but from the whole experience of eating and other activities,' he explains.
He took inspiration from Japanese artist Tomoharu Makabe's Urban Frottage work of the 1970s, and the writings of German philosopher Walter Benjamin on urban space. He photographed each object from 50 different angles and used these to create a 3D file that in turn enabled the production of a 3D collage. From this, moulds were digitally fabricated for traditional papier-mâché construction. Hirano found that the structural properties of the complex layered surfaces made using digitally scanned models have more rigidity and strength than smooth surfaces, suggesting potential for future exploration of the material's properties. The inclusion of Hirano's hands in the composition reference the hands-on aspect of the construction at a time when Covid has made us all wary of touch.
'I'm excited to explore this technique in more depth…it would be interesting to further investigate the possibility of using papier-mâché in construction,' says Hirano, adding that its primitive, easy to use nature would make it an interesting technique to use on a building.
Meanwhile in London, MA interior design students at the Royal College of Art were going through the same process of recording urban textures that for them resonated with the city, whether underground signs, phone and letter boxes, or working virtually through Hirano's photogrammetry workshops. They also collected field sound recordings. The London and Tokyo city textures form two halves of the whole, a strange amalgamation that only fully reveals its source objects when highlighted with the lighting installation. The sound collage, created by MSCTY Studio, responds to visitor interaction. The result, says pavilion curator Clare Farrow of Clare Farrow Studio, is 'a way of going on a journey' between the cities at a time when travel is difficult – Hirano himself has been unable to see the project realised in London.
'It's cryptic, mysterious. But once the projections cast original colour and textures of the scanned objects, it comes to life and suddenly each object reveals itself. I hope it will encourage people to gain a different perspective on the city,' says Hirano.
---
London Design Biennale, 1-17 June, 2021, Somerset House, London
Six more to see at the London Design Biennale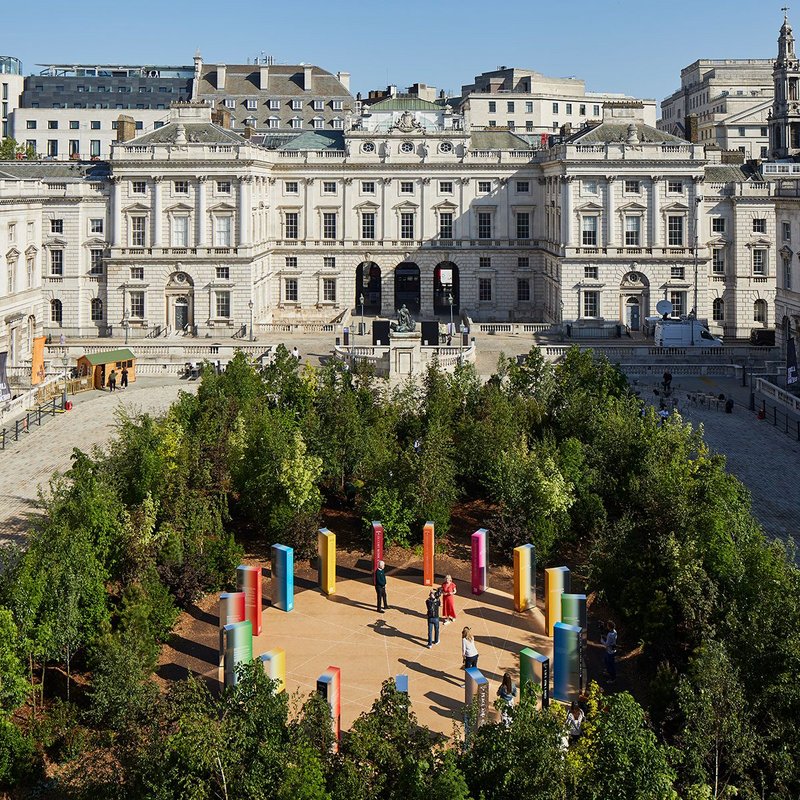 Credit: Ed Reeve
Forest for Change
The Biennale's showstopper installation was designed by London Design Biennale creative director Es Devlin after she was told that trees hadn't ever been allowed in the courtyard at Somerset House. In response, she created a mini-forest with a clearing populated by a circle of pillars representing the United Nations' Global Goals for Sustainable Development. Each symbolises one of the goals, along with an inspiring quote and a strategy to meet the goal. Collaborators include landscape designer Philip Jaffa, urban greening specialist Scotscape and musician Brian Eno, who worked on the bird song soundscape.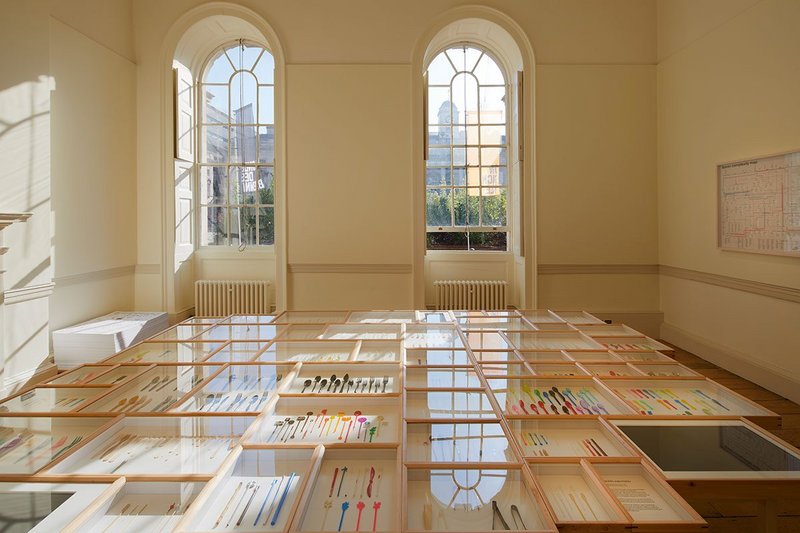 Credit: Ed Reeve
Spoon Archaeology
In the German pavilion, Peter Eckart and Kai Linke present a rigorous analysis of the humble plastic spoon within cultural, design and sustainability contexts. The project was prompted by the imminent EU ban on plastic cutlery, which will outlaw plastic cutlery from July 3, and in doing so render single-use spoons artefacts of the past.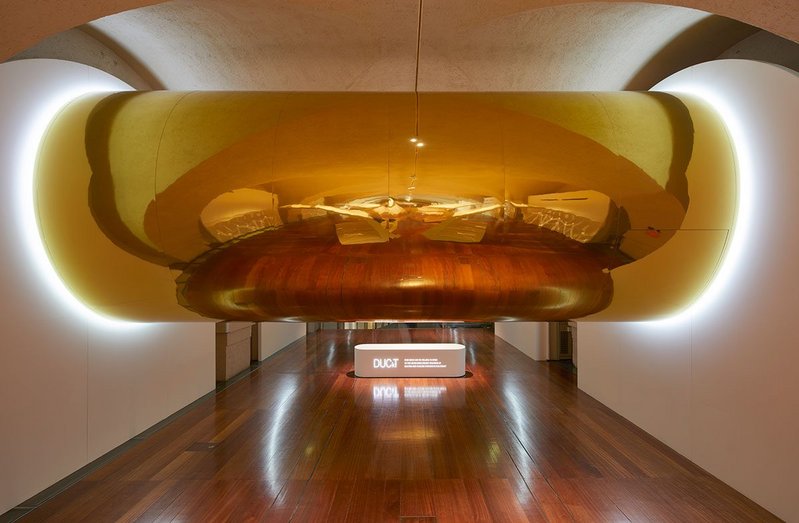 Credit: Ed Reeve
DUCkT,
In this simple but effective Canadian installation by Revery Architecture, two huge air ducts fill the width of the gallery, causing the visitor to duck down in order to proceed through, in a comment on the reliance of the buildings sector on indoor micro climate systems. Certainly there's no way of avoiding the issue in this pavilion.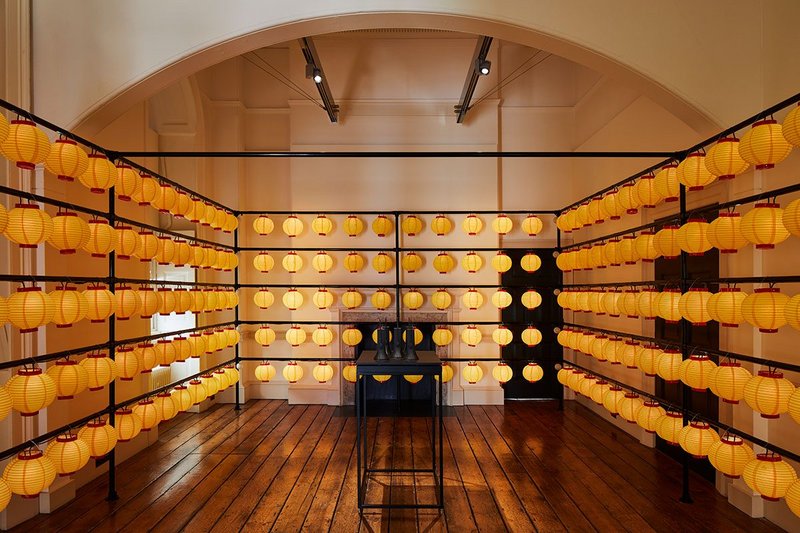 Credit: Ed Reeve
Swingphony
Taiwan's pavilion, created by the design agency Bito, uses lanterns to create an immersive, temple-like space. In the middle are seven metronomes which are set at different speeds but gradually begin to synchronise, and in doing so, activate the lantern lighting. The uplifting, underlying message is how very different individuals can come together to find a shared connection for a more harmonious world.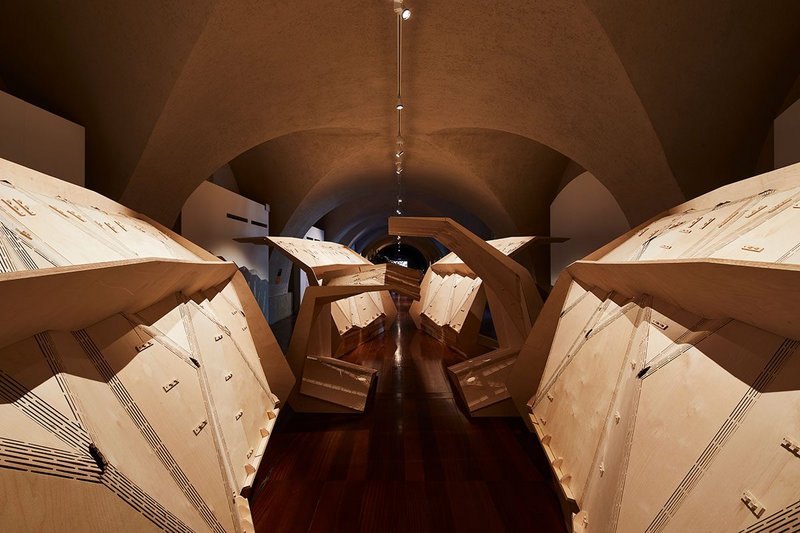 Credit: Ed Reeve
Unfolding
PLP Architecture collaborated with University of Cambridge on Unfolding, an exploration of the potential of engineered timber. The result is six beautifully lit structures created using the kerfing cutting method, which turns flat, rigid panels into foldable elements.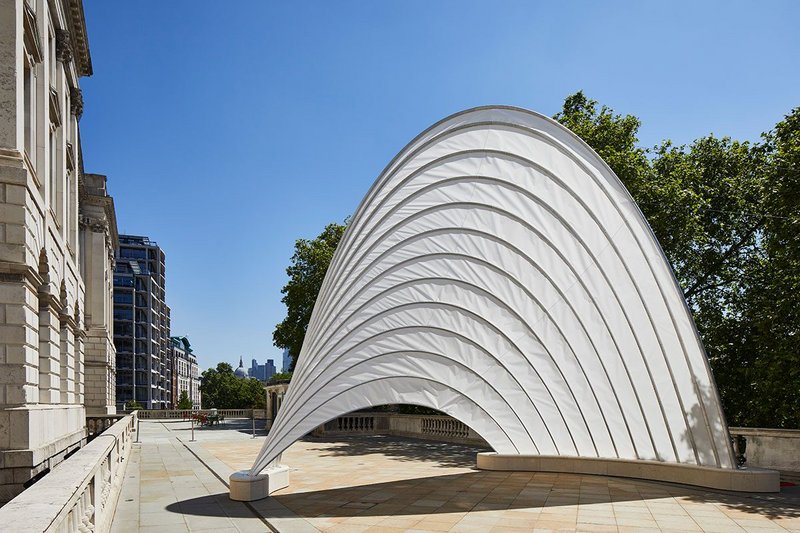 Credit: Ed Reeve
Pavilion of the African Diaspora
This sail-like gathering space for African diaspora people in London is installed on Somerset House's riverside terrace and is designed by Ini Archibong, who is an American of Nigerian heritage. The design is intended as an architectural folly inspired by conch and cowrie shells. Created with architectural oversight by Perkins&Will, the pavilion will be used as an education and events facility and is intended to tour to other locations.