Provincial Britain's dramatic emergence from medieval society to industrial powerhouse is charted in this book of maps and city scenes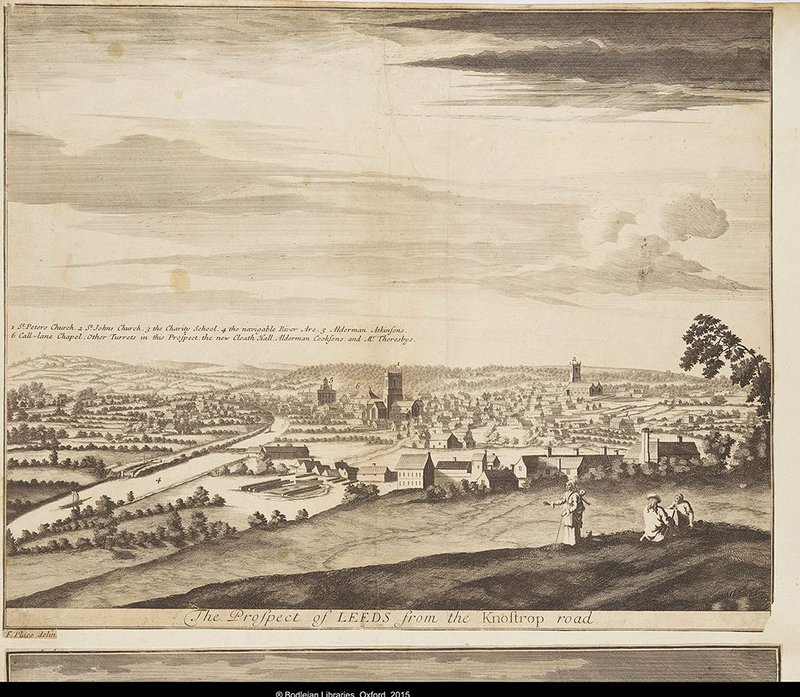 Leeds 1712, Gough Maps 34 fol 25Ba, Bodleian Library, University of Oxford.
Fifty-six percent of the UK's population now live in towns, broadly defined as an urban area with between 5,000 and 225,000 people (according to the ONS). We may be accustomed to such sizes, but this upper figure might have seemed monumental to the 18th century inhabitants of places such as Manchester (numbering a mere 18,000 in 1750) or Bristol (45,000).
Capturing the changing fortunes of provincial Britain, Town by Bernard Nurse is a collection of drawings from around this time, documenting the dramatic shift from medieval society towards the dawn of the industrial revolution.
Based on the topographical collection of Richard Gough, the book's simple premise is to guide us across the UK, showing prospects, maps and scenes of towns that in some cases appear familiar and in others barely recognisable as industrialisation and modernisation have taken hold.
Gough was a keen traveller and used his independent means to build a collection of artefacts related specifically to the British Isles. He mined a seam that might otherwise have been lost to the allure of expensive foreign purchases, leaving to Oxford University and the Bodleian Library a collection that captures a fascinating period in British history.
Helpfully categorised by region, the book gives a broad understanding of how provincial areas were adapting to a new economic outlook based on international trade, rapid industrialisation and a significant rise in population.
Beginning in the North, we see how these drawings unpick the social, economic and political influences within towns at these times. A pastoral prospect of Leeds shows pre-industrial tenter-frames of stretched cloth alongside the river, complete with new lock for the swift export of these goods. This is contrasted with a perspective view of the town's Mixed Cloth Hall, a clear marking point in its shift from cottage industry to globally exporting powerhouse.
Elsewhere we see pre-1750 maps of the Manchester before the factory system revolutionised cotton production, alongside clippings of adverts for the Long-Room, a place to view articles useful for trade. In the simultaneous collection of surveyed drawings, as well as broader cultural paraphernalia, it appears that Gough recognised these as significant moments in places on the verge of radical change.
Of course, an inherent bias lies in the act of commissioning, creating and collecting these artefacts, and there is a risk of our misunderstanding history. Many of the drawings here are the product of a commission from a merchant, landowner or the military, and therefore the viewpoints from which we understand these histories inevitably miss swathes of lived experience.
In some cases this provides an interesting insight, such as a beautiful illustration of Coalbrookdale, commissioned by the town's ironworks, which acts primarily as a picturesque diagram of its cast-iron production process.
Others hint at more shocking aspects of history. In one 1774 engraving of Liverpool's Custom House we see the goings-on of transatlantic trade with ships unloading cargo, and only two Black children to hint at Liverpool's extensive, horrifying role in the North Atlantic slave trade at this time. While the broad scope of the book leaves little room for detailed discussion, the author helpfully notes some of the instances in which a darker story may lurk behind the images.
This serves as a useful reminder that we must be conscious of which moments of our history are recorded, and by whom.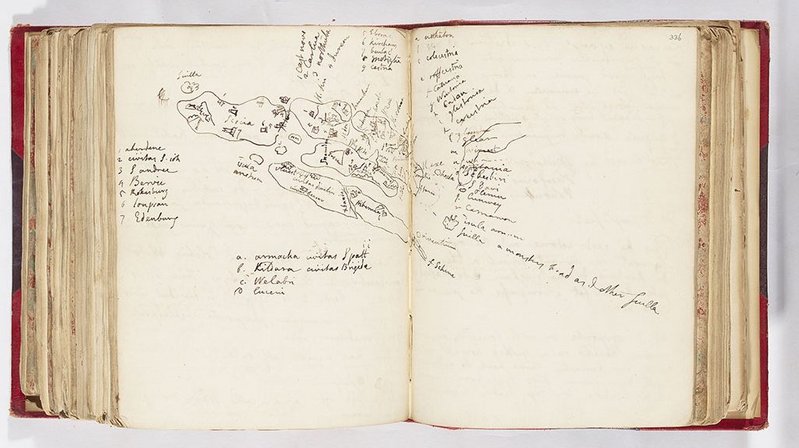 A medieval world view, centred on Jerusalem: sketch of Hereford Mappa Mundi 1770. Bodleian Library, University of Oxford
While the majority of drawings are exquisite in their craft, many of the most charming are those that fail to obey conventional rules of projection. One such example is a 1735 plan of Haslemere which combines plan with flattened elevations, arguably telling us far more of the town's character than any individual plan, elevation or perspective could. Given this collection of both measured surveys and looser interpretive drawings, it is clear that Gough revelled in the evolving act of map-making, and this is most clearly evidenced in is his own sketching of Hereford Cathedral's medieval Mappa Mundi, with Jerusalem at its centre, bringing the drawing to public attention and emphasising the wealth of knowledge gained in previous centuries.
As director of the Society of Antiquaries, Gough's form of collecting was not passive, and this book documents several moments where he seems to have had an active role conserving buildings, most notably commissioning the illustrations included here of Salisbury Cathedral's ceiling paintings before their destruction at the hands of James Wyatt.
Aside from smaller acts of conservation, many of the drawings show disaster on a larger scale, from the Great Flood of 1607 to the 1786 collapse of Hereford Cathedral's West Tower. Most striking of these is a map of the burnt thatch town of Blandford in which 90% of buildings are coloured black, signifying their destruction in a large fire. With the town later rebuilt to a similar arrangement in brick and tile, drawings like these demonstrate the potential of mapping to provide a record from which we can enact change.
This book provides a welcome reminder that our built environment is never static, and as we ourselves live through a global crisis, one only has to imagine a map of footfall in city centre offices to picture how our way of life has shifted. Maybe as the priced-out centres of our largest cities suffer from changing patterns of living and working, our towns may find themselves the subject of an entirely new revolution.
Town: Prints and Drawings of Britain before 1800, by Bernard Nurse, 224pp, £35 HB, published 6 November 2020
For more on urban complexity see Complex City: London's Changing Character