Investment to reverse the long decline of town centres is welcome, but let's keep the emphasis on place, not politics, says Eleanor Young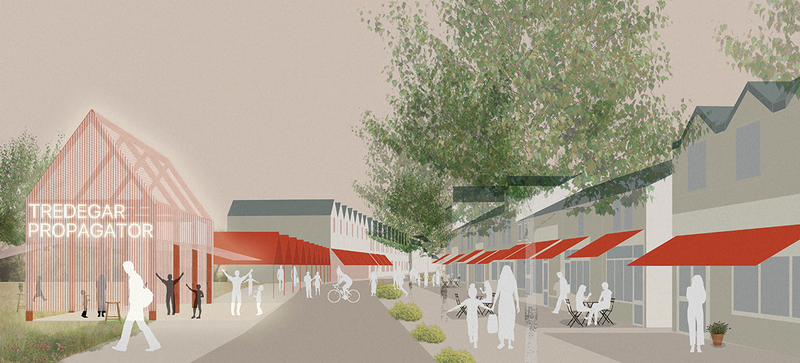 Rural Office for Architecture's proposals for bringing life back to Tredegar in Wales.

Credit: Rural Office for Architecture
In the middle of town the words are severely incised over the door: 'Girls/ Boys'. Not that it is a school any more. Schools have moved out to the edges of towns and cities, serving new suburbs with spreading classrooms in green playing fields. Hospitals moved too, wards stacked high into the fresh air, away from their narrow, carbolic-doused corridors in the town centre. Did the workshops of main streets decant to the spacious floors and soulless shrubs of light industrial estates at the same time?
The hollowing out of our town centres predates the retail exodus. Once we blamed out of town supermarkets, then online shopping. Now it's the coronavirus lockdowns. But the regular flow of activity necessary for the web of community life – and footfall for shops – was lost to a myriad of well meaning decisions. High streets have been left primarily to leisure activities, to the pleasure of browsing, coffee, mooching and people watching – or perhaps tourism, as defined by doing all these same things away from your home town.
It is recognised now that it is not enough to rely on retail. We have seen some brilliant schemes from architects that bring a dense mix of different uses back to towns and their high streets. There is a slew of grants aimed at adapting these centres and ensuring towns keep up with change: Historic England has put money into heritage high streets; 72 of them shared an £830 million government pot announced in December; and most recently there was the controversial £3.6bn of Towns Fund allocations.
One of the towns that has done well from this is Swindon in Wiltshire. It won £25 million for a bus boulevard in the town centre – where even before the pandemic nearly a quarter of centre's shops were lying empty. To top that, it got almost as much again from the Towns Fund. This is big money for modest sized places. A Swindon councillor celebrated, saying: 'A crane is already on the Swindon skyline'.
The Towns Fund puts 'place' at the top of the list of investment – for its role in changing perceptions – and urges winning councils to bring forward land for development. Across the country in Bolton, Maidenhead, Stoke-on-Trent, and many other towns, architects are now uncovering the next steps to bring complexity back to town centres and high streets with everything from urban realm interventions and food vans to refurbished town halls, renewed leisure centres and the possibilities of vacant plots.
It is hard not to speculate on the political motives behind this current Conservative focus on investing in towns (particularly certain towns), rather than cities, and the distribution of ring-fenced money to local authorities who may have desperate need for money in other areas of spending, such as social care. But it is a useful corrective to the way we have long used cities as a catch-all title for the urban condition. 'Towns' fits the way people think and talk about place and identity. Could this be the moment for reimagining their civic infrastructure? If architects can help seed town high streets with activities that make them central to people's lives again we will all be richer for it.