You feel you could touch the ornate exhibits at Stanton Williams' unobtrusive Waddesdon Bequest gallery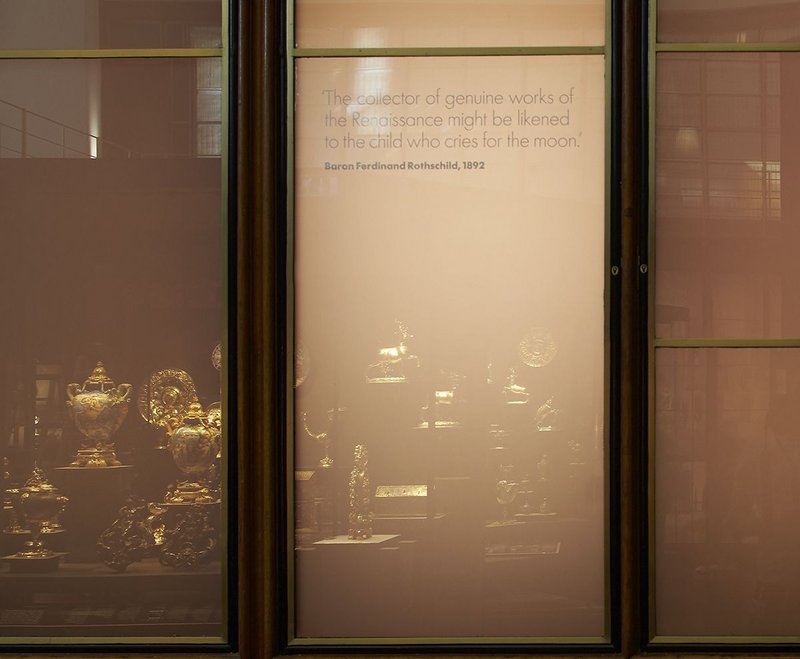 Reliquaries, ornate hat jewels, a hunting calendar – the Waddesdon Bequest of Renaissance and Baroque objects is a tour de force of exuberantly decorated objects often quite alien to contemporary culture.
Elaborately embellished, the pieces can be rather an acquired taste.
'They are totally unfashionable,' says Paul Williams of Stanton Williams, the practice commissioned to create a new home for the Bequest at the British Museum. Yet he and his colleagues came to appreciate the astonishing virtuosity and craftsmanship of the 265 pieces within the collection as they designed the gallery, which has been created within Sir Robert Smirke's former Reading Room on the ground floor of the museum.
The treasures were collected by Baron Anselm von Rothschild and his son Baron Ferdinand de Rothschild in the late 19th century and were bequeathed to the British Museum in 1898. Originally displayed in the Smoking Room at the Rothschilds' Waddesdon Manor country retreat, the collection includes everything from arms and armour to virtuoso pieces of carving, goldsmithery, painting and exotica. The best known piece is probably the Holy Thorn Reliquary, containing a thorn supposedly from the Crown of Thorns in an elaborate gold, enamel and gem setting.
The aim of the 162m2 gallery was to reward looking. Stanton Williams' approach was to create a visually minimal setting that allowed the bequest to be appreciated as a whole, while meeting the particular display needs of each individual object.
'We're almost dissolving the display case completely,' says Williams, referring to the deeply chamfered corners of the cases which make you feel as if you can just reach in and touch the objects. The front of each rhomboid-shaped showcase pivots open fully to allow clear access for dressing the cases, with objects displayed on powder-coated metal plinths with a slightly sparkly finish.
To test out the display configurations, the practice built prototypes of the central display cases using painstakingly-created cardboard mock-ups of each piece.
Around the walls of the gallery, Stanton Williams made use of former book presses as display cabinets, employing removable, patinated bronze panels to create the appropriate settings. The new flooring is slated to match the original border of the Reading Room.
The gallery incorporates archive photographs of the collection at Waddesdon amid the heavy furnishings of the day. It sets up a strong contrast with the elegantly restrained new setting, which lets the treasures take centre stage while re-invigorating this long underused but important space.
A Rothschild Renaissance: Treasures from the Waddesdon Bequest, Room 2A, British Museum, London
---