Women's contribution to architecture has long been overlooked. Two new publications bring recognition to many previously unknown names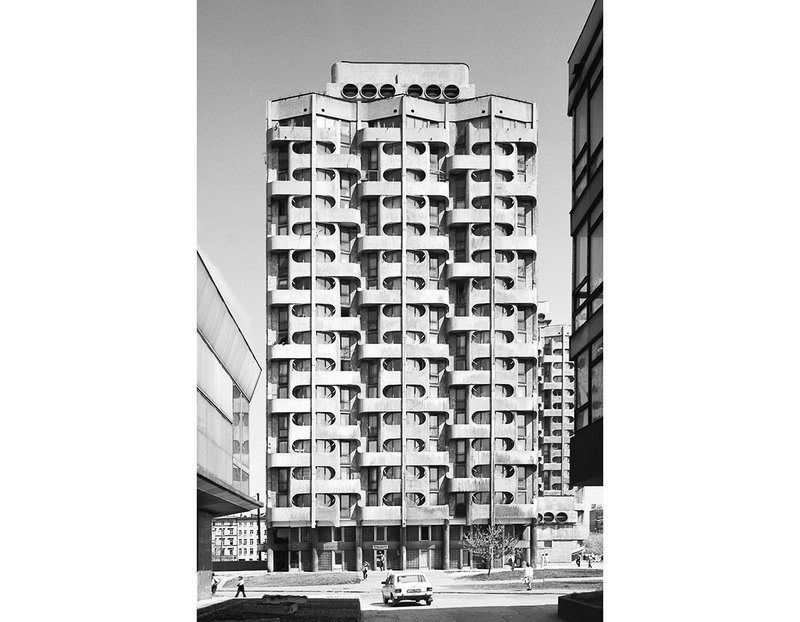 Jadwiga Grabowska-Hawrylak's Grunwaldzki Square in Wrocław, Poland, 1973, as seen in Jane Hall's Breaking Ground: Architecture by Women.

Credit: The Museum of Architecture in Wroclaw.
Jadwiga Grabowska-Hawrylak, Raili ­Pietilä, Flora Ruchat-Roncati – just three of the many names I hadn't even heard of, but about whom I'm now compelled to find out more, after flicking through the new Phaidon book, Breaking Ground: Architecture by Women.
Grabowska-Hawrylak was one of Poland's most important 20th century architects, author of some strikingly sculptural high-rise housing blocks in Wrocław in the 1970s, where great ribbon-like balconies ripple across the facade and wrap around the half-moon windows, forming a giant vertical basket-weave of concrete.
Pietilä was a pioneering Finnish architect who, with her husband Reima Pietilä, developed an organic form of modernism, embodied in the craggy roofline of the Finnish embassy in New Delhi and the faceted crystalline form of the former student union building for Helsinki University of Technology. It is Aalto with the geological heft cranked up.
Ruchat-Roncati was prominent in ­Switzerland's influential Ticino school of architecture, conjuring enigmatic concrete structures decades before Valerio Olgiati became every student's pin-up idol. She was the first woman professor and chair of architecture at ETH Zurich in 1985, and designed some dramatic bridges and tunnel portals for the Transjurane motorway, creating architecture as forceful as the Jura mountains.
There are many more such discoveries in this new book, compiled by Dr Jane Hall, member of young collective Assemble, who recently completed a PhD comparing Lina Bo Bardi and Alison and Peter Smithson. The information about each figure is brief, but the breadth is impressively wide, shining a welcome spotlight on lesser-known names.
Recent vocal campaigns have helped to highlight overlooked contributions of many women, from Denise Scott Brown to Madelon Vriesendorp, and this book helps expand the canon. As Hall writes: 'Because authorship, over and over again, has been attributed, celebrated and promoted by and on behalf of men, this history needs correction.'
Raili Pietilä and her husband developed an organic form of modernism – Aalto with the geological heft cranked up
It was no easy task. She says many practices rejected the inclusion of certain works due to their female partner's lack of involvement in a particular building's design – overlooking the fact that her role might have helped realise the project in ways that didn't necessarily involve design. More than men, Hall writes, 'women are subject to the ongoing propensity to treat the act of design as the essential contribution to the built object rather than the "back end" of managing architectural production.' The prolific output of Studio Libeskind, for example, owes just as much to (his wife) Nina Libeskind's fearsome politicking as it does to Danny's dynamic doodles.
Breaking Ground is joined by another much-needed new book, Women in Design: From Aino Aalto to Eva Zeisel, edited by mother-daughter duo, Charlotte and Clementine Fiell. From textile and graphic designers to ceramicists and architects, it provides a kaleidoscopic catalogue of the last century of bold women creators. Austria's first female architect, Margarete Schütte-Lihotzky, designed the pioneering Frankfurter Kitchen of the 1920s, a state of the art functionalist concept based on time-and-motion studies of how to optimise the layout for ultimate efficiency. With fold-down ironing board, swivelling stool and integrated aluminium storage containers with handles that enabled their contents to be poured easily, it was hailed as the 'housewife's laboratory', even if today it seems to perpetuate a rejected model.
From Lilly Reich to Zaha Hadid and beyond, this book presents an extensive cast of women designers who have made the world a far richer place. As the Fiells write in their introduction: 'By introducing a female sensibility to problem-solving, they have contributed to a psychologically broader and more humane understanding of design.'
---
Oliver Wainwright is architecture critic at the Guardian
---
United we stand
Supporting women in architecture is one of the aims of a new union for architects – the Section of Architectural Workers of the United Voices of the World – part of a growing grassroots workers' union movement. Founded to counter the toxic culture of overwork, underpay and precarious contracts, the union could have a transformative impact on the profession. Architects unite!