A tour of the capital's carbuncles offers a new – and novel – way of appreciating London's architecture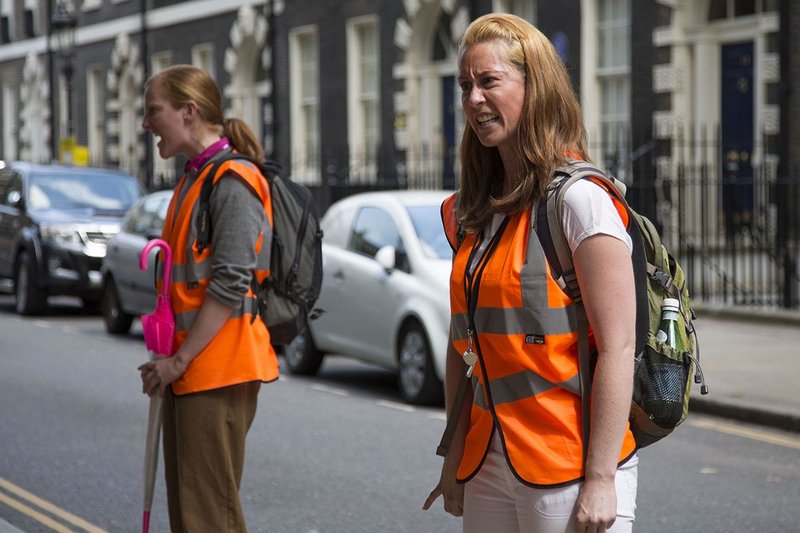 Sharlene and Pam take the lead.
Tack-On Tours: The Ugliest Buildings In London is not for the self-conscious, as I discovered standing on a busy traffic island in front of Centre Point in compulsory high-vis jacket and face mask while the tour leaders addressed us via megaphones – much to the bemusement of the Saturday afternoon shoppers on Tottenham Court Road.
Quirky in the extreme, this walking tour of the West End is a welcome antidote to some of the more straightforward offerings at the London Festival of Architecture. Rather than a conventional architectural tour, the event is a lively theatrical experience on the streets around Tottenham Court Road and Covent Garden as the tour leaders – in character as tetchy co-hosts Pam and Sharlene – march us around the sights brandishing aloft a bright pink umbrella.
Each participant is given a lanyard with an ugly building candidate – I was the Palace of Westminster, others included a broad church of National Theatre, Trellick Tower, Millennium Dome, Lloyd's Building and St Paul's. But this spirited tour just doesn't stick to the usual suspects. Instead, there are some surprises – Eisenhower Centre, Bedford Square, Renzo Piano's Central St Giles, Odeon Covent Garden on Shaftsbury Avenue – with the hosts making some serious points amid their offbeat presentation.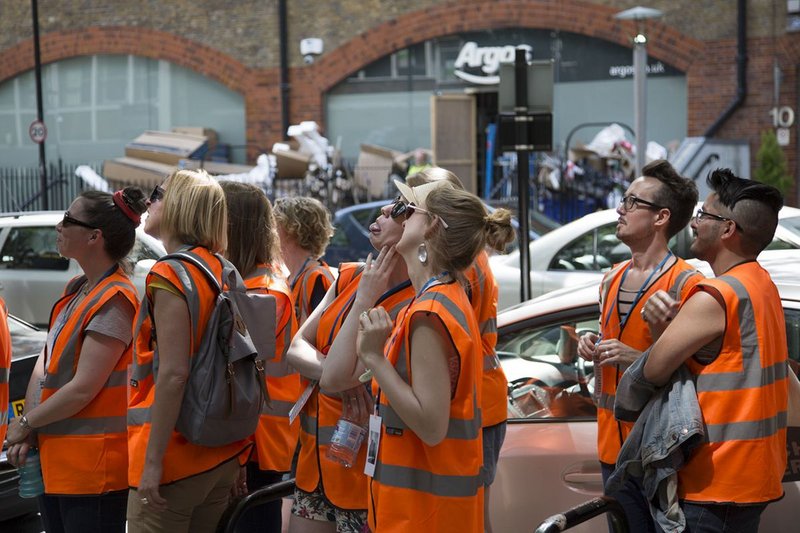 Subjectivity and lessons about beauty as well as ugliness.
This tour looks far beyond aesthetic merits in considering what is ugly. Standing amid the elegance of Bedford Square, we're asked to consider how the locked central garden for the elite was a forerunner to the gated community and wonder at the stringent design guidelines imposed by the original landowners that all have to follow to this day. We spend time in Phoenix Gardens, located on a site with a particularly difficult history involving leprosy and criminals condemned to hang. But today it is place of beauty, a public oasis of greenery and calm that has transcended its past. Piano's Central St Giles gets short shift for its mediocrity while the 'flawed icon' of Centre Point is held up as the skyscraper precedent that notoriously took 10 years to attract a tenant. We consider the imminent impact of Crossrail and who it will really benefit and also ponder, safe behind our face masks, the threat of pollution.
An audience participation exercise where the tour group is asked to come to a consensus when ranking the lanyard buildings in degrees of ugliness perfectly illustrates the subjectivity of aesthetics, with the National Theatre and others yo-yoing from one end of the line to the other.
If there was an overall message, perhaps it was that since ugliness can take many forms beyond the purely visual, we should look out for both ugliness within beauty, and appreciate the beauty to be found in the ugly.
Tack-On Tours: The Ugliest Buildings In London, June 20, 21, 27, 28 at 11am & 3pm. Details: www.hoaxtheatre.com
---
---